Sky Sports F1 reveals Martin Brundle's ultimate 2015 circuit ahead of new season
The 44-corner track brought to life on giant Scalextric layout
By Sky Sports Digital
Last Updated: 05/03/15 9:22am
Sky Sports F1 is the only place fans can watch all 20 Formula 1 weekends live and on the eve of the new season, Martin Brundle has designed a track incorporating features from every circuit on the 2015 F1 calendar.
The layout includes over 40 turns, chicanes, straights and sections recognisable to Formula 1 fans around the world such as Casino Square at Monaco, Silverstone's Copse and Abu Dhabi's Marina Complex.
'The Ultimate Track' is a fast and long circuit with big contour changes and features the pit straight from Silverstone, first chicane from Monza, the signature climb at Austin to the Eau Rouge at Belgium.  The circuit's shape is based on the figure of eight from Suzuka.
The track has been brought to life by Scalextric, as the biggest layout the slot car track experts have ever designed. Parts of every single track from the 2015 season can be seen on Martin's ultimate circuit which has been built to a massive 9m by 9m. Scalextric's impressive 45 metre long track is made up of 177 pieces and includes track laying, landscaping and all the final detailing.
Martin Brundle, Sky Sports F1 expert and former racing driver, commented: "The team challenged me to design my dream circuit using sections from the 20 F1 races in 2015, all of which will be live on Sky Sports F1.
"I immediately wanted a figure of '8' like our beloved Suzuka, and could only dream of driving a series of corners such as scaling the mountain up to turn one in Austin before falling through the 'Senna S' of Brazil and towards Silverstone's fearsome Copse corner. And that's just a small section.
"Now amazingly, we've built a model and so I will revert to my childhood for many laps. It's going to get competitive."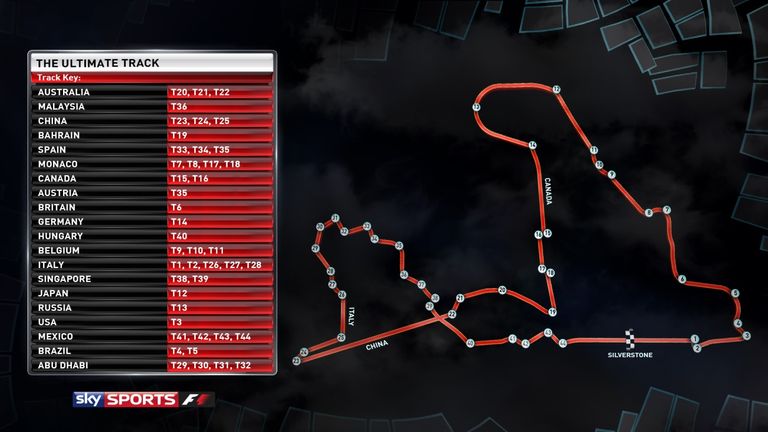 Before Lewis Hamilton begins his Formula 1 title defence on March 15, the Sky Sports F1 team, including Damon Hill, Martin Brundle, Anthony Davidson and Johnny Herbert will be going head to head on the ultimate 2015 race track. The track also includes miniature sized landmarks from the F1 calendar, such as the Monaco swimming pool, the Singapore Flyer, the Silverstone wing and more.
The circuit can also be seen through the Sky Sports F1 touchscreen, which has had a visual facelift for viewers for this season. Also new for this season, Sky Sports F1 will be able to offer eight individual on board feeds from different cars on the Race Control iPad app, making a total offering of up to 14 individual live streams including driver and pit lane cameras, and data streams to watch on split-screen.
Sky Sports F1 will be the only place to watch the full 2015 FIA Formula One World Championship with coverage beginning with practice at the 2015 FORMULA 1 ROLEX AUSTRALIAN GRAND PRIX on March 13, one of ten Grands Prix exclusively live in 2015 including Monaco, Singapore, America and Mexico. 
Viewers can watch live on TV with Dolby 5.1 surround sound, via Sky Go or using Race Control accessed via the red button, or the Sky Sports App for iPad. Non-subscribers can also follow the 2015 F1 season without a contract through online TV streaming service NOW TV by purchasing a Sky Sports Day Pass for £6.99 or Sky Sports Week Pass for £10.99