Lewis Hamilton & Nico Rosberg talk up threat of improved Ferrari
"The Ferraris have made a huge step," says world champ Hamilton, while Rosberg denies Mercedes have doubled their 2014 advantage
By James Galloway
Last Updated: 26/03/15 5:08pm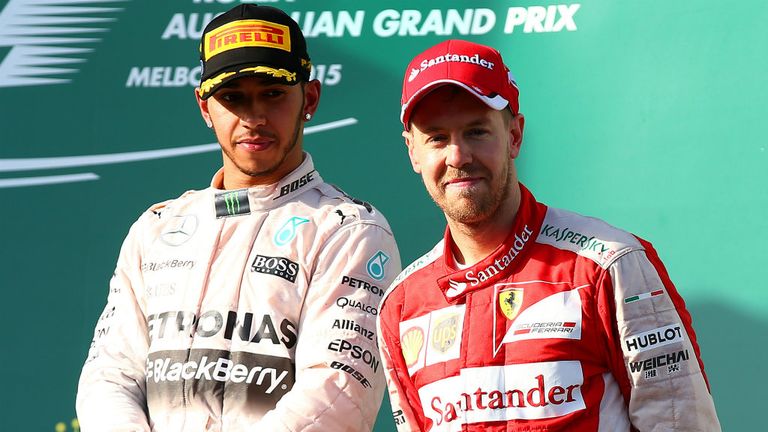 Lewis Hamilton and Nico Rosberg have ramped up the pressure and expectancy on Ferrari by suggesting that the Scuderia are capable of challenging Mercedes' Formula 1 hegemony in 2015.
Despite expectations that the chasing pack would be closer to the sport's dominant force in the second year of the new turbo era, the season-opening Australian GP suggested little had changed over the winter after Mercedes romped to comfortable 1-2 finishes in both qualifying and the race.
While the only other race winners from 2014, Red Bull, are currently engulfed in a war of words with their engine suppliers Renault and have slipped backwards, Ferrari do appear to be a rejuvenated force after they beat Mercedes-engined Williams to third in Melbourne – although new signing Sebastian Vettel still finished over half a minute behind race winner Hamilton.
But despite looking set to enjoy another exclusive fight for the championship this year, Mercedes pair Hamilton and Rosberg are fully aware of the progress currently being made by Ferrari
Hamilton, who this week said it would be "unfair" for Mercedes' advantage to be curbed through the regulations following Red Bull's call for equalisation, reiterated that he would welcome a multi-team battle at the front. 
"Naturally you want more cars to be in the fight," he told Sky Sports News HQ at Sepang on Thursday. 
"But I'm just grateful that I do actually have a fight within the team [with Rosberg]. We all have the same rules but it's just that this team has done an amazing job and we've worked so hard together to now be fighting.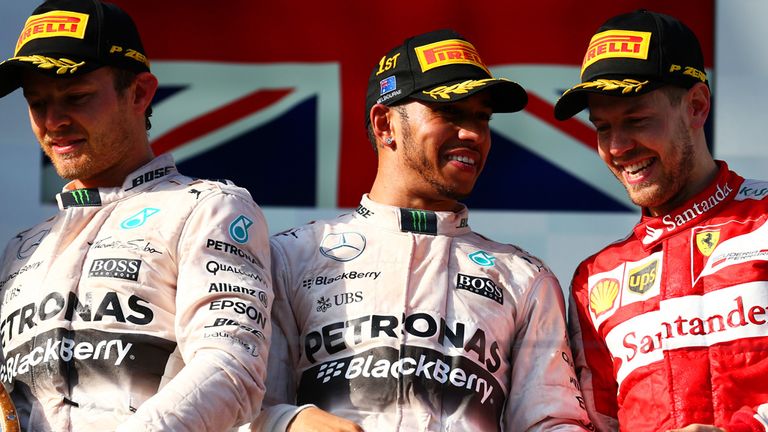 "The Ferraris made a huge step, they've really improved their engine and I assume they're going to improve their car through the year. So there might be times when they are going to be close, or Williams will step up, who knows."
Speaking in the Drivers' Press Conference, meanwhile, Rosberg quibbled with suggestions in the wake of Melbourne that Mercedes had doubled their advantage compared to the start of 2014.
In fact, he argued that Kimi Raikkonen's race pace during the Melbourne opener actually suggested Ferrari were closer to them than Williams ended last season.
"I don't think it's right to say that," he insisted. "Qualifying pace was very strong but more important is the race pace and especially from Kimi we saw extremely strong stints. 
"So it's not really fair to say that. Ferrari especially have closed the gap and are closer than our nearest rival was last year."
With Ferrari themselves believing they were closer to Mercedes over the race distance Albert Park than the final timesheet indicated, team boss Maurizio Arrivabene has urged the team to start chasing down the world champions.
Raikkonen, whose Melbourne race was compromised by a troubled first lap, clocked a fastest lap which was within half a second of the W06s and the Finn said on Thursday: "We are in a much better position than even the end of last year and in that way it's a nice place to be. 
"But obviously we still have to improve quite a bit to be in the front. We don't have the speed exactly, at least in qualifying, to be there. In the race we are a bit stronger comparing to Mercedes. It will be a fun year."
Sky Sports F1 will show every session from the Malaysia Grand Prix weekend live and available on the move with Sky Go. The race starts at 8am on Sunday, with comprehensive build-up underway from 6:30am