Sebastian Vettel targets the world championship after shock win
Hamilton says he welcomes the challenge; Vettel just three points behind in drivers' standings; Wolff hails rival's display
By Pete Gill
Last Updated: 21/04/15 3:24pm
Sebastian Vettel has targeted the world championship after claiming a sensational victory in the Malaysia GP to ignite the 2015 season.
In a stunning performance, Vettel silenced critics of his move to Ferrari - and the sport after the soporific Australian GP - by beating both Lewis Hamilton and Nico Rosberg at Sepang in emphatic fashion to claim his first win in Ferrari colours.
"To be the first one to beat Mercedes fair and square is an incredible achievement," said Vettel in the post-race press conference.
As the four-time world champion crossed the finishing line to beat Hamilton by eight seconds, his race engineer shouted "Ferrari are back". The same might also be said of F1 in 2015 as Vettel ended Mercedes' seven-month winning streak which was threatening to have fans turning off in their droves.
Not only did Malaysia serve up a riveting battle, but the overarching message from Sepang is that F1 might possess at least three title challengers.
"He has won the race, he is a championship contender," concluded Mercedes boss Toto Wolff. "It is going to make us work harder and concentrate even more. The recovery Ferrari have made over the winter is incredible and you have to honour that as a racer."
As his achievement sunk in, an emotional Vettel appeared close to tears. After being comprehensively thrashed by Daniel Ricciardo in his final season at Red Bull, to the extent that he reputedly considered quitting the sport, the former world champion appears a driver reborn in red.
"Our goal is to bring back the world championship to Maranello," said Vettel. "We were quicker which is why we beat them. We know they are very strong but we were strong on the tyres which gave us an edge and we made the most of it."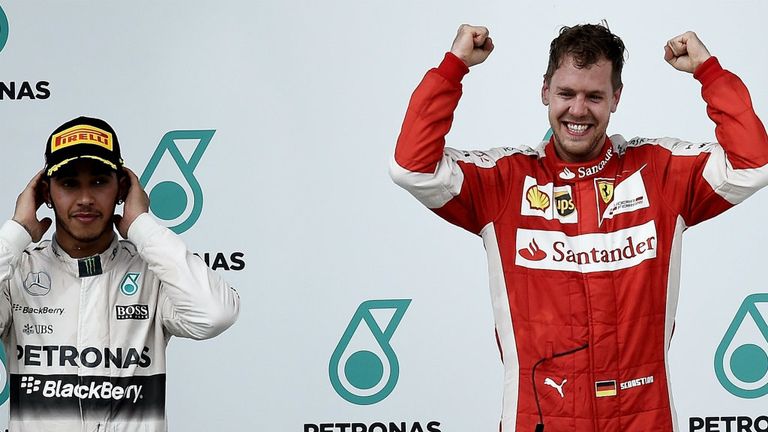 Mercedes will rue a series of baffling strategy calls as both Hamilton and Rosberg failed to coax as much tyre life out of their Pirelli rubber as the faultless Vettel.
"All I can say now on behalf of our team is game on Ferrari," declared Rosberg somewhat unconvincingly after a subdued display.
"They were too fast for us today," concluded Hamilton who was heard to repeatedly question his strategy over his radio as his race slowly unravelled.
"There are areas we can improve on and you can't win them all," he later told Sky Sports News HQ. "It's nice for the sport to see another winner. And some people are going to have to eat their words after the last race. I'm looking forward to a battle now."
After two races, Hamilton leads the world championship by three points from Vettel - a slender advantage which is evidently too close for the Mercedes driver's comfort.
"Only three points? Really? Wow."
Game on.