Ferrari drive Mercedes to distraction to grab a timely win for F1
Sky Sports F1's Martin Brundle reviews a gripping Malaysia GP and finds himself particularly impressed by Ferrari and Sebastian Vettel as well as two young chargers further down the grid...
Last Updated: 07/04/15 12:36pm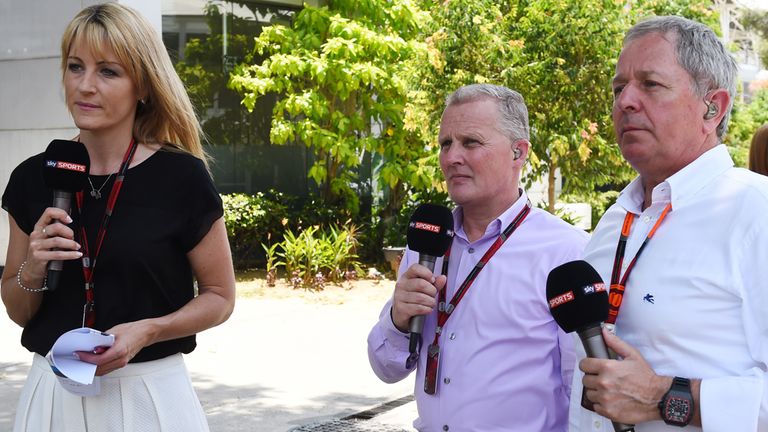 The Malaysia GP was a great race which constantly ebbed and flowed between scarlet and silver until Sebastian Vettel seized one of his most memorable victories and a timely one for Ferrari and the sport itself.
The writing was on the wall as early as Friday when both Ferraris were pumping in the fast race sim laps on both the medium and hard compound tyres in the extreme heat on the abrasive surface.
That was confirmed as soon as qualifying started when Mercedes went immediately out, in the face of imminent rain, on the medium compound tyre, thereby effectively declaring they favoured the hard compound for the race and were saving their precious three sets where possible.
The rain spiced up qualifying nicely and we had some key players like Kimi Raikkonen out of position on the grid relative to their true potential. To my great delight, I have to add new boy Carlos Sainz in his Toro Rosso to that list too.
At times it seemed as if 30 cars had started the race rather than 19 because we frequently had to cut to a new camera angle to witness yet another multi-car battle. This race didn't need rain to spice it up but the early Safety Car deployed, when Marcus Ericsson found his ambitious move down the outside into turn one was beyond the grip of his Sauber and eventually his talent, brought nine cars into the pits for a very early stop.
Crucially two of those cars were the Mercedes-Benzs as the team felt this was far enough into the race to get the first of three stops away. Hamilton and Rosberg emerged back into the pack in sixth and ninth respectively and, by the time they regained their rightful place on track through the traffic, Vettel was 10 seconds clear.
We heard plenty of radio traffic, especially from Hamilton, that tyre grip was falling away but not a peep from the Ferrari drivers. Raikkonen would make his way from 11th on the grid, via a first-lap puncture, to a competitive fourth place at the flag, albeit partly assisted by the Safety Car. Meanwhile, Vettel would drive the perfect two-stop strategy and take victory.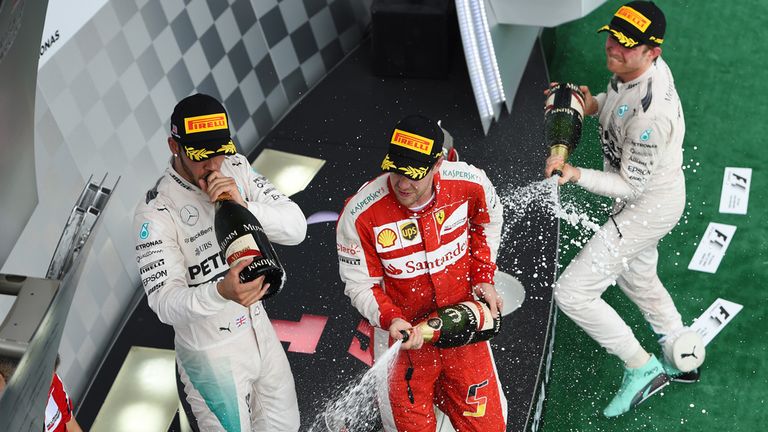 James Allison led a technical team which created a Lotus which was very light on its feet and used to great effect by Raikkonen and Romain Grosjean in 2013. He appears to have achieved the same thing at Ferrari and this played out perfectly on a track hovering just over 60 degrees C.
Like many, I believe that Ferrari would have beaten Mercedes whatever they had done strategy-wise and the team have been open and humble enough to say so. They've had a pretty easy run for 20 races in terms of pace and strategy and they looked a little vulnerable at the weekend. At one point they were advising Rosberg he would need strong pace to beat Vettel which suggests they thought Hamilton was going to win given his strong pace at that time.
Lewis was pretty moody on the radio as he recognised what was unfolding. This was different to the supremely relaxed Lewis who was at the SkyPad late on Saturday evening talking through his 40th pole position lap for us.
A telling point was in a Sky F1 interview after the race where he was clearly surprised to learn that Vettel was only three points behind him in the championship. He's seemingly got his team-mate Rosberg covered off but this is a surprise.
I asked Allison post-race if this was a one off. He agreed that the high temperatures suited his car for tyre degradation and possibly they needed to open the Ferrari up less for drag-inducing cooling too. Next time out at China will be different when actually generating tyre temperatures can be an issue but he said that their cold winter test race-sims weren't too bad either. What he clearly was excited about are the development parts in the system and this victory will keep the team purse strings open too.
Rosberg had a difficult afternoon, according to his radio calls struggling to understand the race after the Safety Car and why the car relentlessly looming in his mirrors wasn't silver, and then letting Vettel through rather too easily. China and Bahrain are very important for him to get his season back on track.
It's the same for the unlucky Raikkonen. A retirement and a fourth place leaves him well behind the Italian-speaking new God of speed in the Ferrari fans' eyes.
Williams had an alarming afternoon finishing 70 seconds off the lead. The fact that their two drivers were disputing the same piece of tarmac on the last lap suggests that was the true potential of the car on the day. I wonder how much Mercedes can and will help their favourite customer team to take points off Ferrari now.
The Toro Rosso drivers were a pleasure to watch, seemingly in a battle with allcomers the whole race until they turned their attentions on each other late in the closing stages. The two-stopping Sainz had no defence against the flying teenager and Verstappen became the youngest ever F1 points scorer by well over two years. There's an old head on young shoulders if I ever saw one, although his move on Sainz into turn four would have caused some missed heartbeats on the pit wall. Despite the same recalcitrant Renault motor they are outperforming the parent Red Bull team.
Fernando Alonso continues to portray being the happiest man in motorsport, which is difficult to comprehend. He drop kicked the team in the Thursday press conference by basically declaring there was nothing wrong with him and it was the car which was to blame for his testing crash. His position that he'd rather be with a works engine-supported team team trying to beat Mercedes than a customer engine outfit makes some sense but was rather blown apart on Sunday with Vettel's victory. I notice that Alonso didn't congratulate his old team in his post-race press release.
McLaren-Honda are making big steps, thankfully, but I sense they feel they have a chassis advantage when the engine gets sorted. A car will always feel good when underpowered and it does look fine out on track but I haven't seen anything which suggests it's a step ahead of others. The bright spotlight is on Honda for power and reliability now and that's tough within a season and these regulations. Meanwhile, two great drivers have to keep driving and keep smiling.
Something which is turning over in my mind at the moment is what happened to Vettel last season...
Next up China and Bahrain. 
MB