Sebastian Vettel brings 2015 to life and proves he's the real deal
Sky F1's Simon Lazenby on an emotional tumult in Malaysia as Ferrari's new main man provides F1 with the perfect tonic
Last Updated: 07/04/15 12:29pm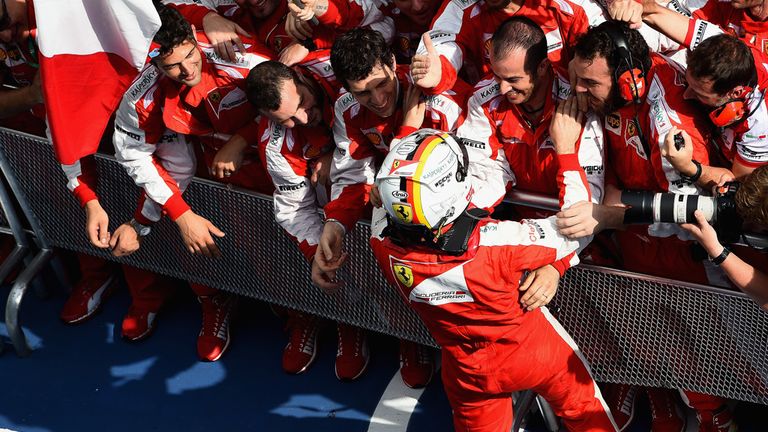 Vitality. This, by most observers' perceptions is what Sebastian Vettel and Ferrari breathed back into a sport that had been straining under the weight of unrealistic expectation prior to Malaysia.
After moribund premonitions about the 2015 season a fortnight ago, F1 burst back into life in the searing heat of Malaysia because unexpected victories always inspire human expression.
First off there was joy. By simply swapping teams and becoming the underdog, in victory Sebastian Vettel was celebrated rather than booed as he leaped onto the top step in Sepang. 6000 miles away in Maranello, the centre of Ferrari's beating heart, church bells were pealing. Down in the pitlane below Vettel, amongst the throng, we saw grown men crying. No doubt this was the case all over Italy.
Thirty-four races is a long time for the Scuderia to wait between wins and next to us James Allison was visibly moved whilst hanging on the every word of the man who drove his creation to the chequered flag. By all accounts Maurizio Arrivabene's racing team have had an extra 100 million Euros added to their yearly budget by Ferrari. What does that tell you about their hopes for the months ahead?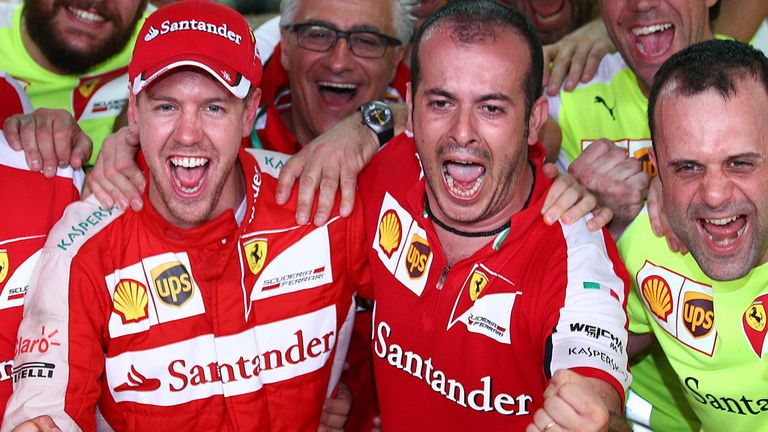 There was also frustration. Lewis Hamilton's annoyance with his race engineer Pete Bonnington talking to him while cornering encapsulated the emotion of an afternoon that even had Paddy Lowe flustered. The champions were beaten in the words of Vettel "fair and square" so much so that Hamilton, realising this, was able to put aside his dissatisfaction and enjoy the winner's moment with him, sat together atop the podium.
Indeed the nature of the result raised pulse rates throughout the paddock and has perhaps shifted the paradigm for this season. Prior to the race it seemed Red Bull had simply come to terms with the Sisyphean task of overhauling Mercedes this year. They grumbled that it might force them to rethink their involvement due to the necessity of sporting success to the parallel business of marketing.
But Ferrari's victory has already encouraged Renault to take a more positive approach in the media concluding that: "Mercedes can be caught if all the ingredients are there." You would think that if the team and its engine manufacturer, with a budget their size, can put aside their public bickering and direct their energies in a more positive manner then they too could be a challenger sooner rather than later - especially as they have more engine tokens left to spend than any of the others.
McLaren, to their credit have spun the world a magnificent tale akin to an asthmatic giant struggling to find his inhaler. They have put a brave face on their woes and through gritted teeth and a wry smile 'Big Ron' exclaimed that their partner Honda will relish the engineering challenge of catching up. They're not whinging.
So just how long will it take the others to catch Mercedes with the regulations set out and stretching in front of them towards the end of the decade? That is the overriding question but what this weekend taught us is that the sport doesn't require gimmicks to demonstrate that it's in good health. It doesn't need artificial ways to peg the best back. F1's mantra is to push the technology boundaries further. It requires the dedication and belief of an engineering team that, with good ideas and solid execution can build a car that can challenge anyone.
That's what happened in Malaysia. Hope was born out of hard work. Just as Vettel was being criticised by Bernie Ecclestone for not doing enough to promote the sport when he was world champion, he rose again. He's not on Twitter and has preferred not to wallow in the trappings of fame. So what? Isn't that all besides the point anyway? All he's interested in doing is winning races.
Quietly and behind closed doors he's helped precipitate change at Maranello, breathed new life into Ferrari and in doing so, into the sport. There's nothing artificial about that. That is why he's a great champion and that's why, contrary to the doom mongers predictions, F1 2015 isn't ready to flatline just yet.
SL