The Chinese GP driver ratings
Hamilton and Verstappen star as Grosjean returns to the points while Maldonado heads into negative territory...
By James Galloway, Pete Gill and William Esler
Last Updated: 02/11/15 3:45pm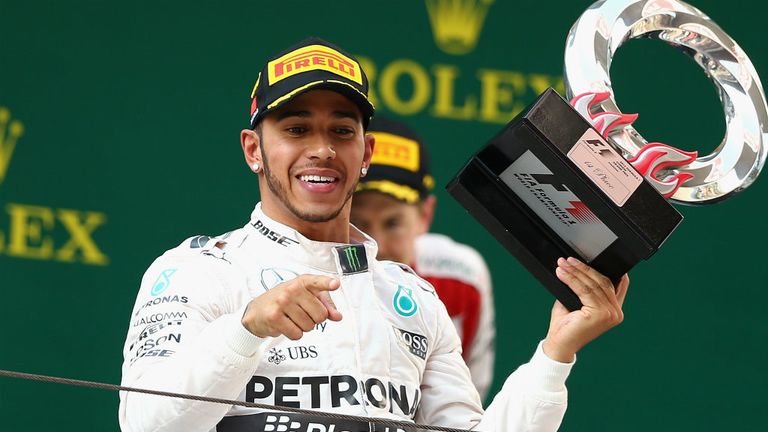 It was very almost the perfect weekend for Lewis Hamilton in China. He was fastest in every session, took his third pole position in as many events this year, set the fastest lap of the race, won the grand prix with a faultless performance, and, best of all, provoked his team-mate into a credibility-sapping rant. Game, set and match indeed.
In every facet, it was a masterful display from the world champion, with Hamilton only beaten throughout the entire weekend during Q1. While it is easy to be glib about Rosberg's post-race outburst and what it revealed about the German's current state of mind, the fact that Hamilton out-thought his team-mate as well as out-drove his title rival is worthy of reflection given that it became fashionable a year ago to extol Rosberg as a 'thinking man's driver'.
On Sunday, it was Hamilton who displayed the sharpest mind on the grid, controlling the race and his pace to maintain his lead while simultaneously driving his team-mate back towards Sebastian Vettel. Even the greatest of them all couldn't have done it any better. 

"Another Mercedes driver by the name of Juan Manuel Fangio said 'the goal is to win at the slowest possible speed'," Damon Hill pertinently recalled after the race. "He'd be proud of Lewis Hamilton today." Accolades don't come any higher than that – or more deserved.
Rating out of ten: 9.5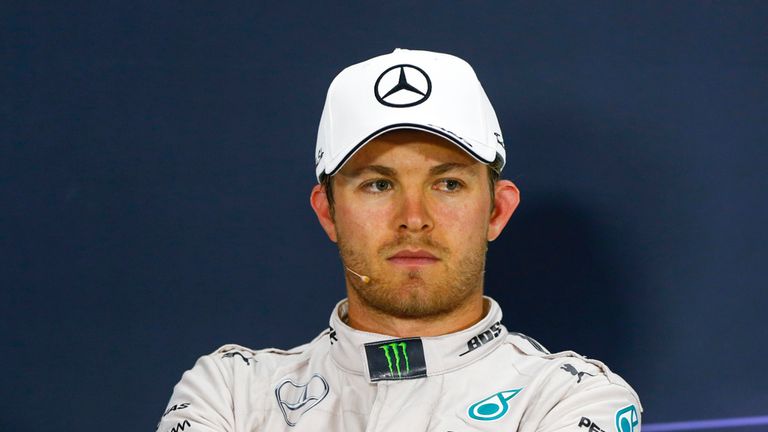 Oh dear. Magnanimous Nico Rosberg was replaced by moody Nico Rosberg for much of the Shanghai event as he seemingly took Niki Lauda's call to "sort himself out" to mean he should adopt a spikier persona. His complaints against, first, the Mercedes pitwalll in qualifying, and then Lewis Hamilton on race day, certainly pointed to the adoption of a siege mentality as Rosberg attempted to beat his team-mate for the first time this season. Unfortunately for him, he fell short again.
Whether or not he had a point with either of his outbursts, the on-track facts were than he didn't outpace Hamilton in any single session. That's not to say it was a terrible weekend for the German: he came within a roll of a Pirelli tyre of pole position and then proved a credible challenger to the lead Mercedes for most of the race. Unlike Malaysia he beat Vettel, too. The problem is though that second place has become a habit for Nico – that's seven runner-up finishes in the last 11 races – and those alone certainly aren't going to win you championships.
Rating out of ten: 7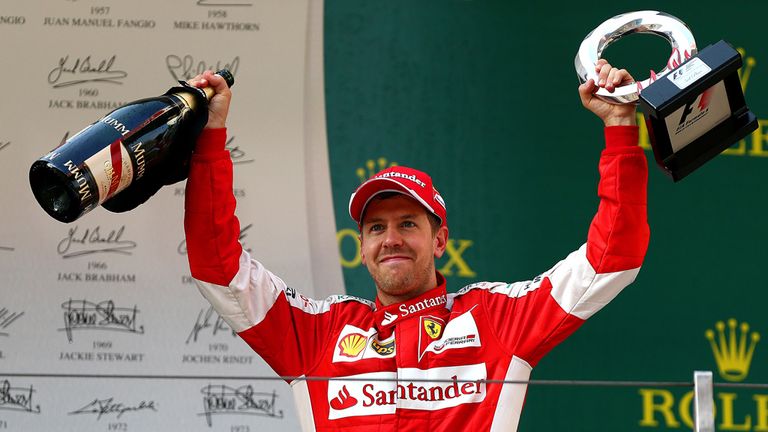 Sebastian Vettel did all that could be asked of him in China, keeping both Mercedes cars honest in a Ferrari that never had the pace to challenge the W06 for victory. When asked to push as Ferrari tried to undercut their rivals, Vettel's lap times forced Mercedes to react and the close proximity of the German to the second W06 contributed to the post-race tensions between the Mercedes team-mates.
In qualifying, Vettel also delivered and was the only non-Mercedes driver within a second of Hamilton, taking his predicted second-row spot, whereas team-mate Kimi Raikkonen made an error and was beaten by both Williams cars.
Rating out of ten: 8.5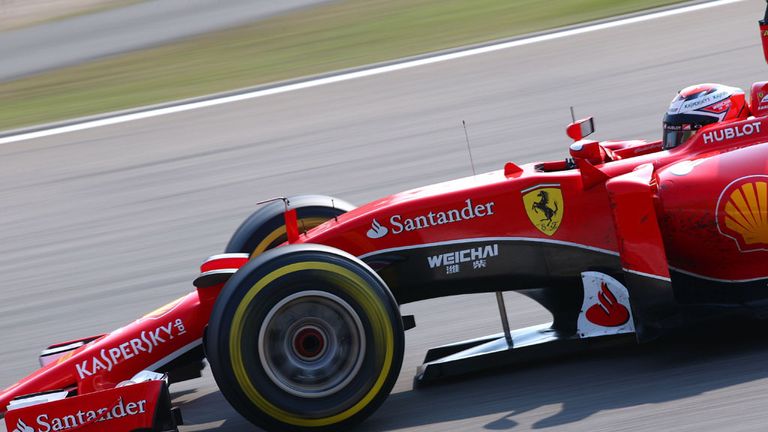 Kimi Raikkonen has now taken part in 22 races since his return to Maranello and only once in that time has he beaten his team-mate in race conditions when both Ferraris have reached the chequered flag. Given the ex-world champion's status and pedigree, it's a damning statistic and once again here it was qualifying which proved the Finn's undoing. Qualifying behind the Williams cars proved decisive as, although Kimi expertly dispatched both Massa and Bottas on the first lap on Sunday, he never really had the chance to get ahead of team-mate Sebastian Vettel.
The biggest frustration for Kimi and his loyal legion of fans is that from that first lap onwards there was nothing really to choose between the two Ferraris – Vettel pulled away after the first stops but Kimi reeled him back in one fresher tyres after running a longer middle stint. The Safety Car then put paid to any hopes the Finn had of finally returning to the podium. So, another strong race performance from the Iceman in 2015, but as Martin Brundle remarked on Sky F1, it's imperative Raikkonen starts actually beating Vettel soon if he isn't to be cast, unofficially at least, into the role of Ferrari number two.
Rating out of ten: 7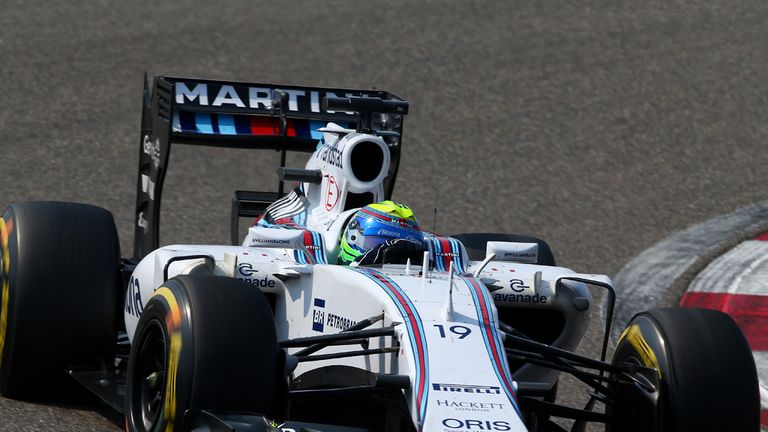 After a stalled rear-wing sent Felipe Massa careering into the barriers during practice on Friday, the writing looked to be on the wall for the Brazilian's weekend. You know the sort – a weekend which ends with a crestfallen-looking Felipe bemoaning his lot and trotting out the excuses after a lacklustre outing.
All credit, then, to Massa for what followed: a defeat of team-mate Valtteri Bottas in both qualifying and on race day as the veteran held sway over the second Williams. There's still plenty of life in the old dog yet.
Rating out of ten: 6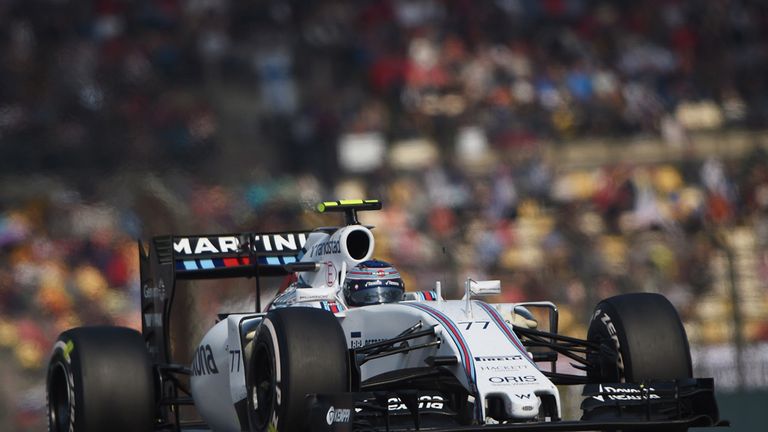 Was Valtteri Bottas even in the race? The Finn's anonymity was such that the timing screens had to be checked to ensure he had taken part in Shanghai. "Not much really happened for me today," was a fair summary by Bottas. "We struggled with the race pace."
A reasonable start saw him get ahead of his team-mate Felipe Massa, but just a few corners later he was soon mugged by Raikkonen and the Brazilian. From that point on he continued to fall away and by the time the Safety Car was deployed he had slipped 11 seconds behind Massa. For a man tipped to a future world champion, this was a race, and another weekend, to forget.
Rating out of ten: 5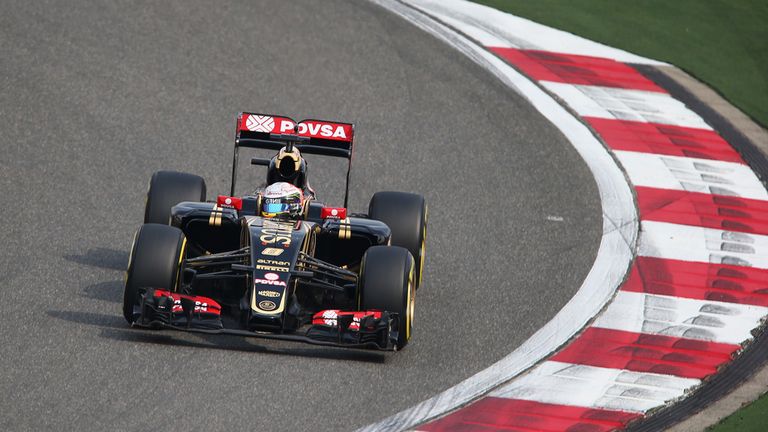 Few drivers will have felt as relieved as Romain Grosjean upon reaching the finishing line in Shanghai as the Frenchman claimed his first points-paying result since last May's Monaco GP. Bereft of an adequate yardstick in the final reckoning following the hapless misdemeanours of Pastor Maldonado, Grosjean was actually running behind his team-mate through the first-half of the race before the South American struggled to locate the pitlane.
Rating out of ten: 7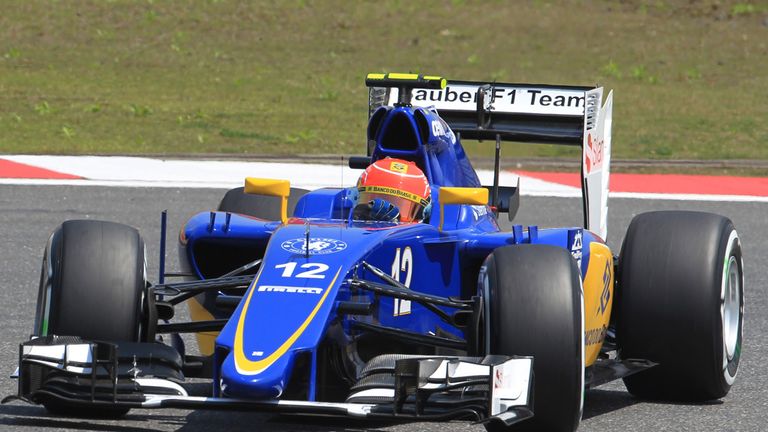 Much maligned on the eve of the new season, but Sauber's two drivers continue to do rather well for themselves in 2015 with Felipe Nasr headlining the team's second double points finish in three races. Although Marcus Ericsson's travails at Caterham mean the Swede is a difficult yardstick to measure Nasr's form against, the Brazilian outqualified his team-mate by a tenth of a second and then finished two places ahead of him in the race. Job done.
Unlike Ericsson, Nasr ran exclusively on the medium tyres from the first pitstops onwards and managed to stay ahead of the recovering Daniel Ricciardo. In fact, his 14-point haul so far means he is actually ahead of the Red Bull driver in the standings. Now, who would have thought that?
Rating out of ten: 7.5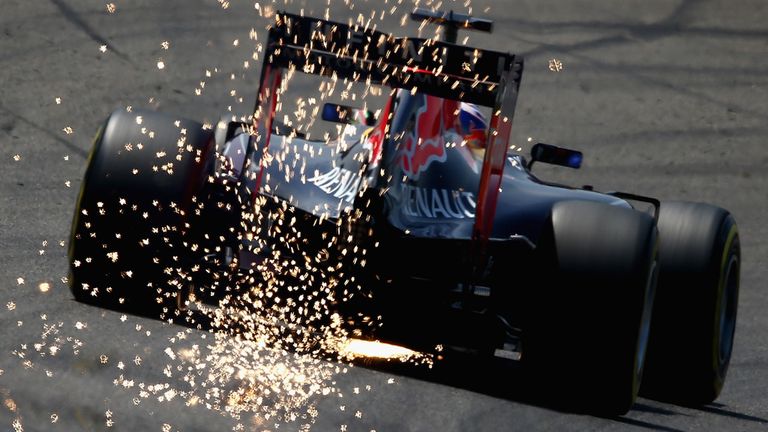 The Australian was targeting a top-five finish from seventh on the grid, but Daniel Ricciardo made a mess of his start as the anti-stall kicked in, dropping him to near the back of the pack. A decent enough recovery drive then followed, but some of the overtakes as he diced with the Saubers were rather too enthusiastic, easily allowing the blue cars back through. Ricciardo's cause wasn't helped by getting stuck behind Daniil Kvyat on the slower tyre when his team-mate was not in the mood to let him past easily.
Qualifying was a positive, though, with Ricciardo driving the only Renault-powered car in Q3, finishing an impressive seven tenths clear of Kvayt.
Rating out of ten: 6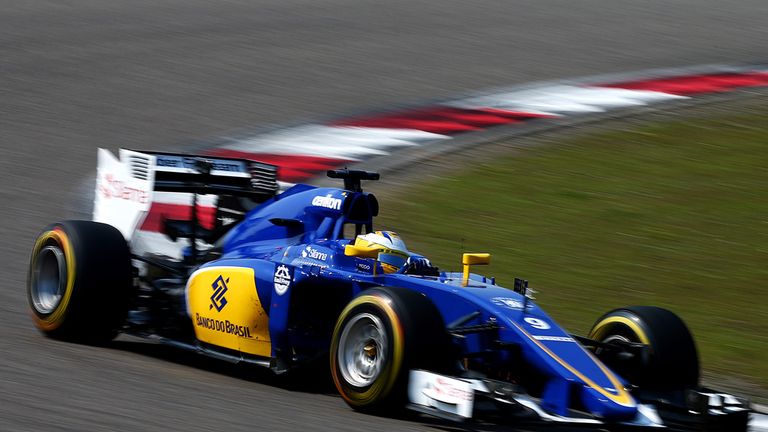 After ruining what was destined to be the best race weekend of his career by spinning out of the Malaysia GP, Marcus Ericsson enjoyed a solid if unspectacular Shanghai. Qualifying and finishing 10th represented a decent achievement, although by crossing the line in eighth Nasr clearly extracted a little more from the Ferrari-powered C34. Running a soft-soft-medium tyre strategy, Ericsson had several entertaining battles with Ricciardo but struggled with his front tyres.
Rating out of ten: 6
And the rest…
For most of this century, beating both McLarens would have been considered a noteworthy feat for a driver, but for Sergio Perez in Shanghai it only brought about a point-less 11th place finish. Such is the out-of-sync nature that Force India find themselves in with the development of their VJM08 at the moment that, far from doing their usual trick of completing one less pitstop than everyone else, the team plumped for one more with Perez – an aggressive strategy which didn't finish too far away from Sauber's Ericsson and a point. Beating Hulkenberg in qualifying for the first time in 2015 meant that all in all it was a decent weekend for the Mexican.
Rating out of ten: 6.5
If there was an award for the unsung star of the Chinese GP then it would surely be handed to Fernando Alonso. Still at a level of familiarity with his car that the majority of the rest of the field reached by the conclusion of the first Barcelona test, Alonso finished the race with a 19-lap stint on the soft tyres that was poised to conclude with the Spaniard overtaking his team-mate before Jenson Button's mistake brought both his Pastor Maldonado's afternoon to an early conclusion. 
Rating out of ten: 9
A race to forget for Carlos Sainz. The youngster has held his hands up "to a real mistake" after spinning when trying to round the Force India and was unable to mount any sort of recovery operation after the gearbox on his Toro Rosso became a box full of neutrals. Needs to bounce back quickly in Bahrain if he is not to become the forgotten man in a team full of Verstappen at the moment.
Rating out of ten: 4
In his own tweeted words after the race, Jenson Button got "a little over excited" in his ultimately bungled overtake attempt on Pastor Maldonado – a clash which earned the veteran a time penalty and penalty points on his licence. There's still not much to get excited about at McLaren otherwise, but Jenson does at least boast an early 2-0 qualifying lead over new team-mate Alonso. Having already traded places twice in the race, Alonso was steaming up behind the sister MP4-30 before JB inadvertently cleared both himself and the Lotus out of the Spaniard's way.
Rating out of ten: 5

Having travelled a combined total of 34,00 miles to Australia and Malaysia to not even get out on the track in qualifying, Will Stevens was finally able to complete a full weekend for Manor in Shanghai. Despite Roberto Merhi having enjoyed rather more miles, Stevens quickly established himself as the team's lead runner and qualified ahead by a comfortable seven tenths of a second margin. He dropped behind the Spaniard early in the race, but soon turned the tables.
Rating out of ten: 7
It's two race finishes from two for the floppy-haired Spaniard in F1, but Stevens conclusively showed Roberto Merhi the way in China despite his hitherto lack of 2015 mileage. It remains to be see how short – or long – Merhi's deal for the season's "opening races" runs.
Rating out of ten: 5
If only he had made it to the chequered flag, the astonishing Max Verstappen would surely have rivalled Lewis Hamilton as the driver of the race courtesy of his stirring charge through the midfield that moved Sky F1's Martin Brundle to hail the youngster as a "potential superstar." Too much too young? Not a bit of it.
Rating out of ten: 9
As one F1 journalist simply tweeted, 'Pastor Maldonado: Good grief'.
Rating out of ten: -1.
Ratings for Daniil Kvyat and Nico Hulkenberg are N/A after they retired in the early stages of the race.
Don't miss the F1 Midweek Report on Wednesday at 8:30pm on Sky Sports F1. Williams co-founder Patrick Head and F1 journalist Peter Windsor join Natalie Pinkham to discuss all the fallout from the Chinese GP.