Nico Rosberg admits he would have backed up Lewis Hamilton in China
Despite public complaints, German admits he would have done the same as Hamilton in Shanghai in quest for victory
By William Esler
Last Updated: 21/04/15 11:55am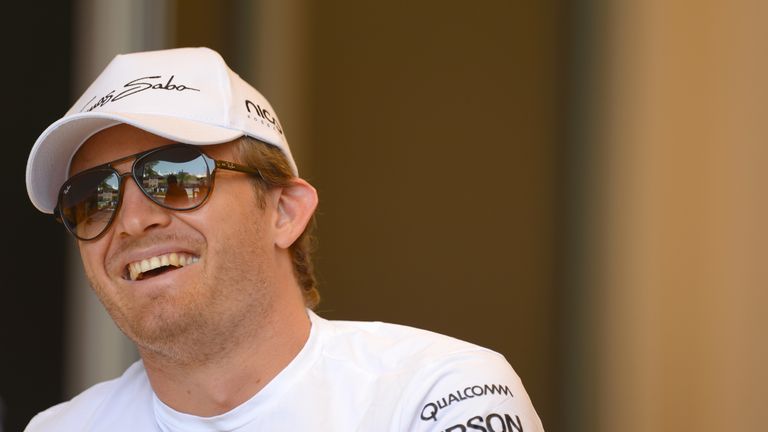 Nico Rosberg has admitted to Sky Sports F1 he would have backed Lewis Hamilton into the Ferraris if he had been leading in China.
However, Rosberg, who angrily accused his Mercedes team-mate of "compromising" his race in Shanghai, says Hamilton went "too far" in China when he eased off to protect his tyres.
Tensions between the pair, who have known each other since boyhood, frequently boiled over in 2014 and, during an exclusive interview ahead of today's Bahrain GP with Sky F1's Martin Brundle, Rosberg says it is impossible for him to still be friends Hamilton while they fight for the world title.
And asked if he would have backed Hamilton into the Ferraris if their roles had been reversed in China, Rosberg replied: 
"Of course if I'm out front I want to win – that is what I am here to do.
"I want to win for myself the race, for everyone else of course, but I want to win. So yes to a certain extent I will back up, but it is a fine line as to when you go too far and that was the discussion point."
Having first met during karting, Hamilton and Rosberg grew up as childhood friends, with the Briton a regular visitor to the German's family home in Monaco. However, Rosberg says that their relationship has inevitably suffered under the strain of battle.
"We can keep respect for each other. Friends? Not at the moment because there is too much involved, it is such a strong competition that we have against each other, team internally and everything," he added.
"Friends in our particular situation now is not really possible. But we can be on good terms, have a laugh and have respect for each other. Respect is something I think we will always have – that goes back all those years to when we were young and I am sure that will stay." 
With two wins from the opening three races, Hamilton is in impressive form, but his mental strength has frequently been perceived seen as a potential weakness, with off-track matters apparently affecting his driving in previous seasons. However, Rosberg, who will start from third on the grid in Bahrain, says he isn't interested in starting any physiological battles with Hamilton to destabilise his team-mate.
"I don't want to see it as getting to him, I want to see it as doing a great job myself and if I do that I can win. I haven't managed that in the first three races, I was very close I think in China and that is what I need to do
"I just need to focus on myself and everything else will come with it."
Indeed, Rosberg is convinced if he can get ahead of Hamilton, he will have no trouble beating the world champion.
"I'm confident that I can stay in front because the race pact in the first couple of races has been equal and so it is important to be in front," he added.