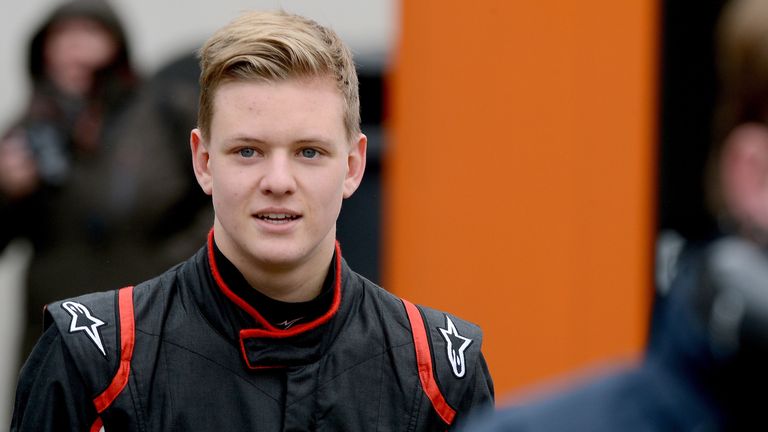 The 16-year-old son of seven-time world champion Michael Schumacher starts his Formula 4 career this weekend.
After a successful karting career, Mick Schumacher Jnr has joined the Dutch Van Amersfoort Racing team in Europe's ADAC Formula 4 for the season which starts at the Motorsport Arena Oschersleben between Hanover and Berlin.
Schumacher Junior – whose father is recovering from a head injury suffered from a skiing accident in December 2013 - will start a modest 19th on the 38-strong grid in Saturday's first race, despite finishing fourth and fifth in Friday's practice sessions.
It will be a busy weekend for the young German with one race on Saturday and two on Sunday.
Schumacher was the fastest rookie in both practice sessions in a strong field of teenage drivers all bidding to make their mark and dreaming of an F1 career.
He will have to prove himself over the eight-race season, held at tracks in Germany, Austria and Belgium and ending in October.
As the reigning European karting champion, who came second at the 2014 world championships, the young Schumacher has earned the right to step up to F4, where the cars are 100kgs heavier and produce 130 more horse-power.
But the teenager has to deal with the heavy weight of expectation not only from the media, but also the eyes of the F1 world.
"Of course, the public will be watching him, thanks to his father, and that is a huge burden for him," said Austrian F1 legend Niki Lauda.
Alongside him in the Van Amersfoort team will be 16-year-old British driver Harrison Newey, son of legendary F1 designer Adrian Newey.
But previous family success will count for little out on the track.
"We are all pleased with how things are going. Mick makes few errors," the team's managing director Rob Niessink told German daily Bild.
"The talent is there, the preparation is there, the intelligence is there. We are proud to have a big name race for us, but the name alone won't bring us any points. We'll all have to work hard for those."
Michael Schumacher's manager Sabine Kehm did her best to shield the teenager from the media's intense gaze during testing this month.
"I'd like to ask that the expectations on Mick aren't built up too high," she said. "It's his first year in Formula racing, everything is new to him and he has so much to learn."