Team bosses have called for an overhaul of F1's rule-making process
Force India's Bob Fernley criticises body dominated by top teams while Red Bull's Christian Horner reckons the FIA and Bernie Ecclestone should have more power
By Mike Wise in Monaco
Last Updated: 22/05/15 2:15pm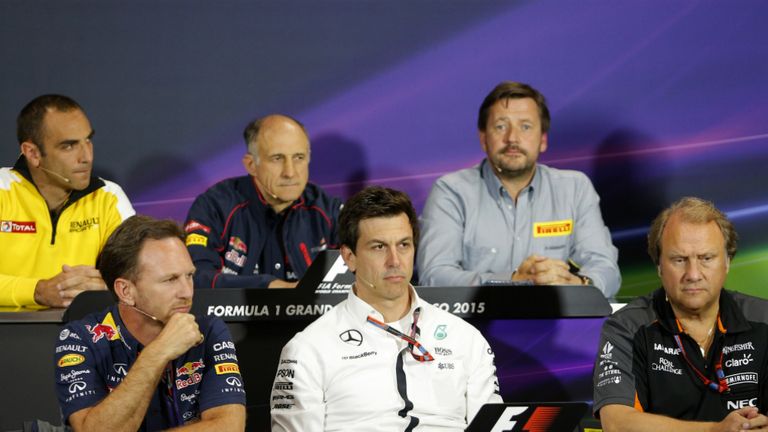 F1 team bosses, including Red Bull's Christian Horner, have called for an overhaul of the sport's rule-making process after admitting that their inclusion in the Strategy Group is preventing changes from being made.
The subject came up for discussion at the Monaco GP on Thursday, one week after the Strategy Group met to discuss proposals for the 2017 season. Although they have recommended faster, more aggressive-looking cars and the return of refuelling, there seemed little progress on the subject of cost-control, with struggling smaller teams also facing the prospect of customer cars.
Horner said the meeting was "very positive" but he admitted that a lot of decisions hadn't been "nailed down".
Force India deputy team principal Bob Fernley, however, was more outspoken. "After 18 months I think we've failed to agree of any form of cost control," he said. "There's absolutely no way there's going to be any equitable distribution of income.
"Whilst I agree there were some good discussions on 2017, the fundamentals of Formula 1 weren't addressed at all."
The Strategy Group was created in 2013 after a deal struck by the FIA with promoter Bernie Ecclestone, in which the governing body essentially traded some of its power to make rules in return for more of the sport's income.
With the FIA and Ecclestone getting six votes each, the remaining six are divided among Ferrari, Red Bull, Mercedes, McLaren and Williams, with the next best team – currently Force India - also getting a vote.
However, with decisions taken by majority vote, it's easy to block proposals while smaller teams have no say at all.
They do have representation on the F1 Commission, the second stage of the rule-making process, but again members – also including race promoters and sponsors – can form alliances if they don't agree with plans coming through.
A measure of the Strategy Group's effectiveness is that the ban on drivers changing their helmet designs is just about the only proposal they've all agreed on all season so far.
"I don't think the Strategy Group is fit for purpose," Fernley continued. "We should be looking at something where we've got a clear programme that delivers results: we've had 18 months or two years of Strategy Group work with nothing coming out of it. And I think we need to look at the system in a better way.
"I don't think you should have teams making decisions on where Formula 1 should go; the teams should be told where Formula 1 is going."
Fernley and Horner might disagree on subjects like cost control and income share amongst teams, but the latter too thinks that the process needs to change, with the FIA and Ecclestone instead dictating terms.
"It's rather predictable," Horner said. "Bob's going to ask for more money, [Mercedes team boss] Toto [Wolff]'s not going to want to change anything and we want to change engines. So every team has got it's own agenda and is going to fight its own corner.
"The sport is governed by the FIA and is promoted by FOM – and it's those guys that need to get together and say 'What do we need Formula 1 to be?'
"Is [the Strategy Group] a worthwhile forum? I think it is. But I think the structure of how regulations are implemented, that's what we need to look at."
However, when asked whether the Strategy Group should be disbanded, Wolff warned against the teams giving away too much power.
"This is a professional sport, it's a global platform. It needs to have a proper governance; I think if we wish for dictatorship I can see us sitting here in two years and complaining that it's going in the wrong direction," he said.
"It's always tricky to find the right governance. You vote for one government, you wish for the other to rule and the other way round."
Don't miss Sky Sports F1's exclusively live coverage of the 2015 Monaco GP. The race begins at 1pm on Sunday, with build-up underway from 11.30am. No Sky Sports? No problem! Watch the Monaco GP for £6.99 with NOW TV