Jules Bianchi's father has described his son's condition as 'stagnant'
Frenchman remains unconscious in hospital after accident in Japanese GP last October
By Sky Sports Digital
Last Updated: 22/05/15 4:39pm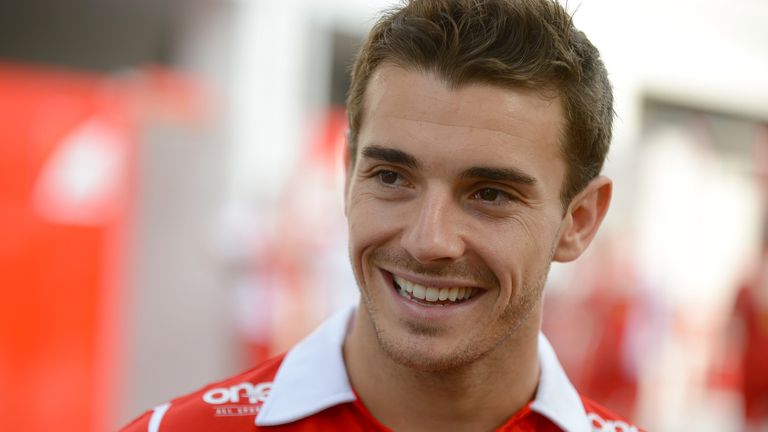 Jules Bianchi's father has said that his condition is "stagnant" and admitted that the Frenchman's family must therefore consider the worst possible outcome.
Bianchi remains unconscious in a Nice hospital after suffering severe head injuries in a crash at the Japanese GP last October.
Speaking to French television station Canal Plus, Philippe Bianchi said his son needed a "miracle" but insisted that his family would not give up hope.
"The first thing is that Jules is alive – that's the most important thing for us," he said. "He's fighting with the weapons that he has. In neurological terms, I'm not sure he's able to do much now.
"The situation is stagnant. Jules' neurological progress is not what we would like it to be.
"Seeing him fighting gives a lot of hope to his loved ones, and it's important for us. While there is life, there is hope, even though after a while you are hoping for a miracle.
"Every day is difficult. Every day, when we get up, the telephone is by our side. When we get up every morning, we think of Jules' life. We think also of his death, because we have to think about death.
"We have to think about death because we are in a situation where we know a lot of things can happen. It's terrible. I think we all stopped living that day, the fifth of October. It's something you can never expect.
"It's not what Jules wants, being in a hospital bed. It's not his life – it's not what we want either. But we have to keep hope."
Twelve months ago, Bianchi finished ninth for Marussia at the Monaco GP, a result that earned them valuable prize money that went some way to securing their future.
Now called Manor Marussia, team members are supporting Bianchi at this weekend's race by wearing wristbands race bearing his initials and race number 17.
"It was a tough year last year and Jules' accident affected a lot of people in the team and you can't not come here when we had such great memories of a great weekend with Jules, we think about him every day, but coming here, there is a lot more reminders," the team's president and sporting director Graeme Lowdon told Sky Sports News HQ.
"This was Jules' home race effectively and that made it all the sweeter last year. He performed fantastically, it was a top drawer drive and just showed what he is capable of really."
Don't miss Sky Sports F1's exclusively live coverage of the 2015 Monaco GP. The race begins at 1pm on Sunday, with build-up underway from 11.30am. No Sky Sports? No problem! Watch the Monaco GP for £6.99 with NOW TV