Monaco GP P3: Vettel heads Hamilton
Late lap from Ferrari driver puts him fastest ahead of Mercedes pair; Raikkonen and Verstappen crash out
By Mike Wise in Monaco
Last Updated: 23/05/15 2:56pm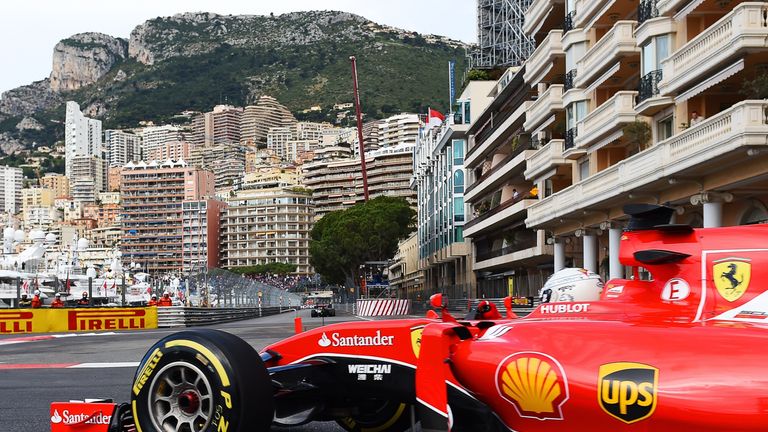 Sebastian Vettel was fastest in final practice at the Monaco GP ahead of Nico Rosberg and Lewis Hamilton on Saturday morning.
The Ferrari driver caused a stir with a late lap of 1:16.143 around the 3.337km street circuit to go 0.218s faster than Rosberg, the winner of this race for the last two years.
Hamilton, meanwhile, was third fastest with a 1:16.705 he'd set much earlier in the session, which was particularly busy after rain hindered running on Thursday. 
The world champion immediately took to the track on supersoft tyres and although he used them again later on, traffic prevented any improvement.
Ahead of qualifying, then, the question is whether Ferrari can challenge Mercedes at a track where aerodynamic performance plays far less of a role than elsewhere.
It seems, however, that Vettel will be leading Ferrari's challenge once more after team-mate Kimi Raikkonen hit the barriers.
The Finn had just set a time eventually good enough for sixth but then got out of shape exiting Sainte Devote. The left-rear wheel on Raikkonen's car was damaged and the session was halted for a short time.
After catching the eye by going second fastest to Hamilton on Thursday morning, Max Verstappen also crashed out, with the 17-year-old spinning into the barriers at the final corner, Antony Noghes.
Verstappen returned slowly to the pits, where Toro Rosso's mechanics will have to repair the car's rear wing ahead of qualifying.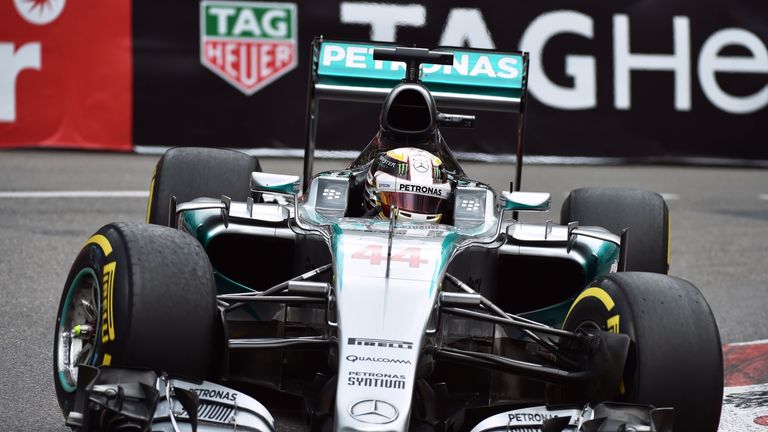 He ended the session ninth fastest, with team-mate Carlos Sainz a more promising fifth overall behind Daniel Ricciardo's Red Bull.
His team-mate, Daniil Kvyat, was seventh ahead of Jenson Button – a promising morning, too, for McLaren, as they chase their first points finish of the season in Sunday's race.
Team-mate Fernando Alonso was 14th ahead of Williams, who appear to be struggling with Valtteri Bottas 15th ahead of team-mate Felipe Massa.
Qualifying starts at 1pm BST.
Times:
1. S Vettel Ferrari 1:16.143
2. N Rosberg Mercedes 1:16.361
3. L Hamilton Mercedes 1:16.705
4. D Ricciardo Red Bull 1:17.120
5. C Sainz Toro Rosso 1:17.256
6. K Raikkonen Ferrari 1:17.401
7. D Kvyat Red Bull 1:17.471
8. J Button McLaren 1:17.767
9. M Verstappen Toro Rosso 1:17.788
10. R Grosjean Lotus 1:17.806
11. S Perez Force India 1:17.832
12. P Maldonado Lotus 1:17.956
13. N Hulkenberg Force India 1:18.102
14. F Alonso McLaren 1:18.197
15. V Bottas Williams 1:18.212
16. F Massa Williams 1:18.242
17. F Nasr Sauber 1:18.767
18. M Ericsson Sauber 1:19.269
19. W Stevens Manor 1:21.093
20. R Merhi Manor 1:22.225
Don't miss Sky Sports F1's exclusively live coverage of the 2015 Monaco GP. The race begins at 1pm on Sunday, with build-up underway from 11.30am. No Sky Sports? No problem! Watch the Monaco GP for £6.99 with NOW TV