Hungarian GP: Five things we learnt from qualifying
Hamilton looks unstoppable; Honda aren't at full power; Ricciardo the one to watch on Sunday; Alonso shows fighting spirit; Vettel piles more pressure on Raikkonen
By William Esler and Mike Wise
Last Updated: 27/07/15 2:15pm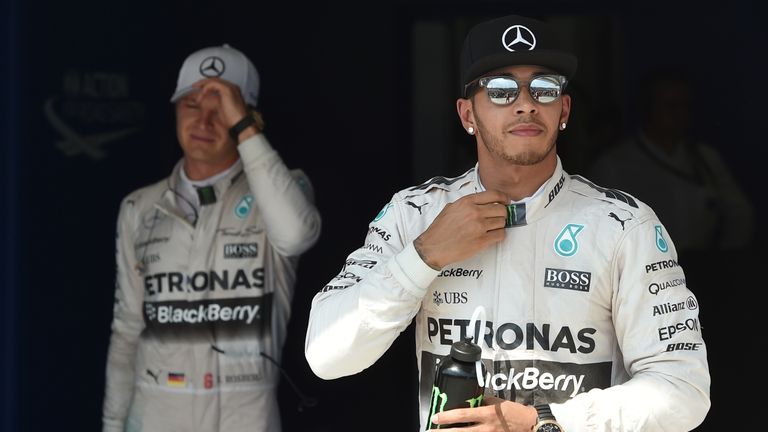 Hamilton looks unstoppable around here
Lewis Hamilton said on Friday that the Hungaroring is fast becoming his favourite circuit and it's easy to see why. Five-tenths clear of Nico Rosberg – a bigger gap than the margin between second and fifth - in qualifying, Hamilton has claimed five pole positions at the circuit and appears set to secure a fifth victory in Budapest. It's a track which seems made for him. "It's like a big go-karting circuit," said Lewis. "You need to have a good front end here and l do like an oversteery car and being able to throw it around." Rosberg's more calculating style, on the other hand, seems out of kilter with a track which appears to reward strong-armed aggression. 
Mercedes, meanwhile, continue to dominate Saturdays. This was their sixth successive front-row lockout and the third-placed Sebastian Vettel was nearly a second adrift. Aside from Rosberg, only Vettel and Daniel Ricciardo could get within a second of Hamilton's pole time. If the world champion continues to deliver that level of dominant pace on Sunday he will get close to lapping nearly the entire grid.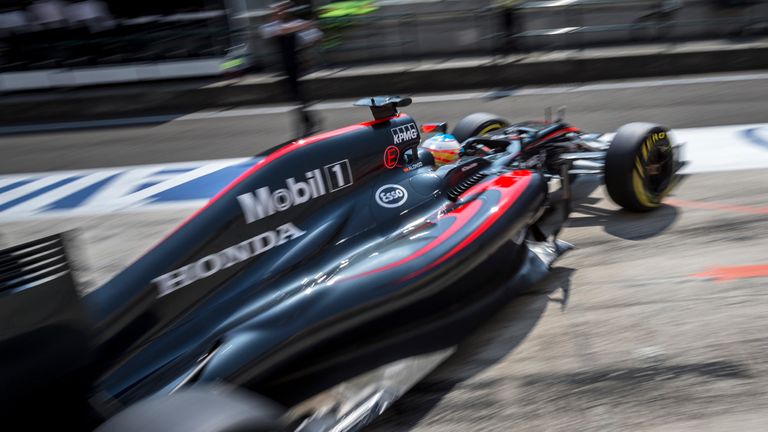 If McLaren-Honda really are at full power then... 
That the two McLarens cars would be - finally - in Hungary at full power was the hint dropped by the Japanese manufacturer at the start of the week, with its energy recovery system in full working order for the first time. But that wasn't the case in qualifying – literally not for Jenson Button, given that his car's ERS let him down right when he needed it at the end of Q1. "I didn't have any deployment all the way down the straight so it's quite a lot of power, over three-tenths of lap time," he said. "It's a massive amount before you've even arrived in turn one."
So Button lines up 16th while McLaren's hopes of reaching Q3 – a target at the Hungaroring, where power isn't necessarily the be-all – were ended a few minutes later with the familiar sight of Fernando Alonso climbing out of his car after it broke down. The Spaniard therefore lines up one place ahead of his team-mate but despite an encouraging P8 in final practice, Alonso's qualifying pace - even with ERS - was less than 0.2s quicker than Button's. Naturally it makes you wonder whether a) the power unit is actually delivering its full power; and if it is then b) what on earth are they up to?  
We all know the mitigating circumstances – a lack of testing – and Honda is promising a power upgrade in Belgium. Yet the worries continue to grow. "My concern is where it goes from here," Sky Sports F1's Martin Brundle said on Saturday. "Do Honda know what they need to do? And if they do, why haven't they done some of it already with the tools and opportunity that they've got available to them?
"It has the feeling not so much of a racing programme as an R&D programme, and there's a huge difference."
Daniel Ricciardo looks the one to watch on Sunday
Running under the radar in Q1, Daniel Ricciardo was the only driver not to use a set of soft tyres in the session. Even the two dominant Mercedes drivers decided it wasn't worth the risk given the large delta between the two compounds, but after surviving the cut, the Australian now has a potential ace up his sleeve come Sunday.
The soft compound tyre looks to be worth around two seconds and is likely to be the preferred race tyre of those drivers who two-stop at the Hungaroring. Having a brand new set available will give Ricciardo a major pace advantage, particularly if he uses them to get an undercut on drivers ahead.
"The whole session went well, to get through Q1 on the prime, I think I was the only one to take that gamble, and if we two-stop tomorrow we have a new set of options for that which could be handy," the Red Bull driver told Sky Sports F1. "Hopefully we can make good use of them."
Victorious at the track in 2014, there is no doubting Ricciardo's pace at the Hungaroring and the layout doesn't place huge demands on engine power, thus negating one of Red Bull's biggest weaknesses this year.
Even if the Mercedes drivers ultimately prove to be out of reach on Sunday, Ricciardo already has Vettel looking over his shoulder from P3. "I expect a tough race to the cars behind – the Red Bull in particular," the Ferrari driver admitted.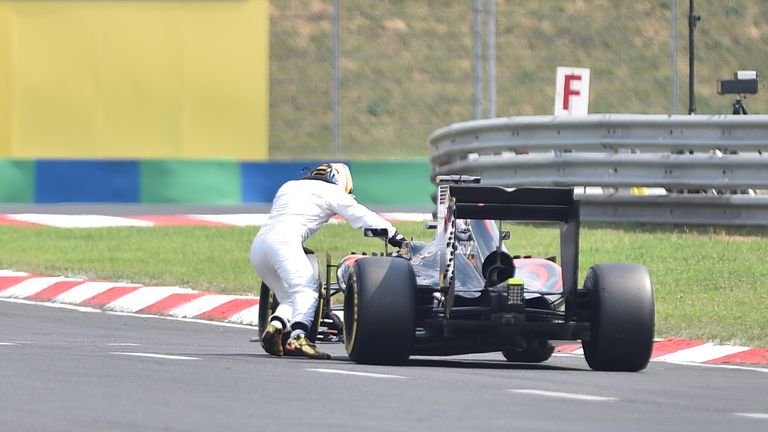 No faulting Alonso's commitment
One of the most fascinating facets of the McLaren-Honda soap opera is Fernando Alonso's reaction. The cynical point of view is that surely the façade is going to crack at some point? That the beaming grin we've become used to seeing despite another P17 or retirement will inevitably turn itself upside down and there'll be a huge falling out with Ron Dennis – like there was at the Hungarian GP in 2007, come to think of it. In F1, fallouts don't come much bigger than that.
Fast forward eight years and Alonso, rather than deliberately messing up his team-mate's qualifying session, was instead to be seen manfully pushing his car back to the pitlane after it had let him down yet again. The stakes might not have been so high as they were on other notable occasions drivers took it upon themselves to do the same (Alain Prost at Hockenheim in 1986, Nigel Mansell in Dallas two years earlier, Jack Brabham for the world title at Sebring in 1959) but as a demonstration of commitment it made a point.
Again with our cynical hats on, we could argue there are around 25 million reasons why Alonso should show such commitment. And he also made a point of acknowledging the crowd's appreciation, but what else could he do? It certainly wasn't showboating. People really do change; and perhaps Alonso really is determined to make it work.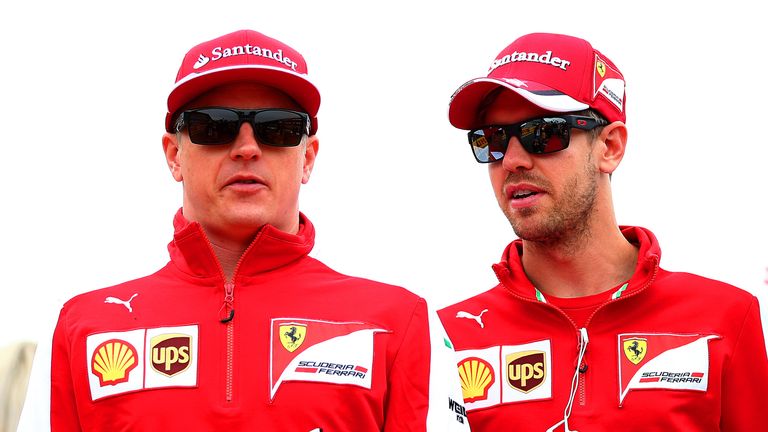 Vettel delivers again when it matters as pressure mounts on Raikkonen
Sebastian Vettel started the Hungarian GP on the back foot after trailing Kimi Raikkonen by around half a second in both of Friday's practice sessions. However, after a night to study the data he improved on Saturday and nailed a lap when it mattered to finish as best of the rest behind Mercedes.
"It is true that it was difficult yesterday with something slowing us down and stopping us getting a feel for the car," admitted Vettel. "So I am glad we found a direction today and we can be really happy after the rough start to the weekend."
During the days of his championship domination at Red Bull, the German could be relied upon to eke everything out of the car over a single lap and he is proving that once again in his new home.
By contrast Kimi Raikkonen once again failed to deliver when it mattered as he not only slipped behind his team-mate, but also the Red Bull of Daniel Ricciardo in qualifying. The Finn was third quickest in P1, but he couldn't maintain that pace as the weekend unfolded. As everyone knows pressure is mounting on the Finn, with the Italian press reporting that a deal has been agreed to replace him with compatriot Valtteri Bottas. It really is a weekend on which the Finn needs to shine.
It should be pointed out, though, that Raikkonen has had reliability problems this weekend, notably ahead of qualifying when his car sprung a water leak on Saturday morning.
He now trails Vettel 9-1 in the qualifying head-to-head at Ferrari and leaving himself with work to do on a Saturday isn't helping his race record. Certainly Raikkonen needs to start delivering in qualifying if he wants to have a chance of retaining his seat next season.