Fernando Alonso says McLaren are enjoying best weekend of 2015
Alonso stopped on track in Q2 and resorted to pushing his car; Button eliminated from Q1 for the eighth time in 10 races
By Pete Gill at the Hungaroring
Last Updated: 27/07/15 2:16pm
McLaren have insisted they are enjoying their most competitive weekend of the season despite a torturous qualifying session for the Hungarian GP.
While Jenson Button was eliminated at the first hurdle – his eighth such exit at the conclusion of Q1 in just 10 2015 events – Fernando Alonso will line-up a lowly 15th. But the session will be remembered for the sight of two-time champion Alonso reduced to the indignity of pushing his stricken car back to the McLaren pits after it broke down only to be told that he wouldn't be allowed to continue.
But still clinging to a glass-half-full outlook even in a parched desert of tangible reason for optimism, Alonso is adamant the McLaren-Honda project is progressing.
"Definitely our best weekend in terms of how competitive we feel," said the Spaniard. "It was a bit too optimistic to make Q3, but it's not frustrating because we know what we are doing and we know the phase we have to go through this year."
Although there is no indication that McLaren are losing faith in their engine partners, team boss Eric Boullier admitted that it would be difficult to maintain morale within the team if their current miserable run of form continues.
"We are in pain because we are not where we want to be or where we should be, I don't know how long it will be possible to keep everyone happy but we will be as honest and transparent and hard-working as possible."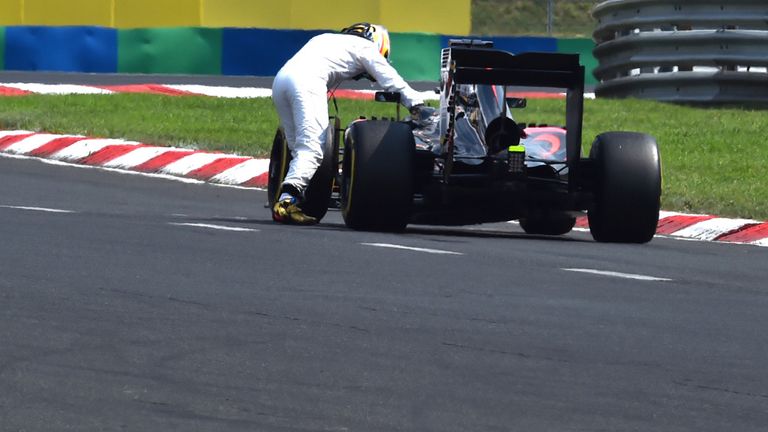 McLaren have attributed Alonso's breakdown, and the failure of the ERS unit on Button's car which condemned him to an early finish, to "human error".
"We need to learn from the mistakes we are making and become competitive as soon as possible," said Alonso before explaining his determination to retrieve his McLaren car in such forlorn circumstances.
"I want to be out there, l want to race and this showed how much l love my sport. It doesn't matter if you are in last position or in pole, you want to drive the car."
Although Alonso fears that an even tougher stage of the season awaits McLaren after the summer break, warning "there could be worse races to come," Button is hopeful that the new upgrades scheduled for next month's Belgian GP from Honda will give the team a fillip.
"Spa will be a very good test for us," said Button. "We will have a good step forward from the power unit but we need to work on every area."