Italian GP qualifying: Lewis Hamilton on pole position ahead of Ferrari
World Champion claims 11th pole of 2015 ahead of Ferrari pair Kimi Raikkonen and Sebastian Vettel; Nico Rosberg only P4 after Mercedes engine change; McLarens fail to make it through Q1
By Mike Wise
Last Updated: 09/09/15 1:12pm
Lewis Hamilton will start the Italian GP on pole position ahead of Ferrari pair Kimi Raikkonen and Sebastian Vettel at Monza.
The world champion and current title leader had been fastest in all three practice sessions and maintained his 100 per cent record with a 1:23.397s lap around the 3.6-mile Monza track.
It was Hamilton's seventh pole in a row and 11th of the season. Not exactly a surprise, then, although the presence of the Ferraris in second and third places on the grid very much was - as is the presence of Raikkonen in P2 ahead of Vettel.
In the event, the Finn just pipped his team-mate with a lap 0.234s slower than Hamilton's, with Vettel in turn outpacing Nico Rosberg.
That Raikkonen and Vettel were able to mix it with the Mercs certainly added a bit of flavour to proceedings and kept the Tifosi on their toes, particularly when one considers how fast the Silver Arrows had been on Friday.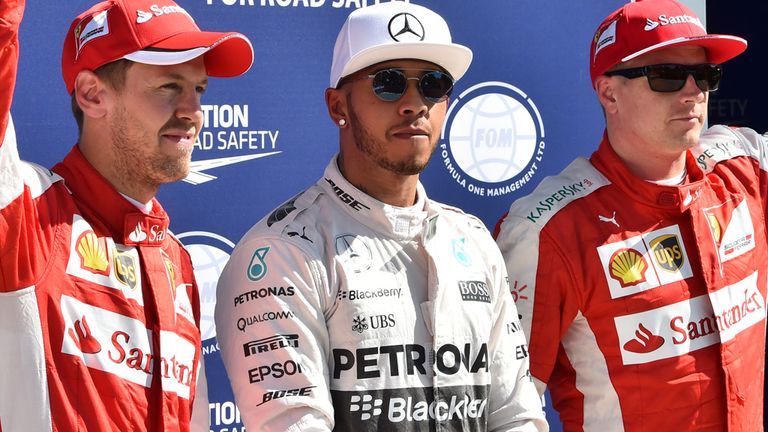 "These guys did a great job and they are very close," Hamilton said afterwards, flanked by Raikkonen and Vettel. Yet he also said he hopes Rosberg - over whom he currently holds a 28-point lead - finishes ahead of the Ferraris.
"Going into every race you want to get as many points as you can and always hoping that there is an opportunity to gain more than the usual," Hamilton added. "But, honestly, I'm hoping that Nico pulls through and we can do a good job and naturally we both want to finish ahead of the Ferraris here.
"That's always good to do on their home turf, if possible, and also for the championship."
Ferrari's 2-3 even managed to raise Raikkonen's eyebrows. "If we look now, we have probably surprised ourselves a little bit," he said. "We expected a strong weekend but this track is probably not our strongest. But it's nice to be here and it's our best qualifying this season as a team."
But at least Rosberg had an excuse. Eventually qualifying 0.306s slower than Hamilton, the German's car needed an engine change ahead of the session - reverting back, therefore, to an older power unit than the one they've introduced this weekend.
Felipe Massa and Valtteri Bottas were next up as Williams, as usual, gradually upped their pace - although Ferrari's ability to rise to the occasion in general relegated the Mercedes customer teams.
Sergio Perez qualified seventh for Force India, ahead of Romain Grosjean's Lotus and although Nico Hulkenberg was eventually ninth in his Force India, the German ran out of fuel during Q3 and was unable to improve his time.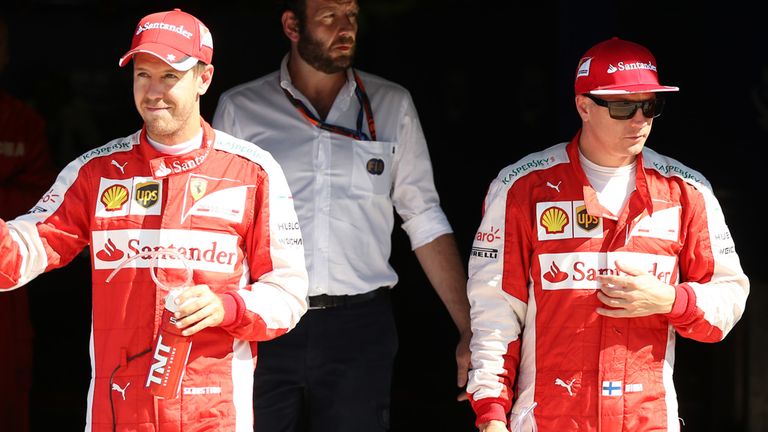 Marcus Ericsson rounded out the top 10, meanwhile, but the Sauber driver later felt the wrath of the stewards after blocking Hulkenberg and will now start 12th behind team-mate Felipe Nasr and Lotus's Pastor Maldonado. 
There are already penalties aplenty further back in the order, as the usual suspects make engine changes. The Red Bulls of Daniil Kvyat and Daniel Ricciardo were 14th and 15th, with the Australian getting a lap in during Q1 after his team managed to change his car's Renault power unit in an hour and 40 minutes.
Ricciardo reckoned it was a record; if so, it comes as little surprise given how much practice Red Bull's mechanics have had so far this season. 
Just by getting the lap in, Ricciardo was able to consign Jenson Button to an early exit, with the McLaren driver 16th fastest ahead of team-mate Fernando Alonso.
All four drivers will start the race from the back of the grid, together with the Toro Rossos of Carlos Sainz and Max Verstappen, who have also taken engine penalties this weekend.
Even so, Verstappen's new power unit also developed problems, which left him stranded in the pits for most of P1. His team rushed to get him out, which they succeeded in doing; but they didn't secure his car's engine cover sufficiently and it flew off as the Dutch teenager took the Lesmo bends. 
Italian GP Qualifying timesheet:
1. L Hamilton, Mercedes, 1:23.397
2. K Raikkonen, Ferrari, 1:23.631
3. S Vettel, Ferrari, 1:23.685
4. N Rosberg, Mercedes, 1:23.703
5. F Massa, Williams, 1:23.940
6. V Bottas, Williams, 1:24.127
7. S Perez, Force India, 1:24.626
8. R Grosjean, Lotus, 1:25.054
9. N Hulkenberg, Force India, 1:25.317
10. M Ericsson, Sauber, 1:26.214
11. P Maldonado, Lotus, 1:24.525
12. F Nasr, Sauber, 1:24.898
13. C Sainz, Toro Rosso, 1:25.618
14. D Kvyat, Red Bull, 1:25.796
15. D Ricciardo, Red Bull, No time
16. J Button, McLaren, 1:26.058
17. F Alonso, McLaren, 1:26.154
18. W Stevens, Manor, 1:27.731
19. R Merhi, Manor, 1:27.912
20. M Verstappen, Toro Rosso, No time