Five things we learnt in Italian GP qualifying
Lewis Hamilton is at the peak of his powers, Red Bull need a change of supplier and not a change of engine, and Kimi could be back
By Pete Gill and Mike Wise
Last Updated: 09/09/15 1:10pm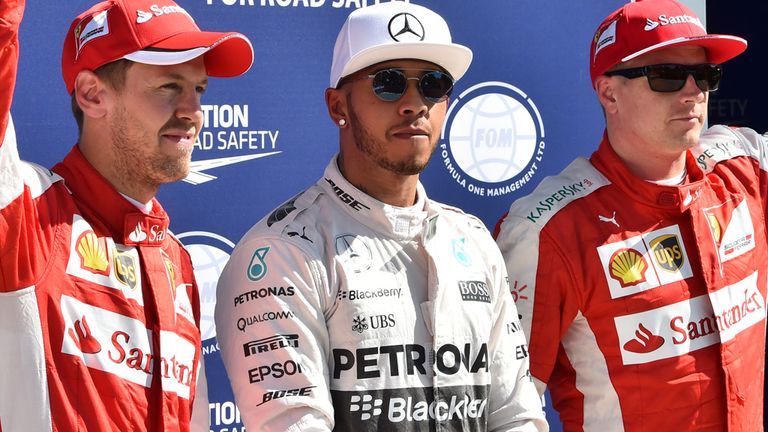 Appreciate a driver at his absolute peak
At this rate, Lewis Hamilton will overtake Ayrton Senna in the list of all-time pole position holders to go second behind Michael Schumacher before the end of 2016. Sooner than that, Hamilton is on course to break Senna's record of eight consecutive poles in F1. After the Mercedes driver made it seven out of seven at Monza, 'sooner' will quickly translate as the Japanese GP.
Hamilton has his critics and his most recent website column was almost entirely devoted to a defence of his jet-setting lifestyle. He needn't have bothered because he continues to do all of his best talking where it matters most. But the shame of the situation runs deeper than personality because the real pity of Hamilton's off-track frivolities is if they make happen what the Mercedes driver conclusively hasn't: distract and detract from his on-track business.
Love him or loathe him, Hamilton, the most divisive driver in the sport as well as the most magnetic, is currently performing at the peak of his powers. Enjoy it, or at least appreciate it, because world-class sportsmen performing at their peak is a surprisingly rare treat in any era. 
There's still life in Raikkonen's old dog
On Friday night, a smiling and relaxed Kimi Raikkonen spent so much time with the Tifosi that Ferrari boss Maurizio Arrivabene joked that he wondered if the Finn had hired a 'sosia' (the Italian version of 'doppelganger', we're told). On Saturday afternoon another rarely-spotted Raikkonen also paid Monza a visit as the Finn finally found his qualifying boots and some impressive Q3 speed to edge out Vettel and claim second on the grid.
There wasn't, it is true, much in it; 1:23.631 played 1:23.685, so Raikkonen's advantage over his team-mate didn't even stretch to a tenth of a second. But there is rarely – or at least there shouldn't be – much between team-mates at a circuit where 70% is run at full throttle. And the bottom line is that it was enough for Raikkonen to claim his first front-row starting berth in two years and his first in Ferrari colours for half a decade.
Raikkonen has a productive working relationship with James Allison, the Ferrari technical chief who inspired the Finn's previous revival at Lotus after Kimi had grown tired of digging rally cars out of ditches. Coupled with Raikkonen's defeat of Vettel and Rosberg, the curiously-unannounced confirmation of Allison's contract extension with the Scuderia may be just the tonic for the sport's most popular driver to enjoy an unexpected Indian summer.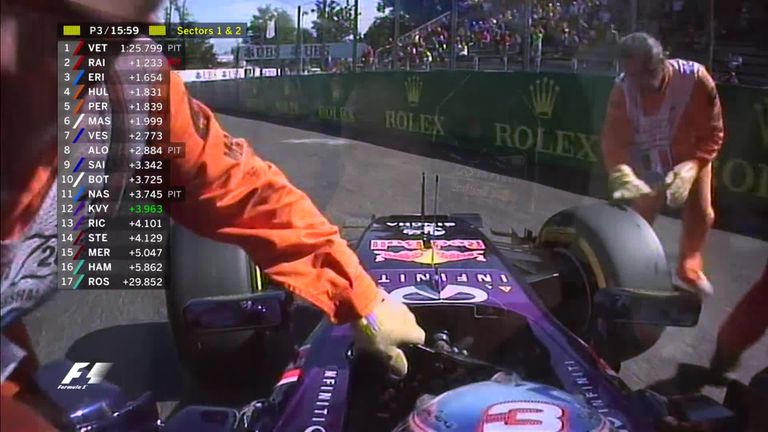 Red Bull can change an engine quickly
But they've had plenty of practice this season. And that's not why they're in this game, is it? "This morning we had a new engine in the car," said Daniel Ricciardo, as he detailed another irksome day for the team. "It lasted a handful of laps and that went, so the boys did the world's quickest engine change. Their previous best was two hours and they did this one in an hour and 40. So to get out and do a lap…I think everyone cheered when I went out of the box."
So the Aussie's infectious enthusiasm really is spreading – and it's just as well considering. Both he and team-mate Daniil Kvyat will line up at the back of the grid after taking their seventh Renault engines of the season this weekend. But that was the engine which, in Ricciardo's case, failed in P3.
Red Bull have long known they'd be struggling at Monza but to have both cars qualify outside the top 10 for the first time since 2008 - i.e. since before the 'glory days' started - hardly bodes well.
More than ever, it points towards a divorce from Renault, who have upgrades scheduled for Russia. But with even Honda boasting that their engine now has more power, you start wondering whether divine intervention is what they actually need to buy with those engine tokens.
In F1, the next best thing comes courtesy of Bernie Ecclestone who, as much as the teams themselves, must look at the situations Red Bull and McLaren find themselves in and wince. "They're not happy with these engine failures," said Sky Sports F1's Martin Brundle during qualifying. "They've got to find a way for a Red Bull–Mercedes supply for next year otherwise I can see the guv'nor [Dietrich Mateschitz] walking away."
When dressed in such stark terms, you can understand why it appears increasingly the case that the deal will come off. And on Saturday, with Toro Rosso also forced to take engine penalties, you can understand why.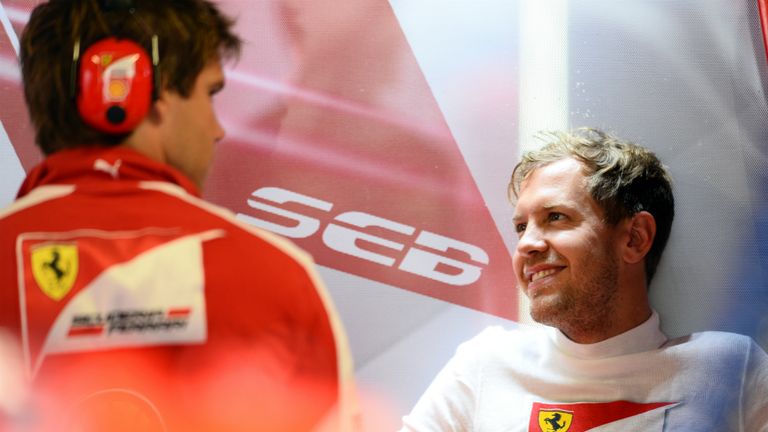 Just because it's Monza, it doesn't mean all the attention is on Ferrari
Just most of it. But their new engine seems to have swooped in under the radar – certainly in comparison to Mercedes' own new power unit, which arrived out of the box on Friday and promptly helped put Lewis Hamilton 1.6 seconds clear of Sebastian Vettel.
But the gap has been coming down since then, and Hamilton's gap to Kimi Raikkonen stood at just 0.2s by the business end of qualifying. Friday's race runs suggested that Mercedes more than had Ferrari's measure, but the question now is whether the trend that has developed since then can continue on Sunday.
"It's certainly a useful step forward and it's a great credit to all of the people in our power unit department," Ferrari technical director James Allison told Sky Sports F1 after qualifying. "It's maybe a little less heralded than the work that Mercedes brought here, but it's a useful step forward and fundamental to what we've achieved today."
Watching qualifying on Saturday, you could sense the realisation – and so the excitement – among the Tifosi as it started to dawn on them that this might not be a walkover after all. Imagine that effect amplified on race day, as Mercedes realise that they might not have it all their own way after all.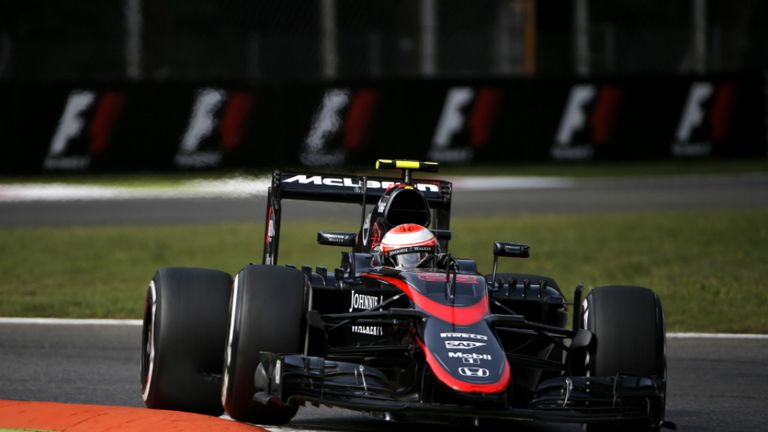 New facets of the ridiculous engine penalty situation reveal themselves 
We've all known for some time that the penalty situation is ridiculous, and the FIA seemed to agree when it decided to wipe the slate clean and do away with carrying them over into the races. But new facets of this farcical situation reveal themselves all the time.
In Belgium, McLaren racked up a grand total of 105 penalty grid places and while Monza has been nominally, if not materially, kinder to them, we now have a situation whereby Jenson Button and Fernando Alonso will actually start higher up the grid than the positions in which they qualified…after their penalties have been applied.
Logic-defying stuff, but hardly surprising. Moreover, it confirms a feeling that's been growing as the penalties have been snowballing: that if a rump of the grid is going to get sent backwards (or not, as the case may be) then what purpose does the early part of qualifying serve anyway?
The exercise of ranking cars according to their performance seems futile for about half an hour; and then you have situations like the one on Saturday when, after Red Bull had worked wonders on Ricciardo's car, they suddenly realised it was pointless him taking any further part.
Then at the end of it, you have to ignore the times, try and remember the order in which the FIA was notified about the engine changes, and then try and work it all out. No-one seemed sure about the starting grid shortly before the Belgian GP started, even senior team personnel.
Sport's supposed to be about fun, isn't it? This feels more like filling in a tax return, but with less potential for joy.