Mark Webber says some drivers on 2015 grid not good enough for F1
Former Red Bull driver tells the F1 Midweek Report "quite a few" current drivers not worthy of an F1 seat
By James Galloway
Last Updated: 11/09/15 9:15pm
Mark Webber believes there are several drivers in F1 who are not hungry or talented enough to justify their places on the grid.
Speaking on the latest edition of F1 Midweek Report, the former Red Bull driver and nine-time race winner suggested the depth of talent through the field is not what it once was.
"We know we've got quality at the front, but I just still think there's the swing of the financial drivers [into F1], who are coming to basically decide what teams they want to go to, and also if they're going to stay there," said Webber, who retired from F1 at the end of 2013 and currently competes in the World Endurance Championship.
"Pastor [Maldonado], for example, saying 'I haven't made my decision yet where I'm going'. What other sports work like that? If you're not performing, mate, on your bike, get out of here.
"There have always been commercially-driven drivers on the grid in F1, don't get me wrong, but in '02 when I started, or 2010, even mid-90s, I just think there was a sniff more depth in there because there were more chances for the guys who have got the runs on the board [in the junior categories] to get in there purely on results and not with a government behind you supporting you."
He added: "Obviously Jenson [Button] and Fernando [Alonso] are not at the front, so effectively they're not really in the game this year, which is frustrating for all of us. We want to see McLaren up there, we want to see them fighting towards the front."
Asked if Lotus driver Maldonado, who is heavily backed by Venezuela's state oil company, was among those who he thought should not be in F1, Webber replied: "Yeah, quite a few. They need to be treating that sport with more gusto, more professionalism and more purpose of why they're there and not trivialising [by saying] 'oh, I'll just come up the next race and have another go'.
"We used Pastor as an example - there's a few of them who shouldn't be there."
Webber, who enjoyed a 12-season F1 career after getting his break with backmarkers Minardi in 2002, became associated with the term 'Aussie Grit'. However, he claims some drivers in the sport at the moment "just seem to be going through the processes". 
"There are a few of them who are like that and it shouldn't be like that," Webber added. "There just has to be the hunger. You want to see the best guys who are driven, focused, professional, hungry and it means a lot to them."
Do you agree with Webber that the depth of talent in F1 is lacking beyond the top teams? Compare the line-ups from 2002 - Mark's first F1 season - to now below and make up your own minds...
F1 in 2002
Ferrari: Michael Schumacher and Rubens Barrichello
McLaren: David Coulthard and Kimi Raikkonen
Williams: Ralf Schumacher and Juan-Pablo Montoya
Sauber: Nick Heidfeld and Felipe Massa
Jordan: Giancarlo Fisichella and Takuma Sato
BAR: Jacques Villeneuve and Olivier Panis
Renault: Jarno Trulli and Jenson Button
Jaguar: Eddie Irvine and Pedro de la Rosa
Arrows: Heinz-Harald Frentzen and Enrique Bernoldi
Minardi: Alex Yoong and Mark Webber
Toyota: Mika Salo and Allan McNish                       
F1 in 2015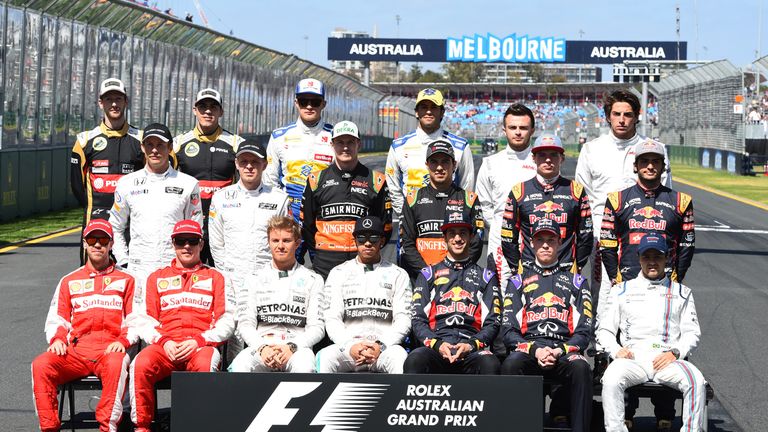 Mercedes: Lewis Hamilton and Nico Rosberg
Red Bull: Daniel Ricciardo and Daniil Kvyat
Williams: Felipe Massa and Valtteri Bottas
Ferrari: Sebastian Vettel and Kimi Raikkonen
McLaren: Fernando Alonso and Jenson Button
Force India: Nico Hulkenberg and Sergio Perez
Toro Rosso: Max Verstappen and Carlos Sainz
Lotus: Romain Grosjean and Pastor Maldonado
Manor: Will Stevens and Roberto Merhi
Sauber: Felipe Nasr and Marcus Ericsson