Which F1 driver and team is the most popular on social media?
Assessing the social media reach of F1's teams and drivers - and how it compares to their counterparts in the world of sport
By James Galloway and William Esler
Last Updated: 15/09/15 8:27am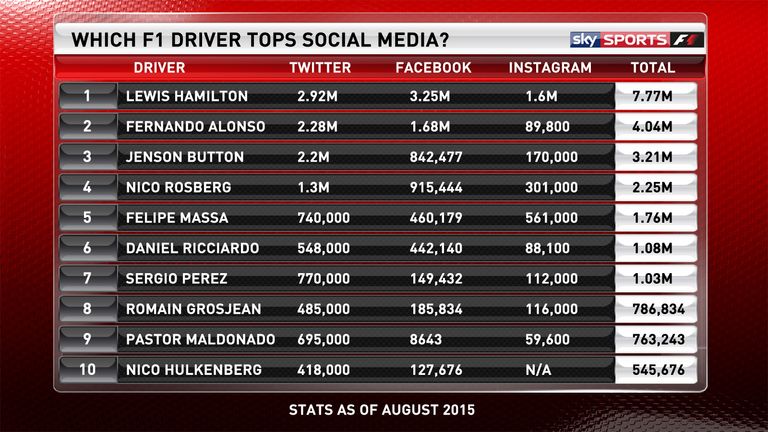 Lewis Hamilton is the most popular F1 driver on social media with a reach of over seven million.
In a study of the three most prominent social platforms used by drivers and teams - Facebook, Twitter and Instagram - the Mercedes driver came out on top on all three areas with a combined reach of 7.8m.
As of August 2015, Hamilton had 2.9m followers on Twitter, 3.3m 'likes' on his official Facebook page, and a further 1.6m following his picture updates on Instagram.
McLaren driver Fernando Alonso is placed second with just over 4m across all three platforms, with team-mate Jenson Button third on 3.2m.
In all, seven drivers - Nico Rosberg, Felipe Massa, Daniel Ricciardo and Sergio Perez being the others - have an individual reach of over 1m on social media.
The majority of drivers have accounts and post updates on all three platforms. However, neither of Ferrari's drivers, Sebastian Vettel and Kimi Raikkonen, are active on social media.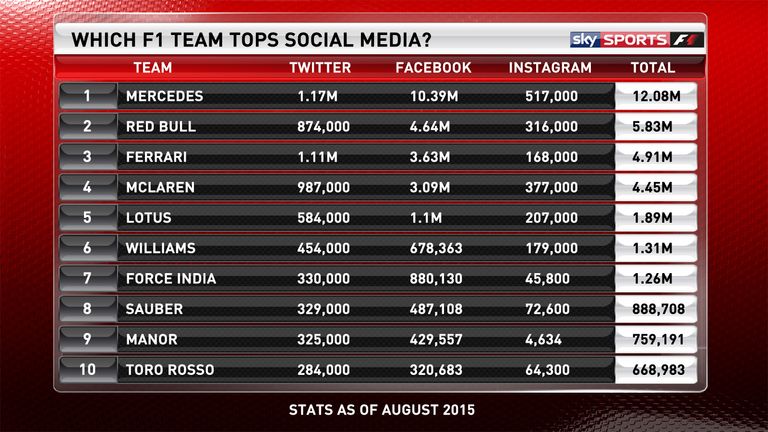 Meanwhile, Hamilton's Mercedes outfit are far and away the most popular F1 team on social media with a reach of 12.1m - more than double that of any rival.
There is only a 60,000 follower difference between Mercedes and Ferrari on Twitter, but the reigning world champions have a far bigger presence on both Facebook and Instagram.
Red Bull, however, have the second-highest combined reach on 5.8m. The teams' order largely reflects last year's Constructors' Championship, with Toro Rosso (10th) and Williams (sixth) the most out of position relative to their 2014 F1 placing.
How does F1 compare to other sports?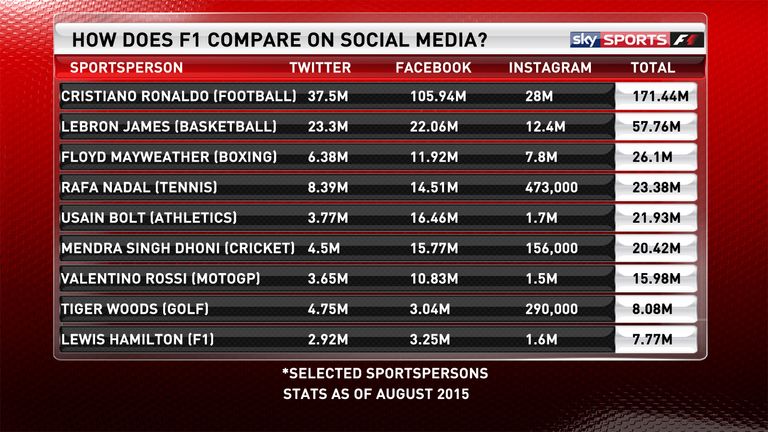 The statistics show that F1 still has a long way to go before it can rival the world's biggest sports stars and teams for reach across social networks.
Although Hamilton was last year named the most marketable athlete in the world, even his F1-best 7m reach on social media pales in comparison to stars in other fields.
Topping that particular chart is Real Madrid's world footballer of the year Cristiano Ronaldo, whose social media reach stands at an incredible 171.4m. Over 100m of that comes from Facebook alone, with the Portuguese's fan page the most popular on the platform across the world.
Footballers generally dominated the top of the worldwide rankings, and to underline their staggering popularity, the number of 'likes' for Arsenal and Germany midfielder Mesut Ozil's Facebook page - 28 million - is four million more than the combined social media reach for the entire 20-man F1 grid.
World champions Mercedes fare better in the comparison of teams, with their 12m reach placing them ahead of both the New York Yankees and Dallas Cowboys, for instance. However, football again dominates here, with Barcelona just ahead of rivals Real Madrid in the battle to be the most popular team on social media with a reach of 120m. The leading British sports side is Manchester United on 77m.