Daniil Kvyat will not return for Toro Rosso after Mexican GP axing
Russian told he's free to find new team; "We do not believe he can make the turnaround in the long term," says Marko
By Jonathan Green
Last Updated: 26/10/17 6:45am
Daniil Kvyat will not drive for Toro Rosso again and he is free to find a new team, sources have confirmed to Sky F1.
It leaves the Russian's future in Formula 1 in doubt, with Williams his only realistic potential option for 2018.
Having finished 10th at the US GP after a two-race absence, Kvyat was replaced for the second time this season for this weekend's Mexican GP, with Pierre Gasly returning to partner Brendon Hartley and that pairing will now complete the season.
Sky F1 understands that while Kvyat will remain part of the Red Bull programme for the remainder of the season, he will not be in the Toro Rosso again and will be allowed to move to another team if he can secure a drive.
Toro Rosso are yet to comment on Kvyat's future but Red Bull advisor Helmut Marko was quoted telling Auto Bild: "Kvyat will not return again.
"We do not believe he can make the turnaround in the long term.
Gasly & Hartley for Toro Rosso in Mexico
All of Toro Rosso's 2017 results
"Gasly and Hartley are finishing the season. Then we'll see what happens."
Toro Rosso's driver line-up in 2017
| | | |
| --- | --- | --- |
| Australia - Singapore | Carlos Sainz | Daniil Kvyat |
| Malyasia GP | Carlos Sainz | Pierre Gasly |
| Japanese GP | Carlos Sainz | Pierre Gasly |
| US GP | Daniil Kvyat | Brendon Hartley |
| Mexican GP | Brendon Hartley | Pierre Gasly |
Kvyat joined the Red Bull junior programme in 2010 and made his Formula 1 debut in 2014 with Toro Rosso.
At the end of his debut season he was promoted to the senior Red Bull team to replace the Ferrari-bound Sebastian Vettel as Daniel Ricciardo's team-mate.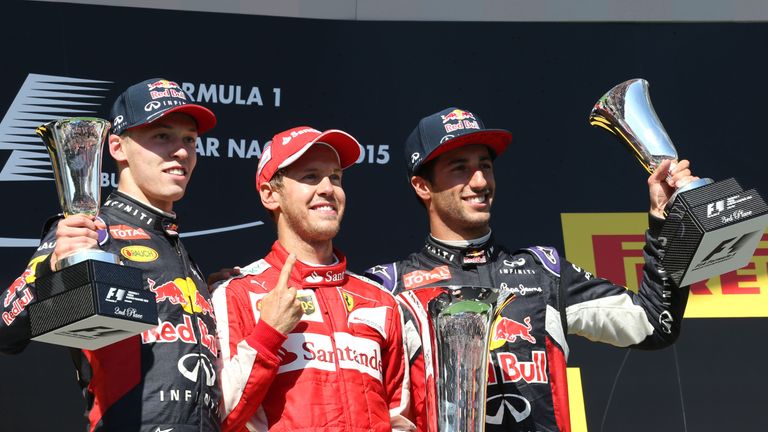 He finished second at the 2015 Hungarian GP, his best result in F1, before claiming another podium with third at the 2016 Chinese GP.
But at the next race in Russia, Kvyat twice collided with Vettel on the opening lap and he subsequently lost his seat at Red Bull at the 2016 Spanish GP with Max Verstappen taking his place.
Upon his demotion back to Toro Rosso, Kvyat was heavily out-scored by Carlos Sainz and he was 'rested' for the Malaysia and Japanese GPs after crashing in September's Singapore GP.
The 23-year-old's point at the Circuit of the Americas was only his fifth of the season and his first since May's Spanish GP and Kvyat had described it as his "best race of the season".
How Hamilton can win title in Mexico
Honda to power Toro Rosso
Should Williams decide to sign Kvyat, they will need to find a workaround with sponsors Martini with their deal understood to have a clause which requires the team to have one driver over the age of 25 for promotional purposes.
Speaking to Sky F1's Rachel Brookes in Austin, Kvyat said he was thinking of other options if his time at Toro Rosso was coming to an end.
"If you're asking me if I have a Plan B or C, yeah I do have a few thoughts," he said.
"Formula 1 is not everything. There are other good opportunities in this life.
"I'm always going to be a racing driver and I always want to race. But there are always good places to be somewhere."
Daniil Kvyat's tumultuous 18 months
| | |
| --- | --- |
| 2016 Chinese GP | Kvyat finishes third but angers Vettel with start, earning him nickname 'Torpedo'. |
| 2016 Russian GP | At the next race, Kvyat twice runs into the back of Vettel on the opening lap in Sochi |
| May 2016 | Kvyat loses Red Bull seat to Max Verstappen, who goes on to win Spanish GP on debut |
| Pre-2016 summer break | On return to Toro Rosso, Kvyat manages just two-points finishes and has three retirements in four races before summer break |
| October 2016 | Toro Rosso announce Kvyat will be retained for 2017 season |
| July 2017 | Kvyat moves to within two penalty points of race ban after picking up penalties for collisions with Alonso and Sainz and for impeding Stroll in Qualifying in consecutive GPs |
| September 2017 | Kvyat crashes out of Singapore GP before Toro Rosso announce Gasly will replace him for Malaysia and Japanese GPs |
| 2017 US GP | Kvyat returns to replace Renault-bound Sainz and finishes 10th in Austin |
| Post-US GP | Despite that points finish, Kvyat is dropped again and told he's free to find a new team |
Who now for Toro Rosso in 2018?
The identity of Toro Rosso's 2018 driver line-up remains uncertain following the departure of Sainz to Renault and Kvyat's exit.
Gasly, a long-term Red Bull protege and last season's GP2 champion, would appear best placed to take one of the available seats. He finished 14th on debut in Malaysia, closely matching the pace produced by Sainz, before coming home 13th in Japan.
Hartley, drafted in in Austin when Gasly was due to compete in the Super Formula season finale - an event which was then cancelled due to bad weather, now has another three races to stake his claim.
The 27-year-old Kiwi, who has been competing for Porsche in the World Endurance Championship and won this year's Le Mans 24 Hour, finished 13th on his F1 debut in his first single-seater experience since April 2012.
Following the announcement Honda will power Toro Rosso from 2018, Japanese driver Nobuharu Matsushita and fellow F2 driver Sean Gelael have also been suggested as options, although neither holds an F1 superlicence.
See if Lewis Hamilton can clinch his fourth world championship at the Mexican GP exclusively live on Sky Sports F1. Sunday's race begins at 7pm. Want to watch but not got Sky F1? Buy a NOW TV pass from £6.99!