Franz Tost confirms Jean-Eric Vergne is on shortlist to partner Max Verstappen
JEV on four-driver short-list for remaining vacancy at Toro Rosso
By Pete Gill
Last Updated: 03/11/14 6:14pm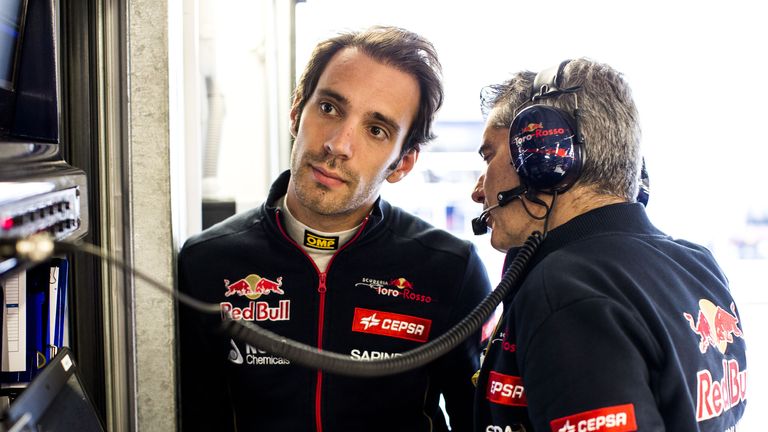 Team boss Franz Tost has confirmed that Jean-Eric Vergne could stay on with Toro Rosso – just two months after the appointment of Max Verstappen signalled that the Frenchman would be dropped
What nobody predicted at the time of Verstappen's unexpected signing was Sebastian Vettel's subsequent departure from Red Bull, with the World Champion's decision to activate an opt-out clause triggering an equally-unexpected promotion for Daniil Kvyat just twelve months after the Russian youngster entered F1.
And that, in turn, has provided with Vergne with a potential lifeline as the Frenchman desperately strives to prolong his F1 career beyond the age of 24.
"The situation is still open," confirmed Tost to the official F1 website. "I think the drivers that are shortlisted for Toro Rosso are: Jean-Eric, Carlos Sainz, Pierre Gasly and Alex Lynn. All four are Red Bull drivers and it will definitely be a Red Bull driver.
"I am still convinced that Jean-Eric can do a very good job in Formula One if he gets a competitive car. He has shown this a couple of times and I personally would like to continue with him - but we have to wait to see what Red Bull decides."
Verstappen will become the youngest-ever driver in F1 history when he debuts for the team at the age of 17 next year and the teenager's inexperience would seemingly argue trenchantly in favour of Vergne's candidature. With Lynn, set to seal the GP3 championship in two weeks' time, and Gasly devoid of any meaningful F1 experience, Toro Rosso would surely be reluctant to appoint two rookies for next season.
Verstappen will drive on both days of the upcoming Abu Dhabi test, scheduled to take place in the week after the final race of the season, ending any prospect of either Lynn or Gasly being offered a track audition. But Tost has warned against anything being read into that decision. 
"Abu Dhabi is no big deal in these considerations," Tost insisted. "That Max would get that heavy mileage was decided quite some time ago as we have to give him the chance to get used to the car, the team and all that goes with it."