Lewis Hamilton rues early end to Japanese GP qualifying as Nico Rosberg takes pole
Shoot-out halted by Kvyat red flag; Rosberg takes pole by less than a tenth from his Mercedes team-mate
By Pete Gill and James Galloway at Suzuka
Last Updated: 29/09/15 10:53am
Lewis Hamilton has rued the red flag triggered by Daniil Kvyat's dramatic crash in Japanese GP qualifying which cost him a last-gasp shot at pole position after a mistake on his first flying lap.
In a bittersweet session for the world champion, relief at Mercedes' sparkling return to form as the team locked out the front row a week after being humbled in Singapore was mitigated by irritation with a lock-up of his own which effectively cost him pole to team-mate Nico Rosberg. 
But for his error into the chicane, it was Hamilton rather than Rosberg who would have been the faster driver across their opening flying laps. Hamilton had then already found extra speed on his final lap before being stopped in his tracks by Kvyat's violent smash into the Suzuka barriers - leaving Rosberg on pole by less than a tenth of a second.
"That final lap had started so well - I was already a tenth and a half up by turn seven and getting excited," a rueful Hamilton told Sky Sports F1. "When the red flag came out I was like 'nooo!'
"The start will be key tomorrow because you can't follow here and it is going to be very, very hard to pass."
Suzuka's array of fast corners and tight confines are habitually prohibitive to overtaking
"It doesn't matter how good you are, you can't get close enough because the guy in front's going to have the clean air," Hamilton explained when speaking in Mercedes' regular Saturday night media session.
"It doesn't matter how good you are at overtaking, you can't get close enough. These cars do not allow us to get close enough. Basically, the closer you get the more disadvantaged you get. Any advantage you do have disappears due to the loss of downforce."
With such hurdles ahead of him, asked how he therefore was going to have a chance to win, the world champion replied: "That's the million dollar question! It's the same as every time. You have a chance at the start, it's not a big chance on the strategy - but it's possible. You could offset the tyres maybe, but at the moment I don't really know. I haven't figured that part out."
Rosberg's pole position is only his second of the year and was delivered just six days after he had trimmed Hamilton's championship lead to 41 points in Singapore. Better still, the Silver Arrows' domination of the qualifying hour has already relegated their sudden slump in performance at Singapore to a distant memory.
"It's been a great comeback by the team after our performance in Singapore," enthused Rosberg.
After Mercedes had made their intent plain by registering a one-two in final practice, Williams' Valtteri Bottas proved to be their closest challenger in qualifying but was still half a second adrift. The two Ferraris of Sebastian Vettel and Kimi Raikkonen fared even worse and were demoted to fourth and sixth on the grid with the Finn almost a second shy of Rosberg's benchmark.
"The guys worked incredibly hard to understand last week and it's definitely great to be back up here -  the car feels like normal this weekend which is great," added Hamilton. "It was an exciting qualifying. I was enjoying the battle with Nico, shame we didn't get to finish it ourselves."
Rosberg had been enjoying himself too. "The car was awesome and I was so happy about that. When the car is like it is on rails here at Suzuka it is a pleasure. It is rare, but our car is positively on rails," he remarked.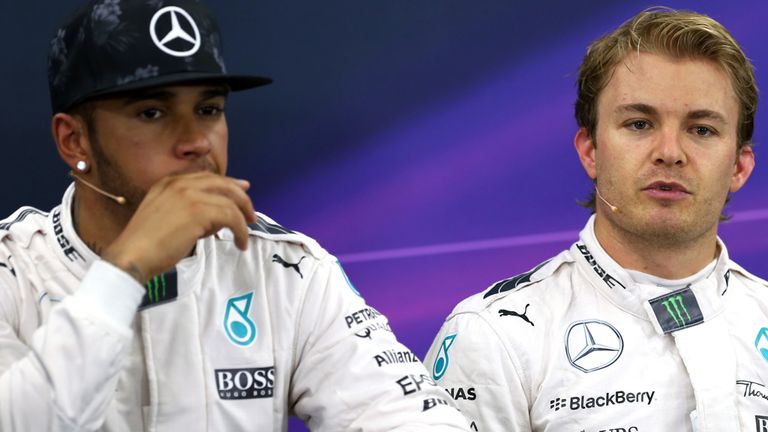 But would Hamilton have got the better of him had qualifying run its scheduled course? 
Asked if he had compared the start of his final lap to Rosberg's, Hamilton smiled and replied: "Of course I have! It was good…it was looking really good. It was only up to corner six, so there was a long way to go, but up until then it was the best lap I've had.
"It doesn't really happen anyway but it was a positive for me to know that tomorrow I'll have good pace."
The German, not unreasonably, was having none of it. "I think I had some more in me," Rosberg retorted.
Cue careful and even-handed diplomacy from Mercedes boss Toto Wolff before the verbal squabbling got out of hand. "They were very close to each other," Wolff tactfully assured reporters.
Better instead to enjoy a collective sigh of relief that Mercedes are back where they have been for most of 2015 - in a class of their own.