Mercedes boss Toto Wolff opens up on Red Bull engine refusal
No way back for Mercedes-Red Bull talks, confirms Toto Wolff; Mercedes chief reveals they didn't hear back when commercial tie-up away from F1 was floated
By James Galloway
Last Updated: 11/10/15 4:28pm
Mercedes boss Toto Wolff has shed more light on the reasons why the world champions refused to supply Red Bull with their engines for 2016.
Amid the breakdown of their relationship with Renault, Red Bull turned to Mercedes as their first choice for an alternative supply of engines for 2016 and made a formal request for the world champions' power units at the British GP in July.
However, after weighing up the pros and cons of such a deal, Mercedes last month decided against arming Red Bull, one of their main rivals, with their engine. Ferrari have also subsequently turned down Red Bull's request for a supply of their own 2016 units, leaving the world champions in limbo and with their future in the sport in serious doubt.
Sky Sports F1 understands that Red Bull attempted to resurrect talks with Mercedes last week but were rebuffed again. Speaking ahead of the Russian GP, Wolff confirmed that Mercedes are adamant that the matter is finished and also claimed Red Bull never responded to previous requests to see how they might be able to work together on commercial matters away from F1.
"In the end result we are united with a flat no. But we had some discussions over the summer," Wolff told Sky F1.
"Red Bull is a very hip brand. [We wondered] is there in any way we can make that work so that Mercedes benefits from an association with Red Bull on the road car side with joint platforms so we can afford to dilute our success in Formula 1?
"We weighed it up, we expected some feedback, we didn't get the feedback we were waiting for and then at a certain moment you need to stop wobbling around and just close the chapter. This is what we did."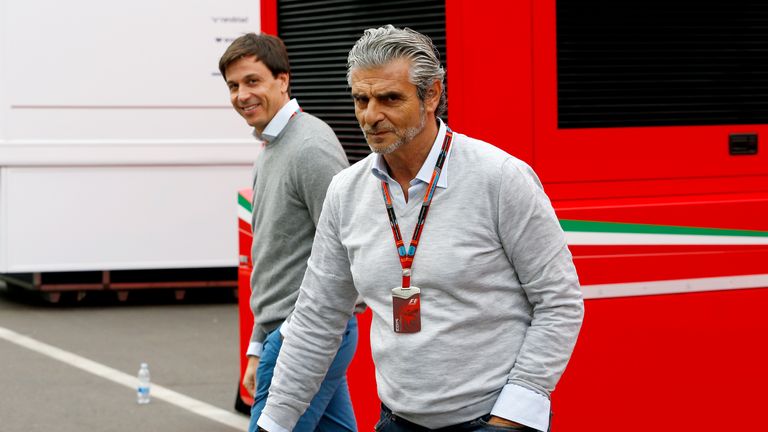 Despite mounting fears Red Bull's engine impasse will result in owner Dietrich Mateschitz withdrawing both of his teams out of the sport, potentially reducing the grid to as few as 18 cars for 2016, Wolff says Mercedes ultimately decided that bailing out Red Bull would fly in the face of their own F1 strategy and investment in the team if they gave away their current advantage to a chief rival.
"In Formula 1 normally - 2014 and '15 are maybe different years because we had a solid margin - it's about tiny margins and tiny gains," the Austrian added.
"When Mercedes decided in 2009 to buy a team and not be an engine supplier anymore only, that is still the main strategy. You can't take any prisoners. This is the approach you have to take and dilute yourself.
"We have invested so many years into the development of that power unit, into the cooling, into the hydraulics, into the electronics - would you take those bits and give it to another team which hasn't been involved in that? You probably don't do it."