Merc explain Nico Rosberg-Lewis Hamilton's Spanish GP crash
Wolff accepts Hamilton's attempted overtake "was what he should have done" but confirms Rosberg was in reduced engine mode
By Pete Gill and James Galloway in Barcelona
Last Updated: 12/05/20 9:39am
Mercedes have confirmed Nico Rosberg was in the wrong engine setting when he crashed with Lewis Hamilton at the start of the Spanish GP.
However, despite both drivers crashing out of the grand prix following their collision, Mercedes have vowed they will continue to let Rosberg and Hamilton race each other.
According to Hamilton, he was travelling at 17kph faster than Rosberg when the pair made contact. The German admitted his engine was in the "incorrect mode and I was down on power" but Rosberg also said he was "very surprised he went for the gap".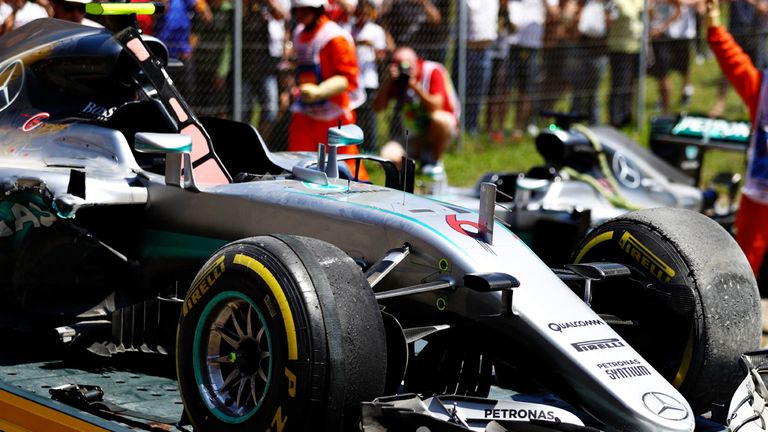 Carefully picking a diplomatic line between his two drivers, team boss Toto Wolff told a packed media briefing: "I think the manoeuvre was fair enough to attempt. The result was unfortunate, but making the manoeuvre and seeing the light [on Rosberg's car] blinking and just going for it was what he should have done.
"And equally you can't blame Nico for closing the door. But the difference of speed just triggered the incident in the end." 
Describing the crash as  "an unfortunate racing incident triggered by various circumstances", Wolff added: "Nico was in the wrong setting and that's why he lost power out of Turn Three. He didn't have as much [hybrid] energy as Lewis had.
"It explains why everything went so quickly. There was such a discrepancy in speed and they needed to make a decision in a split second, and that ended up with Lewis hitting Nico."
Hamilton and Rosberg's relationship threatened to disintegrate after they also clashed on the opening lap of the 2014 Belgian GP. But Wolff is adamant that the two incidents are not comparable.
"We have moved on from Spa in 2014 and it was a completely different situation with the team back then. But continuing with the approach of letting them race it was clear that eventually this could happen. 
"And we will continue to let them race. Today was just a couple of unfortunate coincidences that ended up in us losing as a team. So it was different than Spa."
Speaking earlier on Sky F1, Rosberg was convinced that he had done nothing wrong.
"I was aware of the situation and saw Lewis coming closer, so I went for the usual racing driver action of closing the inside line and closing the door as early as I could," said Rosberg. "I made it very clear I wasn't going to leave any space on the inside and I was very surprised he went for the gap anyway."
But while also offering his apologies to the Mercedes team, Hamilton provided a very different version of events as he reviewed the incident.
"Coming into Turn Three and he had a derated basically because he had made a mistake and started in the wrong engine setting," said Hamilton. "Before the race we have to pick which engine setting and there is only one, maximum power, and he hadn't gone to that. 
"So I was catching him and as I was catching he wasn't on the racing line. As a racing driver when you are going 17kph faster you go for the gap."