A nail-biting Austrian GP came to the most dramatic end when Lewis Hamilton and Nico Rosberg collided as they fought for victory on the very last lap of the race.
For the second time in the last five races, the Mercedes team-mates and rivals ran into each other as they battled for the lead amid their tense title duel.
Hamilton attacked Rosberg on the final run to Turn Two and went to the outside to overtake, but the Silver Arrows made contact in the braking zone.
Watch the dramatic final lap for yourself in the video above!
Over three hours after the chequered flag fell in Spielberg, the stewards ruled that Rosberg had been at fault and handed the German a ten-second penalty. However, the ruling did not impact the race result and Rosberg kept his fourth place.
After analysing footage of the incident, Sky F1's Anthony Davidson also argued that Rosberg had been to blame for causing the crash.
"You can see Lewis is expecting Rosberg's car to be turning on the inside and clearly it doesn't and the two cars make contact.
"The fact he runs past the apex means Rosberg probably has got a brake issue, but I'm watching the hands on the wheel as well and it's clear to see that even if you're running out wide, he doesn't really even attempt to make the corner.
"He puts about a half degree steering angle on and the two make contact, and then he goes on the full lock.
"From Lewis's onboard, when he is in the braking zone, he leaves enough of a car's space on the inside, so I can see why they've called Nico up to the stewards."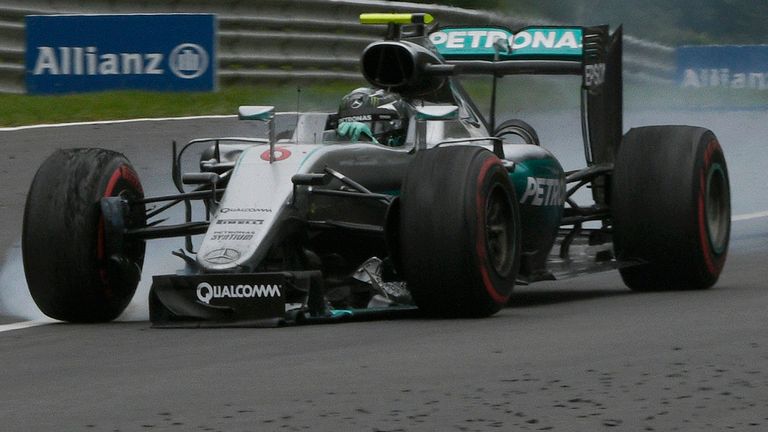 The impact broke Rosberg's front wing and Hamilton went through to win the race. Rosberg was also overtaken by Max Verstappen and Kimi Raikkonen and relegated to fourth.
"He made a mistake into turn one, so I had an opportunity to go down the outside into turn two," said Hamilton after his win cut Rosberg's title lead to 11 points. "I left a lot of room on the inside and I guess he locked up and crashed into me. I think he had a problem with his brakes potentially.
Hamilton was booed on the podium but added: "I'm here to win. That's all."