Mercedes ready to make 'brave' decision on Nico Rosberg's replacement, says Toto Wolff
Wehrlein and Bottas praised as Mercedes seek swift decision; "We need the quickest guy that makes the least mistakes" says Wolff
By Matt Morlidge
Last Updated: 09/12/16 9:25am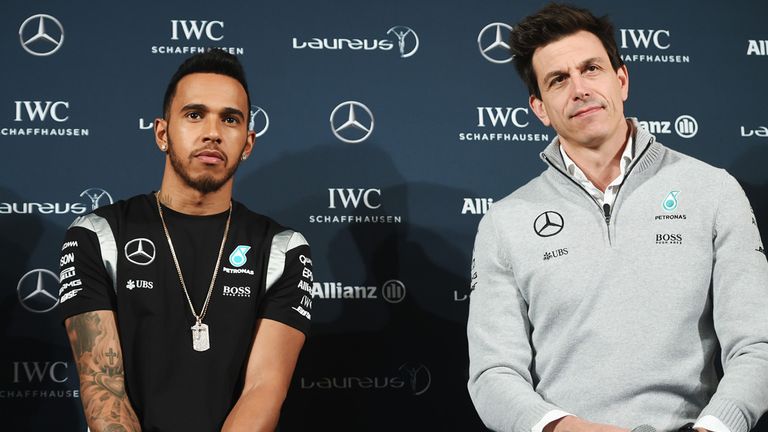 Mercedes boss Toto Wolff insists the world champions are ready to make a "brave decision" when picking Nico Rosberg's replacement.
And the Austrian has heaped praise on reserve driver Pascal Wehrlein and Williams' Valtteri Bottas, the current favourites for the role.
The Silver Arrows hope to confirm Lewis Hamilton's new team-mate before Christmas after Rosberg's sudden retirement left a "very big gap", as Wolff told Sky Sports F1: "Clearly, with Nico taking the decision quite late we are in a bit of a compromised situation because if we had known three months ago there were more options available.
"Maybe we need to make a brave decision in the same way Nico has made a brave decision."
The "brave decision" referred to would appear to be promoting 22-year-old Wehrlein despite his lack of experience with Wolff adamant Mercedes will "respect contractual relationships" in their search.
"We need the quickest guy who makes the least mistakes and understands that this is a team game," added Wolff.
Wehrlein, who is without a drive for next season, graduated from Mercedes young driver programme and scored Manor's only point of the season in an encouraging first year in Formula 1.
The youngster claimed he was "ready" for the step up to the sport's most dominant seat earlier this week, with Wolff adding to Sky F1's Natalie Pinkham that "a driver needs to have that opinion".
Wehrlein is in the frame despite being overlooked for the Force India seat in favour of fellow Mercedes junior Esteban Ocon.
"Sometimes in life things turn out differently than you expected," said Wolff. "I think in terms of performance, both have had great races in the past, had solid performances with Manor, and they deserve a future in Formula 1.
"Therefore I consider both of them as future stars."
Wolff: Mercedes 'considering' Alonso
But then there is Bottas, who was managed by Wolff long before his F1 breakthrough with Williams four years ago. The Austrian remains part of Bottas' management stable.
Despite signing a new contract with the Grove team in November, Sky F1's Damon Hill believes a 'quid pro quo' situation could see Wehrlein and discounted Mercedes engines exchanged for the Finn.
"Besides the personal relationship, where he's a very likeable and intelligent driver, he's also somebody who is very, very fast," claimed Wolff. "But he's with Williams now, the lead driver, and is very important for the combination with Lance Stroll. Claire [Williams] and her team very much rely on him."
Wolff, who also admitted Mercedes are considering McLaren's Fernando Alonso, has outlined the qualities the team are seeking from their new driver.
"It is about out and out pace," he explained. "Mistakes are a different topic. Only on very few occasions have we seen Lewis or Nico making a mistake or colliding. More than 90 per cent of the races we've been able to score maximum points, so that is a consideration.
"Then the out and out pace in order to challenge Lewis and grow the general performance within the team. We need somebody that goes lightning fast. To combine all those three factors is what Nico has been able to do over the years.
"We will not change the philosophy. We want to have two drivers with equal opportunities that can race each other, because I think we owe that to the fans and ourselves. It's the way we want racing to happen."
Opening up on Rosberg's unexpected departure, the Mercedes chief revealed that the German was "very emotional" when he rung him to give the news and insisted there was nothing he could have said to have changed the world champion's mind.
"He will leave a very big gap because he was not only a very fast driver, but he was able to push Lewis," said Wolff. "They pushed each other and were therefore really able to perform well and score our goals for victories. On a bad day for Lewis, Nico was able to pull out great performances and vice versa.
"His technical ability in giving us directions and being part of the development work of the car, that's a part we are going to greatly miss. Whoever is going to replace Nico needs to fill those big shoes."