No Valtteri Bottas-Toto Wolff 'conflict of interest' concerns for Mercedes
Mercedes want to sign Bottas as Nico Rosberg's replacement; Silver Arrows boss Wolff is part of Bottas' management group
By Pete Gill and Sky Sports News HQ's Craig Slater
Last Updated: 15/12/16 3:37pm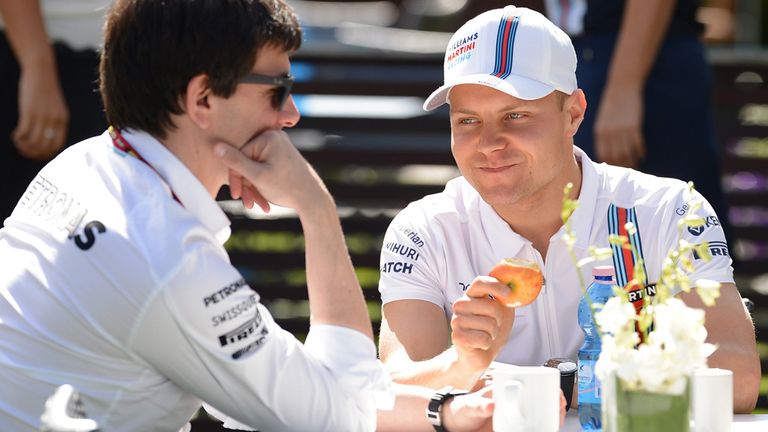 Mercedes' board have no concerns over Toto Wolff's association with Williams' Valtteri Bottas after he identified the Finn as the world champions' number one target to replace Nico Rosberg.
Wolff was at Williams when they first signed Bottas as a test driver in 2010 and, despite his current status as team boss at Mercedes, remains part of the driver's management group.
But although the relationship remains ongoing, Wolff does not take a hands-on involvement in the driver's career and the Mercedes hierarchy expressed no misgivings about the arrangement when Wolff made a full disclosure at a board meeting when the team's pursuit of Bottas is thought to have been rubber-stamped.
Williams have rejected Mercedes' initial approach for their driver but negotiations are expected to continue this week as the reigning F1 champions strive to complete a deal before Christmas.
If Bottas is signed as Lewis Hamilton's 2017 team-mate, Mercedes would start the new season without a German driver for the first time since they became a fully-forged outfit seven years ago. Between 2010 and 2012, Mercedes fielded an all-German line-up of Michael Schumacher and Rosberg.
But Mercedes insiders have insisted nationality is a peripheral factor in their search for a new driver and the team are determined to recruit the best possible replacement for Rosberg ahead of a 2017 campaign in which their recent dominance is expected to be met with stiff opposition from Red Bull and their all-star line-up of Max Verstappen and Daniel Ricciardo.
Were Mercedes to be unable to persuade Williams to part with Bottas, who signed a contract extension with the Grove outfit in October to partner rookie Lance Stroll, they could promote Pascal Wehrlein, the 22-year-old graduate from their young driver programme.
Toro Rosso's Carlos Sainz is another potential target.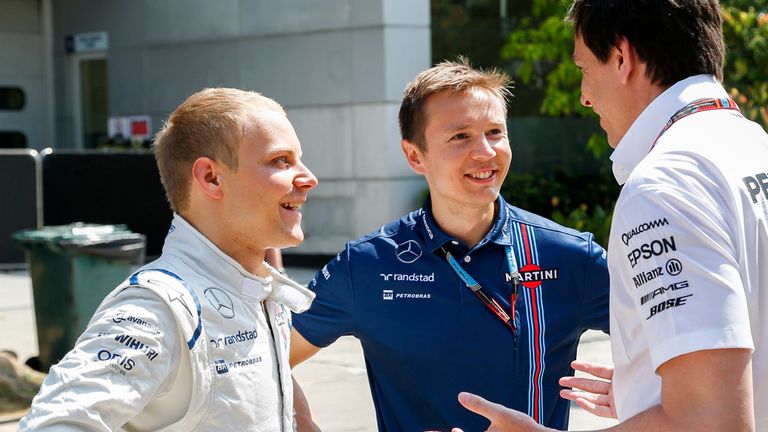 Despite the pursuit of Bottas, Mercedes are adamant they are prepared to promote Wehrlein, who drove for Manor last season and was overlooked in favour of Esteban Ocon when Force India sought a replacement for Nico Hulkenberg, if Bottas cannot be prised away.
Mercedes are thought to be willing to halve the amount Williams are charged for their engine supply in exchange for releasing Bottas from his contract.
But in an intriguing twist, it has emerged that Paddy Lowe, Mercedes' technical chief, is set to leave the team for Williams.
Neither Lowe nor Williams have commented on the reports.
Lowe is still under contract at Brackley and one possibility is that, as part of the negotiations with Williams over Bottas, Mercedes may reduce Lowe's notice period so that he can start work at Grove early in 2017.
Wehrlein is also thought to have been offered to Williams as a replacement for Bottas.
But pairing Wehrlein with the incoming 18-year-old Stroll would leave Williams with a driver line-up boasting just a year's experience of F1 and risk a costly regression in the Constructors' Championship worth millions of pounds in prize money.
Mercedes, meanwhile, may offset any reduction in Williams' engine fees by offering Bottas less money than the reputed £15m-a-season deal Rosberg ripped up when he quit the team less than a week after clinching the world championship ahead of Hamilton.