British GP: Valtteri Bottas admits mistake not to pit behind Safety Car
By Pete Gill at Silverstone
Last Updated: 06/12/18 3:37pm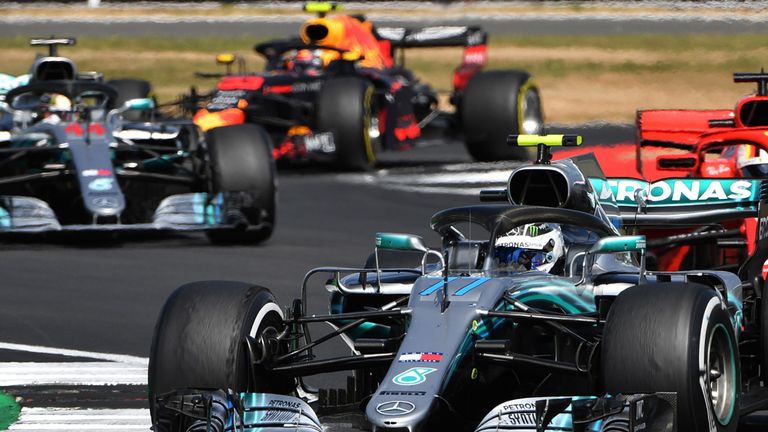 Valtteri Bottas says it was a mistake not to pit under the Safety Car during the British GP after plummeting down the field on the final laps.
As a result of the error - one of several strategy mistakes made by the Mercedes team this year - Bottas tumbled from first with five laps remaining to fourth at the chequered flag.
"We took the risk to stay out and try to win the race. At that point, if the team had asked me if l wanted to win or secure second place, l would have said 'go for the win'," Bottas reflected. "But looking back, for the result it would have been better to stop. That's a fact."
Unlike Red Bull and Ferrari, Mercedes opted to keep both Bottas and Lewis Hamilton out on track rather than pit for fresh tyres when a crash for Marcus Ericsson triggered a Safety Car period.
Critically, Bottas had pitted several laps before Hamilton with the respective tyre life of their ageing medium rubber manifesting itself in the Finn losing out during the closing stages while the Englishman salvaged second.
But Toto Wolff defended the strategy calls, saying: "We made the right call to leave both cars out under the Safety Car: we had planned to do the opposite to Ferrari, as it was our best chance to win.
"We took the improved track position and knew it would be tough to hold on. Valtteri defended like a lion but just couldn't hold off Sebastian as the tyres were dropping away."
Hamilton added: "When the guys in front of me pitted under the Safety Car, it was an opportunity for me to get up into third.
"It was absolutely the right decision - if I had followed them into the pits I would have come out behind them on equal tyres and I would have struggled to get by them and most certainly would not have been second."
Bottas reflects on Ferrari duels
After fending off Vettel during a series of wheel-to-wheel duels, Bottas appeared to be caught unawares when the Ferrari sprung up the inside at Brooklands to take the lead.
"He dived in and there wasn't anything l could do any more," said Bottas. "It was like driving on ice. I did everything I could to defend but it was just a matter of time - and then it was the same with Lewis and Kimi."
Like Hamilton at Silverstone this Sunday, Bottas was the victim of first-lap aggression from Ferrari in France two weeks ago when he was hit by Sebastian Vettel.
But the Finn denied any suspension of deliberate wrongdoing from the championship leaders.
"There are not really any concerns," he said. "We are always starting more or less in similar positions, so we are always going to be battling. We are fighting hard and these things can happen. But it's been pretty bad for us."