Belgian GP: Lewis Hamilton 'blitzed' by tricky Ferrari
Vettel now just 17 points behind Hamilton in title race; "They blitzed us ," reflects Hamilton; Italian GP also expected to suit Ferrari
By Pete Gill and Matt Morlidge at Spa
Last Updated: 06/12/18 11:13am
Lewis Hamilton has admitted Mercedes were 'blitzed' in the Belgian GP after Sebastian Vettel stormed to victory ahead of the world championship leader.
Hamilton was beaten by over 10 seconds by his title rival after being overtaken along the Kemmel Straight on the opening lap.
"I did everything l could but he drove past me like l wasn't even there," said Hamilton. "We have to keep pushing to try to catch up."
Hamilton then said that the Ferrari car had a 'trick', but later clarified that "trick is just a word for something special".
Wolff: Ferrari 'swallowed up' Mercedes
Vettel beats Hamilton to close title gap
Hulkenberg punished after Alonso crash
What is for certain, however, is that the title battle between Hamilton and Vettel could become even trickier next weekend for the Englishman when F1 travels to Monza, Ferrari's home track and another power-hungry venue.
"We knew they were quicker on the straights, particularly in qualifying in the last sector.
"We've known for the last four races that they've had some things on their car that's enabled them to be quicker on the straights and we just need to work harder I guess," rued Hamilton.
Hamilton briefly cut the gap to Vettel on track to less than a second following the first round of pit-stops but had no response when the Ferrari upped its pace to cruise over 10 seconds clear.
"He was doing times I wasn't able to do," said Hamilton.
"It got to a point where it was just sensible to save the engine."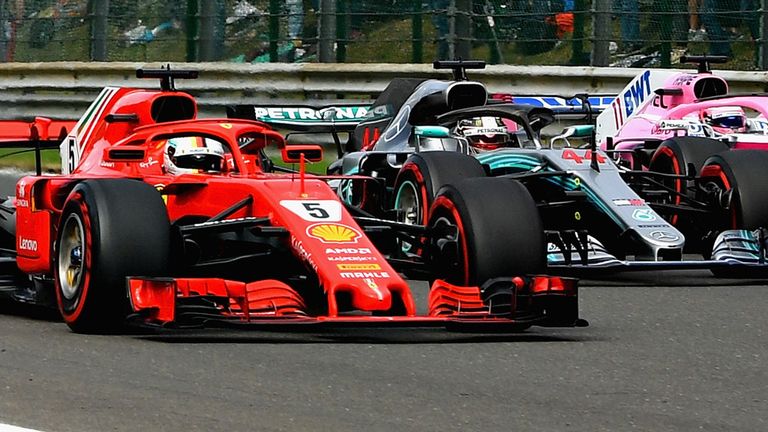 Is Hamilton now the underdog?
With eight race remaining, Hamilton leads Vettel by 17 points in the standings.
But in the wake of Ferrari's substantial pace advantage at Spa, the four-time world champion is under no illusions about the size of the challenge ahead to preserve his lead.
"They just blitzed us today," Hamilton told Sky Sports F1. "Eleven seconds is a big, big gap. I don't know what we can do.
"Minus seven points in the next eight races is going to be a lot points. I hope that's not the case but if we do continue to have the lack of pace that we lacked today then we will continue to be minus seven points."
Vettel boosted by 'a car without weakness'
Vettel's victory was only his second since the Canadian GP at the start of June.
But the German will arrive at Ferrari's home race with momentum on his side and mounting confidence in both his championship challenge and his 2018 car.
"We had our deficits last year and a car that worked well on twisty tracks where a lot of downforce was required, but we were missing out on tracks where the car needed to be more efficient like here, Silverstone and a couple of other tracks," Vettel reflected to Sky F1.
"This year the car seems to be more robust in that regard and seems to work everywhere. We improved the package as well, so we've done a step forward.
"But it's key to have a car that works everywhere because that's been our weakness."