Alain Prost says it's up to Mercedes to calm any tensions between their drivers
Four-time world champ gives his take on how Hamilton v Rosberg might develop
By Mike Wise in Monaco
Last Updated: 23/05/14 6:54pm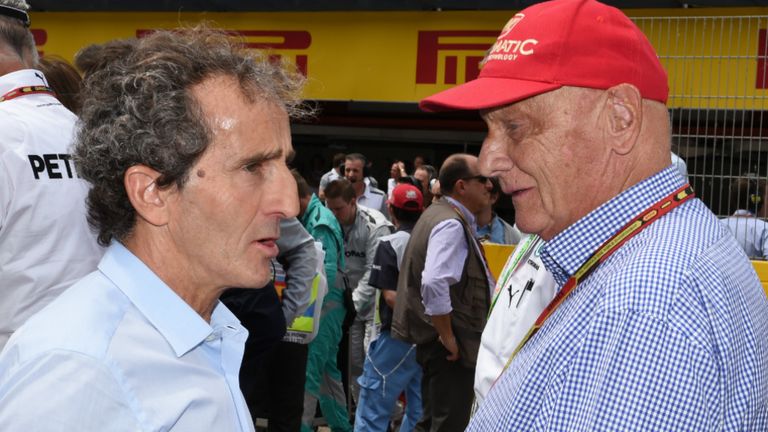 Speaking at the Monaco GP, the four-time World Champion gave his take on the bubbling rivalry between the Silver Arrow drivers, who are currently separated by just three points in the standings after sharing the spoils at the opening five races.
Comparisons have inevitably been made between this season and 1988, when Prost and Senna won 15 out of 16 races with the Brazilian ultimately taking that year's title.
Prost, also a four-time a Monaco GP winner, said the comparison is, to an extent, valid. "It can always be similar when you have the team dominating and having the two drivers, which is good," he said. "Maybe you could have a number one and a number two with a big difference...at least it's positive.
"I don't know if you can compare everything but it looks like they're going to dominate for a long time."
Prost said he had a decent enough working relationship with Senna when the latter joined McLaren in 1988, adding that significant cracks only started to appear the following year.
Both Hamilton and Rosberg maintain their teenage karting rivalry shows that they can compete and get on at the same time - although the pressure is currently on the latter after the Briton won each of the last four races.
"In '88 with Ayrton, we had quite good relations. It was not a problem, so I still think it's possible," Prost continued.
"[But] if you only have a small detail, a small problem inside the team, or a little bit outside, then it could start very, very quickly. It's very rare that you have a full friendship until the end [of a driver's career] especially if you're fighting very closely, but that can still be possible.
"It looks like the team know how to approach it but we'll see. It depends on the characters of the drivers."
For Prost, the problems really started at the 1989 San Marino GP, when he thought Senna reneged on a deal not to overtake him before going on to win the race.
Matters then came to a head when the pair collided in Japan whilst disputing that year's title, which Prost won.
However, Senna took it back in 1990 after another collision with the Frenchman, by then driving for Ferrari, at Suzuka.
Mercedes have encouraged Hamilton and Rosberg to race, with the pair fighting a particularly thrilling battle at the Bahrain GP.
"It only started when we had the agreement at Imola and the agreement fell away. It started from that point," Prost reflected.
"As I said, it could have been a very small detail. But if you have a sort of tension, you can see that something's happening in the team a little bit different, then you could have this problem coming over the top. That could happen this year.
"[But] the relation is also different because it's Mercedes. It's also 20 years later."
Momentum might be with Hamilton at present, but Prost refused to speculate on who might eventually come out on top.
In an interview published this weekend, Hamilton said a more modest background than Rosberg - son of former World Champion Keke - means he is "hungrier" for success.
"I don't want to judge anything. They are very close at the moment but it's going to be a long season," the 59-year-old added.