Damon Hill warns Mercedes face 'rupture' after qualifying controversy in Monaco
Tension evident between Hamilton and Rosberg after yellow flag incident; Race live on Sky Sports F1 at 1pm
By Pete Gill
Last Updated: 01/04/15 2:42pm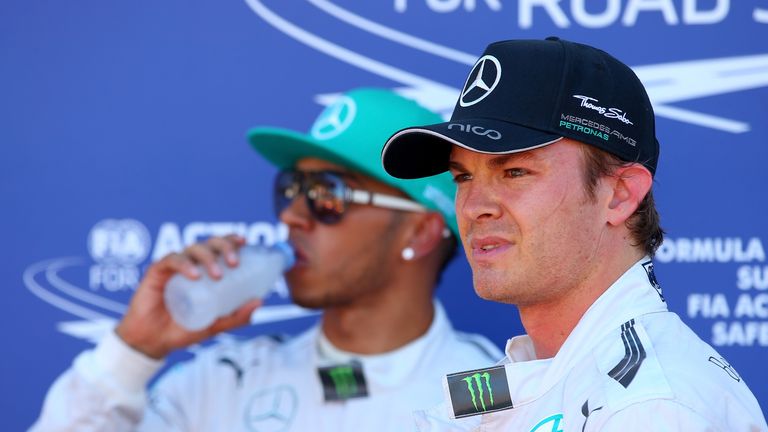 Both Rosberg and Hamilton, who first raced against each other during boyhood, have repeatedly maintained that their friendship will survive the test of battling for the World Championship in what seems certain to be a two-driver contest for the drivers' crown this year.
Until recently, Hamilton had stored his safe in Rosberg's Monaco flat while the German said there would "always be something in the fridge" for his one-time neighbour.
However, amid widespread scepticism that their friendship will survive the stress of exclusively fighting for the championship, Hill believes the pair's relationship will have been pushed beyond breaking point by the controversy of Saturday's qualifying session when Rosberg's last-lap error halted Hamilton's attempt to beat his team-mate to pole position.
"There's no way out of this, there is going to be a rupture. I can't see Lewis and Nico kissing and making up over this one," said the Sky F1 analyst.
Hamilton failed to acknowledge Rosberg when both drivers returned their cars to perc ferme on Saturday and later refused to declare that his team-mate hadn't 'cynically' brought out the yellow flags that effectively confirmed his pole position.
Rosberg was later cleared of any wrongdoing in running off the road in the closing stages of Q3 following a stewards' investigation, but Hamilton's terse answers and failure to back his team-mate in the initial aftermath of qualifying is likely to prove the longer-term talking point.
At the start of the week, Hamilton caused a stir in the paddock when he compared his own upbringing to Rosberg's 'privileged' background to suggest that he was 'hungrier' to win the title.
Asked on Saturday evening if he would hold clear-the-air talks with Rosberg, Hamilton told the BBC: "I don't know if Senna and Prost sat down. I quite like the way Senna dealt with it, so I'm going to take a page out of his book."
Sunday's grand prix is exclusively live on Sky Sports F1, with the race starting at 1pm UK Time.