Lewis Hamilton says he and Nico Rosberg 'still friends' after post-Monaco talks
Team-mates and title rivals 'cool' after speaking on Friday
By James Galloway
Last Updated: 30/05/14 7:10pm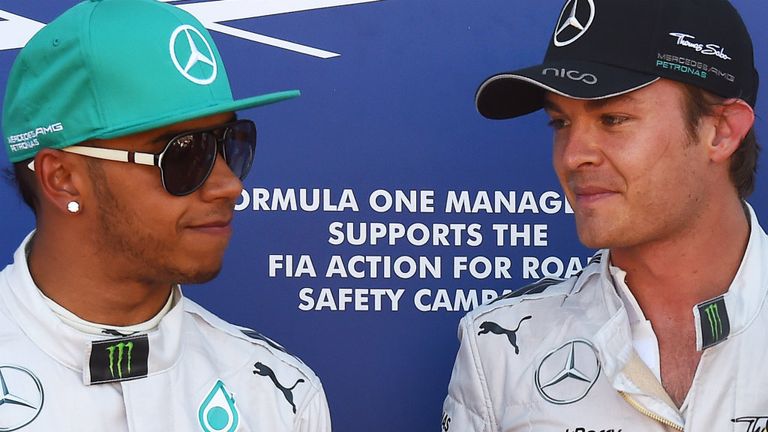 With the Mercedes pair dominating the start of the season and engaged in what looks likely to remain a sole duel for the Drivers' Championship, their long-time friendship, which was formed when team-mates in karting, appeared to fracture over the Monaco weekend following Rosberg's controversial winning of pole position in qualifying.
Although the German driver was cleared by the stewards of any wrongdoing in running off the circuit and triggering yellow flags, Hamilton failed to back his team-mate in his post-session interviews and then, after finishing second to Rosberg again on race day, told Sky F1 "we're not friends, we're colleagues".
The public opening of tensions last weekend came amid the emergence of details of the drivers' separate unathorised uses of power boost functions on their respective W05s during their close-fought battles for victory in Bahrain and Spain.
Five days after the end of the Monaco weekend, however, and Hamilton has tweeted details of what appears to have been a reconciliation between the pair.
"We've been friends a long time and as friends we have our ups and downs," Hamilton tweeted.
"Today we spoke we're cool, still friends #noproblem."
Hamilton's tweet included a picture of the then teenage pair riding unicycles.
Although Hamilton cut a disgruntled figure from Saturday afternoon onwards in Monaco, Mercedes' non-executive chairman Niki Lauda had predicted after the race that the Briton would soon move on from his frustration with the weekend's events.
"I'm sure that Lewis will overcome this after one night's sleep," Lauda said.
The Austrian had conceded that there was little the team could do to stop the drivers' bristling rivalry - but made clear that it would go too far if they stopped talking completely.
"The tension is building up, no question, but we have to make sure the tension doesn't get out of hand," Lauda added.
"I know with my experience and with our drivers in the past when it gets out of hand. So if they don't say hello in the morning anymore to each other, then I think it's out of hand."
We've been friends a long time&as friends we have our ups&downs. Today we spoke&we're cool, still friends #noproblem pic.twitter.com/xhZlf4qMv9

- Lewis Hamilton (@LewisHamilton) May 30, 2014