Seething Toto Wolff hits out after Nico Rosberg punctures Lewis Hamilton at Spa
Lauda apologises to Lewis as chiefs question timing of bungled move
By Pete Gill and James Galloway
Last Updated: 25/08/14 9:03am
Furious Mercedes boss Toto Wolff has branded Nico Rosberg's clash with Lewis Hamilton "unacceptable" during the Belgian GP after the World Championship leader punctured his team-mate and solitary title rival.
Hamilton was forced to retire from the race due to the grievous and terminal damage inflicted after Rosberg clipped the sister W05 on the second lap of the race after losing the lead off the line.
The collision cost Mercedes a near-certain victory with Rosberg's car also damaged in the incident. The German was, however, able to finish second behind the victorious Red Bull of Daniel Ricciardo and thereby extend his championship lead to 29 points over Hamilton.
"It was an unacceptable risk," Wolff thundered to Sky Sports F1. "This is an absolutely unacceptable race for us. In lap two our drivers crashing into each other...unbelievable.
"There is one rule and that is that you don't crash into each other. And it has happened not at the end of the race but on lap two. If there is any rev limiter [for anger] I'm in there. It's important there are rules and they're followed."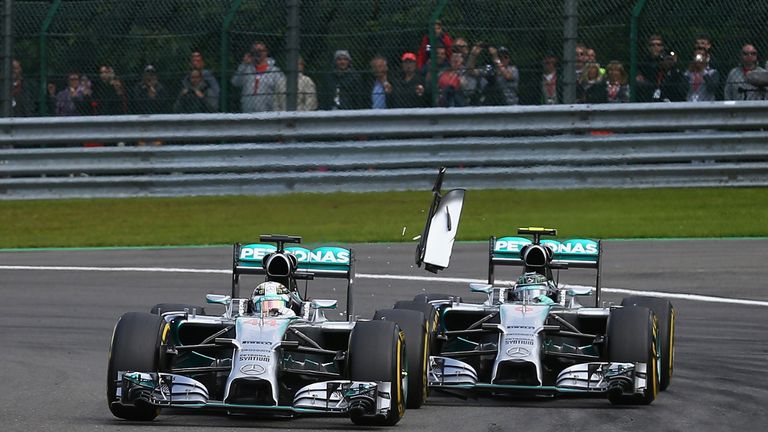 A team meeting, to be attended by Hamilton and Rosberg, has been called for late on Sunday afternoon inside the Mercedes motorhome. Judging by the stern words of both Wolff and the team's non-executive chairman Niki Lauda, it appears that Rosberg is likely to feel the ire of the team's management behind closed doors.
"I said sorry [to Lewis] because for him it's bad, no question about it," Lauda told Sky F1. "Lewis was clear in the lead, there was no question about it, Nico was behind and why in the second lap [did they clash] someone has to explain to me. 
"If they fight all the way to the end these things can happen, but not in the second lap. It's a bad result for the Mercedes team altogether - and Lewis."
The timing of Rosberg and Hamilton's first on-track collision of the season comes at arguably uncomfortable timing for Mercedes given the team had publicly accepted ahead of this weekend's race that the rules of engagement in their driver's in-house rivalary had been forced to change owing to the tight nature of their title duel.
This week's Midweek Report will first be shown at 8.30pm on Wednesday on Sky Sports F1 with guests Alan Baldwin and Alex Brundle joining Anna Woolhouse in the studio to dissect the Spa fallout