Lewis Hamilton claims Nico Rosberg confessed to deliberately crashing into him
Hamilton "gobsmacked" by Rosberg's alleged admission in Mercedes debrief; Lewis expected stewards investigation after clash; Nico blames 'British fans' for podium boos
By Pete Gill and James Galloway
Last Updated: 25/08/14 9:02am
Lewis Hamilton has alleged that Nico Rosberg has admitted he deliberately failed to avoid crashing into the Englishman's Mercedes at the start of the Belgian GP.
According to Hamilton, Rosberg confessed he refused to back down "on purpose" in a post-race briefing inside the Mercedes motorhome as the championship-leading team sought to deal with the fallout from the pair's controversial - and costly - clash at Spa on Sunday night.
The collision resulted in Hamilton eventually retiring from the race while Rosberg finished second, behind the victorious Daniel Ricciardo, to extend his World Championship lead to 29 points.
Although race stewards declined to investigate the clash, Hamilton claimed that, in a post-race hearing convened by the Mercedes management, Rosberg admitted he could have avoided crashing into the sister W05 and didn't back off 'to make a point'.

At the previous race in Hungary the drivers were embroiled in a team orders controversy after Hamilton didn't let his team-mate through when on different strategies, an incident which is thought to have angered the championship leader.
"We just had a meeting about it and he basically said he did it on purpose. He said he did it on purpose. He said he could have avoided it," Hamilton told reporters. "He basically said 'I did it to prove a point'.
"You don't have to just rely on me, go and ask Toto [Wolff] or Paddy [Lowe] who are not happy with him as well."
According to Wolff, claims that Rosberg admitted crashed deliberately are "nonsense". However, the Mercedes boss has reputedly confirmed Rosberg acknowledged 'he could have avoided crashing but didn't [in order to ] make a point.'
A Mercedes spokesperson also confirmed that Hamilton's explosive account of the meeting was 'broadly accurate'.
Hamilton added: "He just came in there and said it was all my fault. When you're out there you have to trust the people with their heads and [that they] don't do things deliberately. After that meeting I don't really know how to approach the next race."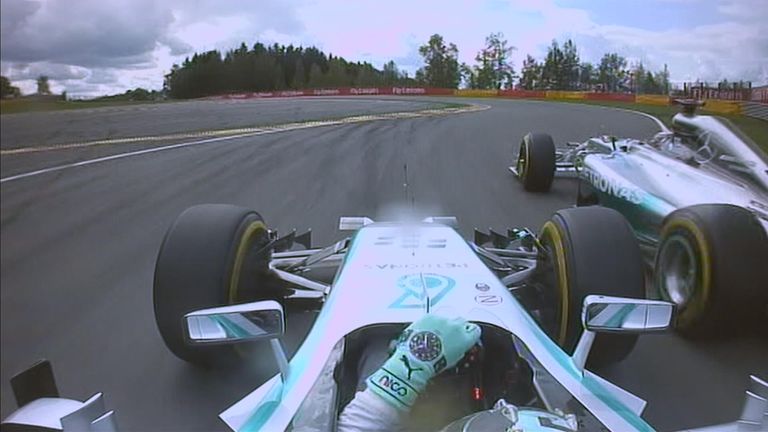 The pair clashed on the second lap of the Belgian GP when Hamilton defended the inside line at the conclusion of the Kemmel Straight. As the two Mercedes cars moved through the chicane, Rosberg suddenly veered right, clipping the back of his team-mate's vehicle, wrecking the floor of the W05 and puncturing his left-rear wheel.
Hamilton admitted he was "gobsmacked" by Rosberg's alleged admission in the team's post-race summit and revealed he thought a stewards investigation into his team-mate's driving would have been forthcoming during the race.
"This year the team have allowed us to race and we've been good at racing wheel-to-wheel closely. I heard someone say it was inevitable that we were going to crash one day – I don't feel today was that inevitability, at the moment," he insisted.
"I took the inside line into the corner, I had the corner. We braked very deep into the corner because if I braked early he would have come down the outside, which would have meant that he was alongside me through that section.
"But I still made the corner [on] the same normal line that I would do normally. Then I just got a big thud. I knew that he was behind and so then I continued my line. I thought for sure there would be an investigation or something about it.
He added: "We know – and you can ask Fernando [Alonso], you can ask all drivers – when a car is less than half a car length along you and you're on the inside it's your racing line. It's not your job to go massively out of your way to leave extra, extra room and it wasn't one of those corners where there was a wall there or anything.
"Look at Sebastian [Vettel] the lap before. He was actually further up the inside and he knew that he wasn't going to go around the outside, he was sensible about it. So I was gobsmacked when I was just in that meeting. You need to ask him what point he was trying to make."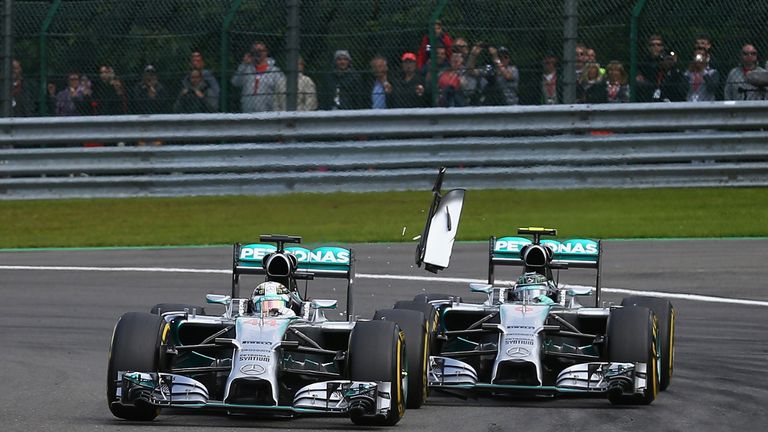 Rosberg hasn't responded to Hamilton's comments.
With Mercedes losing a likely one-two finish as a result of the collision, Hamilton said he was upset for the team given they had reaffirmed their desire for their drivers to race freely after the events of Hungary.
"I'm mostly disappointed for the team," he added. "Of course for myself, because I lost points and that makes my championship a lot harder, but coming into this weekend the team said – I don't know why they even suggested it because we were already racing hard with each other – but they said 'now we want you to be able to race'. I don't know how literal he took that differently because for me there's still the priority for the team to finish."
An unrepentant Rosberg refused to publicly apologise to Hamilton after the race and claimed that only "British fans" booed him on the Spa podium.
Mercedes bosses Toto Wolff and Niki Lauda immediately – and angrily – condemned Rosberg's driving after the race but the World Championship leader reckoned he was only heckled by British spectators.
"They are British fans so I understand," Rosberg, who now leads the championship by 29 points, told Sky Sports F1. "It wasn't a nice feeling. All I ask is that they really prepare themselves well before having such opinions. For example, by reading the regulations and really understanding what is the code of conduct for us drivers – that is what I would ask.
"But anyway, it was a small minority, the British fans here, and all the other people were excited by a great race."
Sky F1 pundit Martin Brundle described Rosberg's move as 'clumsy', with the German nearly an entire car's length behind his team-mate when he struck the sister W05. However, according to Rosberg, his attempted overtake was legitimate.
"In terms of an apology, I need to see it to go into any such detail," he added. "I was quicker, I wanted to overtake and I went for it. Unfortunately we touched. I definitely tried [to overtake] and I was alongside."
A dejected Hamilton retired with five laps of the race remaining after trundling around at the back of the field following his emergency pit-stop.
"While I was driving I didn't really understand what had happened. I felt a big thud at the rear. I've watched it on the replay just now and I gave him space. I don't understand it," the Englishman told Sky F1.
"It's gutting. We've had such a tough year on my side of the garage and this is not good for the team because we could have easily had a one-two."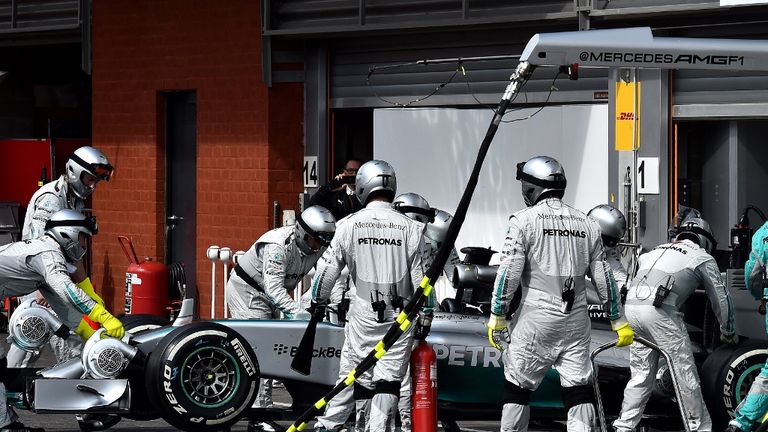 Hamilton was overheard repeatedly calling on his Mercedes team to pull him out of the race as he limped around the Spa circuit out of the points and was adamant afterwards that his request was a rational rather than emotional reaction to his latest costly misfortune.
"It wasn't a 'give up thing', my car had lost fifty or forty points of downforce, I could do nothing. The car was all over the place and I couldn't catch the Lotus," he explained. "It didn't matter if the Safety Car came out, I wouldn't have been able to pass the cars in front of me – Sutil was pulling away from me.
"My thinking was that engine had already burnt up in the last race and I had already lost one engine and had one engine less than Nico which puts me on the backfoot to the next few races. So my thought was 'let's save it'."
How the Sky F1 pundits viewed the incident
"Rosberg's hovering, he's not really in a position to attack the car in front," summarised Ant Davidson as he reviewed footage of the clash. "The rules say you have to have a significant part of the car alongside  [to attack] but there's not a significant part alongside, he was never in a position to mount a challenge. It was clumsy driving from an experienced driver.
"There was a double movement on the wheel, went to turn in once and then again and it was on that second time that the contact was made.
"If that was an inexperienced rookie driver, he would be hammered. Hamilton is on the normal racing line and Rosberg is an area where he had to back out. I can understand why people are so unhappy with the move."
Sky F1 collleague Martin Brundle added: "It was clumsy. He wasn't far enough in the corner to make the move, I think it was poor driving but not intentional. Rosberg was at fault, he shouldn't have continued that move. It was poor judgement but I am concerned that he turned out and then turned back in. He really did turn back in at Hamilton's car." 
This week's Midweek Report will first be shown at 8.30pm on Wednesday on Sky Sports F1 with guests Alan Baldwin and Alex Brundle joining Anna Woolhouse in the studio to dissect the Spa fallout