Nico Rosberg has accepted blame for collision with Lewis Hamilton at Spa
Mercedes take 'suitable' disciplinary measures; drivers free to race on
By Mike Wise
Last Updated: 01/09/14 9:08am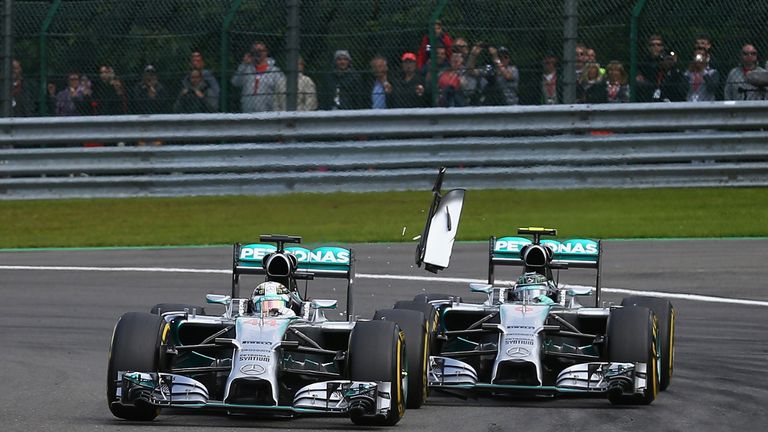 Nico Rosberg has accepted blame for his collision with Lewis Hamilton at the Belgian Grand Prix, Mercedes revealed on Friday.
In a statement, the championship leaders said that Rosberg has also apologised for his part in the incident on lap two of last Sunday's race at Spa.
Mercedes added that Rosberg and Hamilton, who stand first and second in the World Championship, remain free to race this season.
'Toto Wolff, Paddy Lowe, Nico Rosberg and Lewis Hamilton met today in the boardroom of MERCEDES AMG PETRONAS headquarters in Brackley to discuss the events of the Belgian Grand Prix,' the statement read.
'During this meeting, Nico acknowledged his responsibility for the contact that occurred on lap two of the Belgian Grand Prix and apologised for this error of judgement.
'Suitable disciplinary measures have been taken for the incident.'
The German later issued an open apology on his Facebook page - including one "to the fans who were deprived of our battle for the lead in Belgium" - while Hamilton responded via his own website admitting that "we have both made mistakes" and stressing that they can still work together.
Rosberg was booed on the podium after recovering to finish second behind Red Bull's Daniel Ricciardo, while Hamilton was forced into retirement as a result of damage his car picked up. 
The collision, which occurred at Les Combes as Rosberg was attempting to re-take the lead from Hamilton, has threatened to blow wide open the rivalry between the pair, which has already simmered for most of the season.
Mercedes bosses were furious that a likely one-two finish was scuppered by the collision but Rosberg refused to apologise at the time, even though blame was placed squarely on his shoulders.
The controversy then took a whole new twist when Hamilton, fresh from a post-race de-brief, told the press that Rosberg had claimed he'd deliberately sought not to avoid a collision in order to "prove a point". 
Wolff spoke of "consequences" and after Hamilton expressed doubt that Mercedes would offer little more than a "slap on the wrist", the team boss added rather ominously that they could do "a lot".
Yet it's unclear precisely what disciplinary measures Mercedes have actually taken. The feeling has been that they'd probably keep the matter in-house - a fine and/or reprimand, say, rather than clipping the wings of their championship leader by, for example, giving Hamilton a preferred strategy or even suspending Rosberg.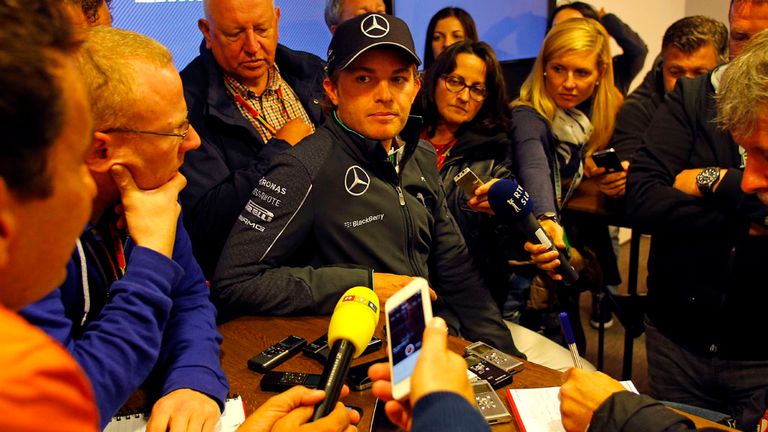 But with Rosberg now leading Hamilton by 29 points, Mercedes have backed away from the spectre of team orders - albeit with the caveat that what happened at the weekend must remain a one-off.
'Mercedes-Benz remains committed to hard, fair racing because this is the right way to win world championships. It is good for the team, for the fans and for Formula One,' the statement added.
'Lewis and Nico understand and accept the team's number one rule: there must be no contact between the team's cars on track.
'It has been made clear that another such incident will not be tolerated. But Nico and Lewis are our drivers and we believe in them.
'They remain free to race for the 2014 FIA Formula One World Championship.'
On Thursday, Mercedes conducted a poll of fans on the question of team orders - with 92 per cent saying they wanted Rosberg and Hamilton to keep racing each other.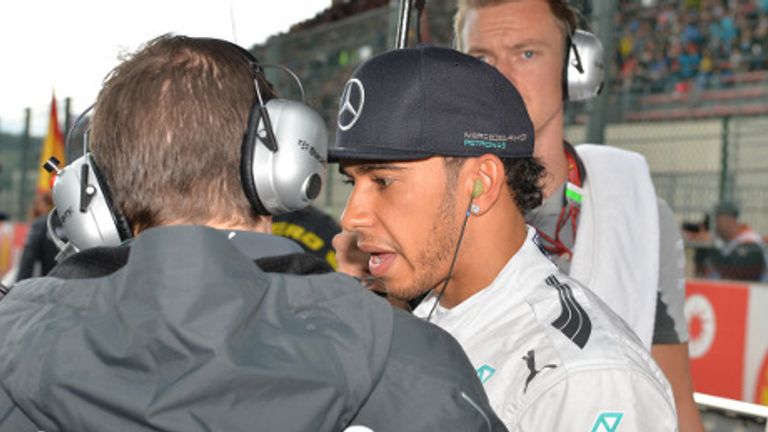 Rosberg's apology:
"In the days since the Belgian Grand Prix in Spa, I have spent a lot of time thinking about what happened during the race and discussing it with the team.
"I have already expressed my regret about the incident but, after meeting with Toto, Paddy and Lewis today, I wish to go a step further and describe it as an error of judgement on my part.
"The number one rule for us as team-mates is that we must not collide but that is exactly what happened.
"For that error of judgement, I apologise to Lewis and the team. I also want to say sorry to the fans who were deprived of our battle for the lead in Belgium.
"Lewis and I have been given clear instructions about how we race each other.
"As drivers, we have a clear responsibility to the team, the fans of the sport, our partners and Mercedes-Benz to deliver clean racing. We take that responsibility very seriously.
"I look forward to concluding the season with hard, fair competition on and off track right up to the final lap of the season in Abu Dhabi."
Hamilton's response:
"Today we came together as a team and discussed our differences. Nico and I accept that we have both made mistakes and I feel it would be wrong to point fingers and say which one is worse than the other. What's important is how we rise as a team from these situations. We win and we lose together and, as a team, we will emerge stronger.
"There is a deep foundation that still exists for me and Nico to work from, in spite of our difficult times and differences. We have the greatest team, the strongest group of individuals who have worked their hands to the bone to give us the best car you see us racing today. It's important that we never forget that and give them the results they deserve. Today, Toto and Paddy told us clearly how we must race against each other from now on in a fair and respectful manner.
"The fans want to see a clean fight until the end of the season and that's what we want to give them. It's going to be a tough road from here but Championships have been won from much further back than I am now. And I promise you that I will be giving everything and more to win this for my team, for my family and for my fans."