Mercedes vow to tackle 'unacceptable' reliability so DNFs don't settle title fight
Fourth W05 race-ending failure of year swings title pendulum again
By James Galloway and Mike Wise in Singapore
Last Updated: 22/09/14 3:52pm
Mercedes boss Toto Wolff has accepted that the championship leaders must get on top of the "unacceptable" level of unreliability that continues to dog the title fight between their drivers Lewis Hamilton and Nico Rosberg.
After the tightest pole battle of the year had whetted the appetite for another closely-fought battle between the two championship protagonists in Singapore, Rosberg effectively dropped out of the running even before the race had started after a broken loom in his W05's steering arm played havoc with the car's electronics.
Rosberg's eventual retirement after a fruitless 13 laps at the back of the field represented the fourth race-ending mechanical failure Mercedes have suffered across their two cars on Sundays alone this season.
With further technical problems having compromised Hamilton in qualifying during the summer, it remains mathematically possible that despite the season-long dominance of the Mercedes package Red Bull's Daniel Ricciardo could pinch the drivers' title.
Wolff, Mercedes' Executive Director, admitted he was at a loss to explain the spate of problems and it was imperative the Brackley team and their reliability task group got on top of the situation.
"We have a great reliability team, this is a great group of people who are really dedicated to quality and I'm really proud of that department. So considering that fact it's even more astonishing that we keep continuing to have those issues," Wolff told reporters after Hamilton won in Singapore to regain the title lead.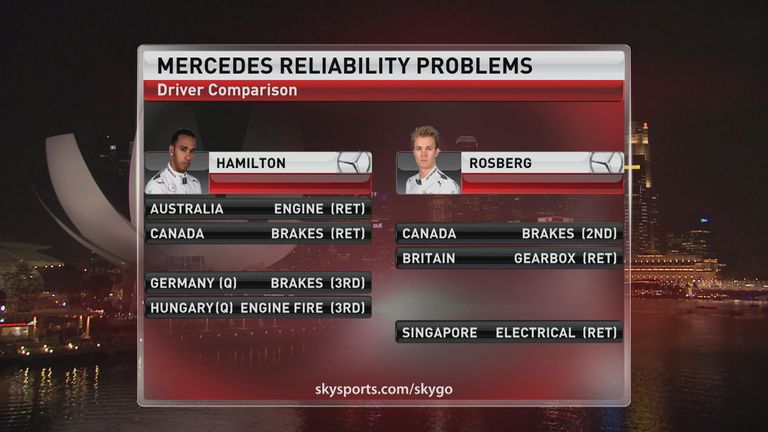 "I guess that needs to get grip [on] the whole group until we stop suffering from these DNFs. Of course it's unacceptable for us; we've had four of them now.
"If I could, or we could, make anything more to stop the DNFs we would do it. I would break my arm again to stop the reliability issues! We just have to get on top of the problems."
With just three points now separating his drivers in the standings with five rounds still to go, Wolff stressed that Mercedes were desperate to avoid a situation where Hamilton and Rosberg's otherwise thrilling season-long duel was ultimately settled by unreliability.
"That would obviously be something which would not be satisfying at all. We don't what to have the kind of spin in there 'the championship was decided because one car let the driver down'," the Austrian insisted.
"So we have to refocus, get our heads down, keep concentrating and finding what we can do, what the upmost is, to prevent reliability problems."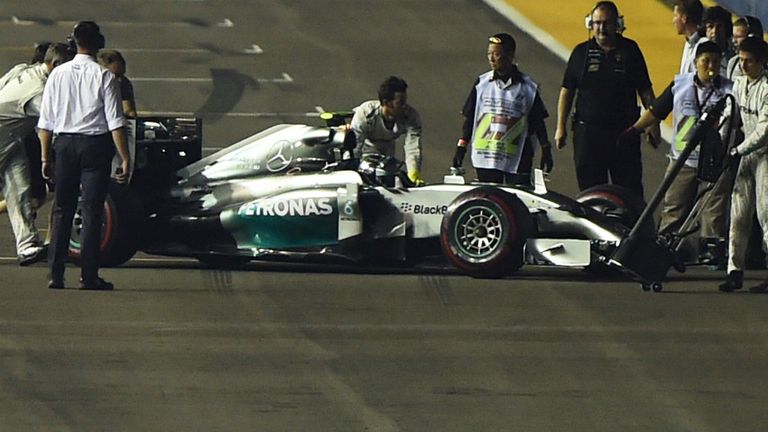 Mercedes' bid to get on top of reliability will start with what the team have promised will be a "forensic" investigation into what exactly went wrong with the steering column on Rosberg's car.
Wolff, who revealed that the wiring loom was "in the duty cycle, so it was not something which was going to the end of its life cycle", said that at the moment the cause of the fault was a mystery.
"Absolutely no explanation for this," he said. "The whole thing's going out of the car, going with us to the UK and we are trying to analyse that in a really forensic way to analyse where all the problems started and why they appeared when he went into the car and was just about to leave the garage."
As has been the case when Hamilton's car has been struck down by technical gremlins this year, Wolff apologised to Rosberg and said it was vital Mercedes continued to adopt a balanced approach between their two duelling drivers.
"I told him that I was sorry for having let him down," he explained. "We are doing this in both directions, you need to be open and have that philosophy in the team that whoever f**** up needs to take that on.
"He was okay but there is not a lot you can do in that moment, it was just important as a team member you shouldn't be over the moon following the other car which is in the lead and one breaks down. You need to balance it."