Nico Rosberg admits Lewis Hamilton was 'awesome' during qualifying
But world champ wary of Rosberg's race pace after simulator work
By William Esler
Last Updated: 16/03/15 2:09pm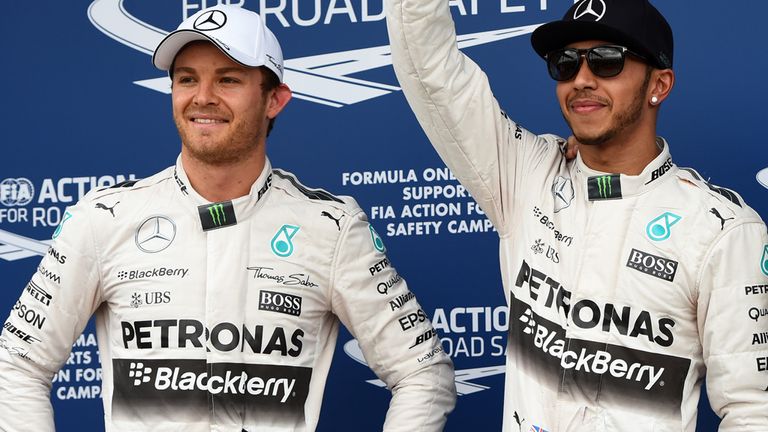 Mercedes drivers Lewis Hamilton and Nico Rosberg have heaped praise on each other after the Silver Arrows dominated qualifying in Australia.
Reigning world champion Hamilton claimed the first pole of the season by a massive six tenths of a second from his team-mate and Rosberg admits the Briton gave the better performance.
"Lewis was in impressive form today," the German said. "He did an awesome job and nailed it all the time.
"For me the speed was there, but I just didn't get it all together. But of course I am grateful to the team for the car they have given me – it is unbelievable. It is really great to see where we are again leading the pack. P2, I have to live with that today, but it is still a long day tomorrow and we still have all the chances."
Indeed, Hamilton knows it could be a long 58 laps around Albert Park after acknowledging the amount of hard work Rosberg has done during the off-season.
"Tomorrow is still going to be a challenge," he told Sky Sports F1.
"I have Nico right behind, he is going to be quick in the race, he has been working a lot on the simulator, he has been doing race runs every time he goes into the factory, spending all day on the simulator trying to close the gap to me on my fuel usage and all those sorts of things. So I have to expect that he is going to be quicker there so I have to work hard tonight to make sure I am on form."
Unless unreliability strikes, the battle for victory in Melbourne looks to be between Hamilton and Rosberg, with third-placed Felipe Massa 1.4 seconds slower than the pole time.