Mercedes' Toto Wolff gracious in defeat to Ferrari at Sepang
Team boss says Sebastian Vettel a title contender after winning race
By James Galloway
Last Updated: 29/03/15 2:37pm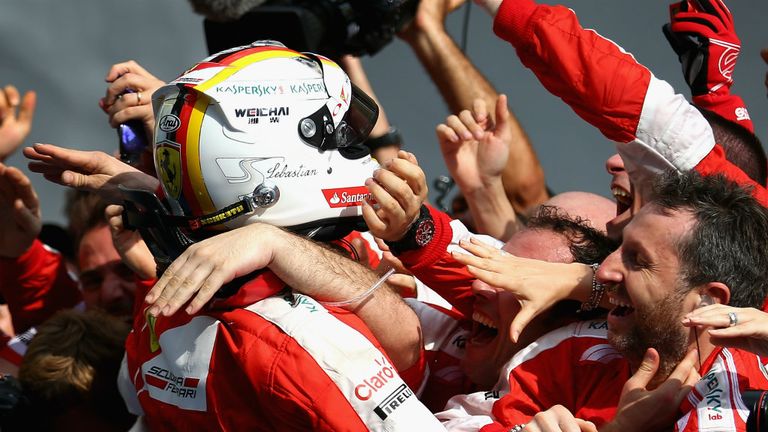 Mercedes' Toto Wolff admitted that Ferrari's return to the winner's circle represented a "good day for Formula 1" with their victory giving a "wake-up call" to the world champions.
In an unexpectedly commanding race performance at Sepang, Sebastian Vettel ended Mercedes' run of eight consecutive wins to bring Ferrari's near two-year victory drought to a remarkable close.
Although aware of the Ferrari threat from as early as Friday practice, Mercedes appeared to be outfoxed by the Scuderia during Sunday's race as tyre strategy proved key to the outcome.
Wolff, Mercedes' joint team boss, acknowledged that while the defeat naturally hurt, a non-Mercedes victory was good for the wider health of F1. And, in a pointed remark apparently clearly aimed towards Red Bull chief Christian Horner, the Austrian expressed hope that "all the nonsense of equalisation stops now".
"You cannot expect that you are going to win races forever and we are here to extract the maximum performance," Wolff told Sky Sports F1.
"This is a well-deserved win for Ferrari as much as it hurts from a racers point of view, but maybe this is the wake-up call that we needed.
"Hopefully all the nonsense of equalisation stops now. It was a good day for Formula 1, not such a perfect day for Mercedes, but we will come back stronger."
Asked to elaborate on what he meant by the Ferrari's victory delivering a "wake-up call" to his own team, Wolff added: "He [Vettel] has won the race, he is a championship contender.
"It is going to make us work harder and concentrate even more. The recovery they have made over the winter is incredible and you have to honour that as a racer."
Although double world champions Mercedes were beaten three times by Red Bull on race day during the course of their otherwise dominant 2014, the Anglo-German squad in reality could point to mistakes or unreliability for the defeats on each occasion.
However, Vettel's win represented an undoubted triumph for the strength of Ferrari's impressive 2015 car and Wolff suggested it was the Scuderia's strong tyre preservation, rather than strategy mistakes, which cost his team.
"After the race, you can always be clever and say the strategy was wrong," he said.
"We saw some very strong long runs from the Ferrari on the Friday so we were warned and today he was amazing on the two option sets at the beginning. I'm not sure we would have managed the pace, if we had been on a two-stopper it would have been car against car, but I don't want to be clever and we are all in this together. It wasn't just the strategy."