Mercedes confirm Lewis Hamilton did nothing wrong in Chinese GP
Wolff explains Hamilton slowed to preserve soft tyre after strategy switch but insists Rosberg's complaints were also "understandable"
By James Galloway and Mike Wise in Shanghai
Last Updated: 12/04/15 6:21pm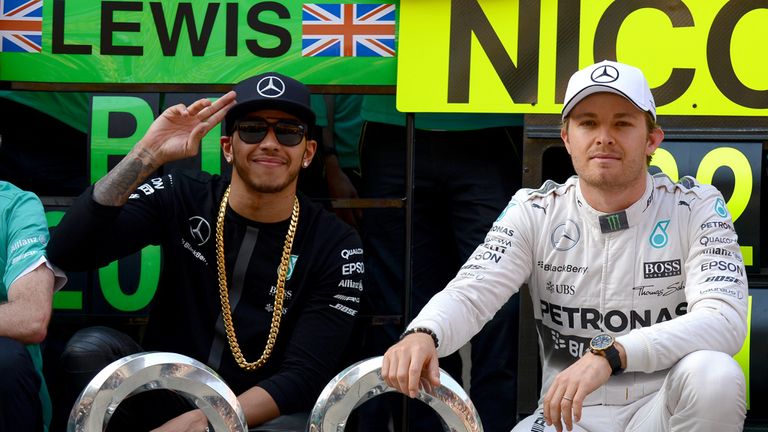 Toto Wolff is certain Lewis Hamilton did not deliberately slow down team-mate Nico Rosberg in the Chinese GP with the Mercedes chief insisting neither driver was to blame for the flare up of tensions.
For the first time this season, Mercedes' duelling drivers found themselves at odds with each other after the race with Rosberg adamant that Hamilton had "compromised" his race by driving too slowly while in the lead after the first pit stops.
With Mercedes' management once again forced to soothe tensions between their two drivers, Wolff insisted several hours after the end of the race, following what he described as a "positive debrief" with the whole team, that the situation was "understandable from both of them".
The team boss was therefore adamant that Hamilton had not intentionally attempted to hurt Rosberg's race.
"I think he didn't do it on purpose," Wolff insisted. "And we've cleared that now, there wasn't any intention from Lewis to slow Nico down in order to make him finish third or worse. One hundred per cent."
Wolff confirmed that Mercedes had switched their intended tyre strategy from the second stint onwards after discovering during the first stint that the soft tyre "was holding on much better than expected".
With that change in plan, he insisted that while Hamilton did indeed slow his pace, allowing Rosberg and Sebastian Vettel to close on him, the Briton's actions were "completely understandable" given the switch of tyre strategy.
Wolff says the Mercedes pitwall only intervened when it became clear that Hamilton was going too slowly.
"He didn't know the gaps behind Nico. What he knew was he needed to take that tyre longer than we've ever run it the whole weekend and this is why he decided to slow down in the way he did," Wolff explained.
"Of course, after a while we realised this was putting the team into trouble, putting Nico into trouble, and risking the second place or even worse. If Lewis had a DNF, you could potentially lose the race as Mercedes. So there were a lot of thoughts on the pitwall about the possible consequences – and he didn't know that. So you can't really blame anybody."
And asked directly if Hamilton had done anything wrong, Wolff confirmed: "No."
Wolff made it clear that neither Hamilton nor Rosberg could be blamed for their respective actions.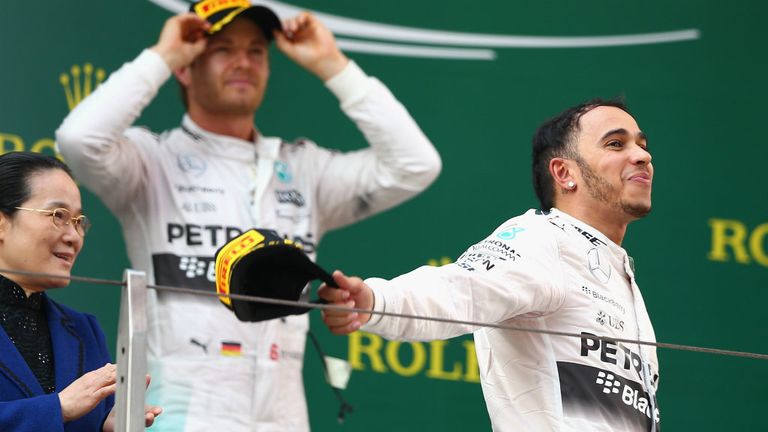 "So we put the option on, the driver realises he has the option on, doesn't know what's going on behind him, and controls his pace because he needs to take the option longer than expected. And he [Hamilton] was controlling that pace," he added.
"From his point of view, [it was] completely understandable. Nico, on the other side, was really running into trouble because he was bunched up behind Lewis and couldn't go anymore near so he asked for a two-second gap to Lewis to at least protect the tyres a little bit, which he did. At the same time, Sebastian was increasing the pace behind him. So understandable from both of them."
With the team and drivers having since had chance to talk through the race, Wolff insisted the atmosphere in the team was calm.
"It was a good debrief because it was a positive debrief. There wasn't any animosity. Everyone in good spirits," he said.
Don't miss the F1 Midweek Report on Wednesday at 8:30pm on Sky Sports F1. Williams co-founder Patrick Head and F1 journalist Peter Windsor join Natalie Pinkham to discuss all the fallout from the Chinese GP.