Mercedes tried to lure Williams into early British GP stop, admits Wolff
Toto Wolff concedes 'dummy' pitstop was designed to bounce Williams into pitting too early; Merc boss understands why rivals delayed stop & reveals light-hearted WhatsApp from wife Susie
By James Galloway
Last Updated: 07/07/15 3:39pm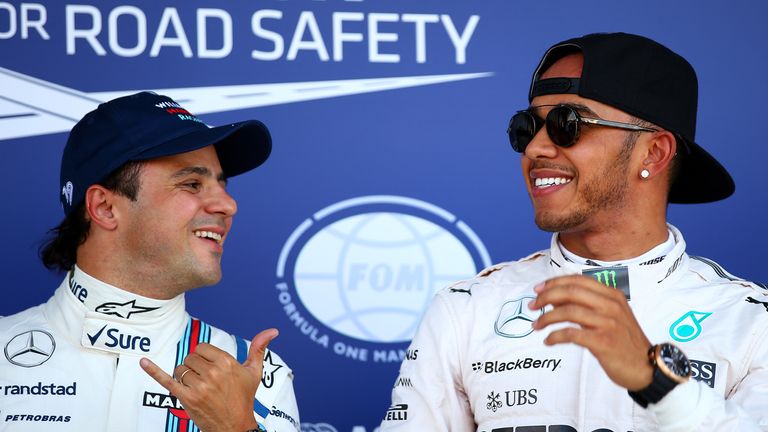 Toto Wolff has admitted Mercedes did engage in kidology to try and lure Williams into an unfavourable pitstop during their thrilling early battle for the lead of the British GP.
For the first time this season, neither of Mercedes' drivers controlled the opening laps of a race after Felipe Massa stormed past both front-row starting W06s and Valtteri Bottas then overtook Lewis Hamilton for second on the lap-three restart at Silverstone.
At the end of lap 14, when the Williams and Mercedes cars were running within two seconds of each other, the world champions' pit crew came out into their box with tyres in apparent preparation for a stop for one of their drivers, only to then return to the garage once Hamilton and Rosberg had gone past the pit entry.
"Do you think they were trying to dupe Williams there?" pondered Sky Sports F1's Martin Brundle in commentary.
As it turned out, Williams' pitwall didn't react to the appearance of the Mercedes mechanics and it was another five laps before Hamilton became the first of the top four to pit - a swift stop which proved one and two laps earlier than Massa and Bottas's respective services and saw the Briton vault into the lead.
Speaking after Mercedes ultimately secured another one-two finish, Wolff said the intention of the 'dummy' pitstop was to bounce Williams into an unfavourable strategy - although the Austrian revealed it only served to earn him a playful message from his wife Susie, who was watching events unfold from the Williams garage in her role as the team's test driver.
"We know that Williams has more difficulties in keeping the tyres last at the end [of a stint] and we knew that triggering an early stop would make them think 'are we able to do that?' and probably trigger them into a pit stop which would have caused them problems at the end," Wolff, Mercedes' motorsport boss, explained.
"So it was a bit of a game which didn't function. My wife sent me a WhatsApp saying 'you guys think you can fool us? Ha, ha, ha' - so it was worth at least the entertainment!"
Under Article 23.11 of F1's Sporting Regulations, "team personnel are only allowed in the pit lane immediately before they are required to work on a car and must withdraw as soon as the work is complete", although teams have routinely tried to outfox rivals with such 'phantom' pitstops over the years.
Williams came under fire after the race for their failure to hang onto the lead at the first round of stops amid suggestions that they should have pitted at least one of their drivers earlier to fend off the threat of a Mercedes undercut.
Rob Smedley, the Grove team's head of vehicle performance, defended their tactics and insisted "it has to be the balance of not stopping too early and running out of tyres at the end of the race".
Wolff, formerly executive director at Williams, said he could understand his old team's quandary and that it reminded him of situations Mercedes found themselves in before they were F1's established front-running force.
"Sometimes I had a little deja vu. Like us in 2013, you find yourself in P1 and P2 and you're surprised and you don't want to risk the team result. [You think] 'this is just amazing', so it's very difficult to expect bold calls," the Austrian said.
"Probably Valtteri could have built a gap if they would have let him go. That was one thing. The other thing was that when the rain hit we split the strategies, with Lewis pitting and leaving Nico out there, and they didn't do that.
"But it's so easy from the outside to really say what somebody should have done, I'm not in there. I think they were probably caught on the wrong foot."
Don't miss the F1 Midweek Report for all the analysis of the British GP. Former FIA president Max Mosley and F1 correspondent for The Times Kevin Eason join Natalie Pinkham in the studio. Catch it at 8:30pm on Wednesday July 8 on Sky Sports F1.