Lewis Hamilton enjoying best-ever qualifying year to stun Nico Rosberg
World champion now leads Nico 10-1 in qualifying this year after mesmerising lap at Spa beats team-mate by half a second
By Pete Gill at Spa
Last Updated: 25/08/15 2:08pm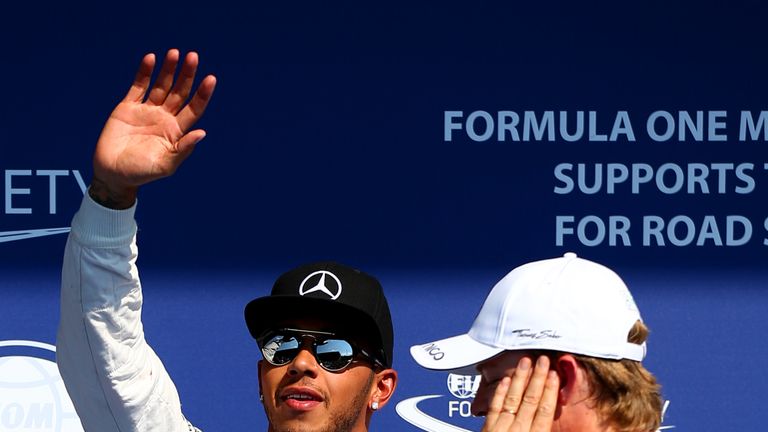 Lewis Hamilton believes he is in the qualifying form of his F1 career after claiming his 10th pole position of the year in devastating fashion at Spa.
The world champion will start Sunday's Belgian GP, live on Sky Sports F1, at the front of the pack after delivering a pair of blistering laps to defeat Mercedes team-mate Nico Rosberg by the astonishing margin of half a second.
"I don't remember as good a year in terms of qualifying," said Hamilton. "Coming back from the break I was really unsure how l was going to be so today was an incredibly positive feeling to perform the way l did and get another pole."
Conversely, Rosberg, who has only beaten Hamilton once in qualifying this year, was left stunned by his team-mate's pace having appeared to hold the upper hand after Friday practice.
"I was expecting to be on pole today because it was going really well during qualifying and l wasn't expecting that at all," said Rosberg. "It was a big surprise, especially getting out of the car and seeing the times - surprising and very annoying. He just pulled something out which l wasn't able to do."
Despite thrashing Rosberg 10-1 in qualifying this year, Hamilton remains a mere 21 points ahead in the standings and revealed his target for the rest of the year was replicating his Saturday form on race days.
"I don't think the races this year have reflected my pace or pole positions and my goal now is to convert more of them," said the reigning world champion. "It's not a very good place to start pole here and it's always difficult because you just make a great tow for the car behind."
Hamilton's and Rosberg's roles have been reversed this season after the German generally held sway on Saturdays in 2014. But having lost out to Hamilton in their title fight last year, it is Rosberg who is now hoping to win the championship despite failing to keep pace with his team-mate in qualifying.
"It would help to be in front of the year more often like last year. But last year l lacked a bit of race craft and missed out and if l keep on going strongly in that area l can make it happen even if l am second in qualifying," he argued.
Asked to explain the turnaround in the balance of power at Mercedes in qualifying this year, Rosberg added: "Some, a small part of it, l can explain because l am trying to be stronger on Sundays and it is always a bit of a compromise."