Renault signs a letter of intent to buy a controlling stake in Lotus
French manufacturer says it's the "first step towards the project of a Renault Formula 1 team from the 2016 racing season"; HMRC case against Lotus adjourned for 70 days
By William Esler
Last Updated: 28/09/15 5:17pm
Renault has announced it has signed a letter of intent to buy back a controlling stake in Lotus.
After protracted takeover talks with Lotus's owners, Genii Capital, the declaration marks the beginning of Renault returning to Formula 1 as a full works team.
The deal should safeguard the future of the beleaguered outfit, who subsequently had their case over an unpaid tax bill from HMRC adjourned for 70 days until December 7. 
The French manufacturer previously owned the Enstone-based outfit between 2002 and 2009, winning world championship doubles with Fernando Alonso in 2005 and 2006.
Sky Sources understand that four-time world champion Alain Prost will take a senior role in the running of the new Renault team, perhaps in a similar position to that held by Niki Lauda at Mercedes.
"Renault have made a loan available to Lotus to cover this outstanding tax bill so that has been paid off," reported Sky Sports News HQ's Craig Slater from London's High Court.
"However, the administration case has not been dropped. Because it has been adjourned rather than dropped it means it stops other creditors bringing legal petitions against Lotus in that period."
Lotus spent the Japanese GP weekend locked out of their team hospitality unit due to unpaid bill from last year's race, and F1 boss Bernie Ecclestone had to step in to feed their mechanics and staff.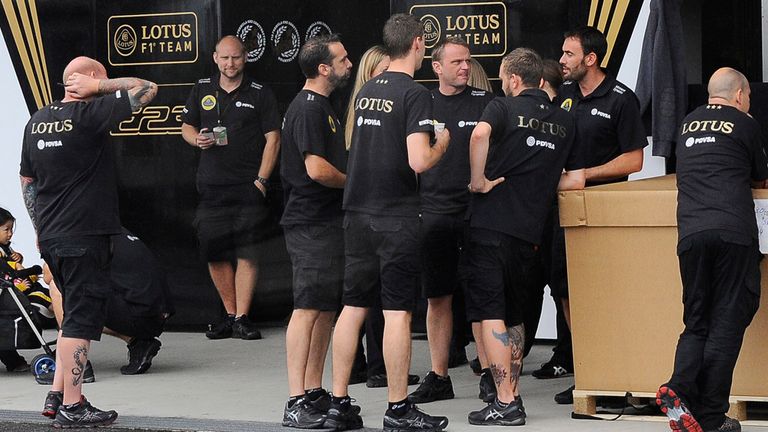 That wasn't the only time Lotus have run into high-profile financial problems this year, with their cars running under the threat of being impounded in Belgium. At the preceding race in Hungary, meanwhile, they were denied the use of the Pirelli tyres until minutes before practice due to another unpaid bill.
One other potentially significant issue to be resolved is Renault's demand of heritage payments from Bernie Ecclestone, similar to those received by the likes of Ferrari.
The company first entered F1 in 1977 and has won world titles with Williams and Red Bull, as well as its own works outfit. 
"My understanding is they are still yet to finally hammer out exactly how much Renault will receive along similar lines to other big names in F1 - Ferrari, Mercedes, McLaren and Williams - teams and companies which have been in the sport a long time that get these up front payments," Slater added.
"This has been a sticking point for Renault coming back into the sport and Mr Ecclestone revealed they had come to some sort of understanding during negotiations, but that deal was still to be finalised.
"In effect this notice of intent to buy the team only really buys Renault an option. They are looking at saying 'yes we will clear this debt and give ourselves three months to look at it before the end of the season and formally complete the takeover'. Negotiations have been going on for a long time and this is what the Lotus staff have been looking for, the first public and formal announcement from Renault that they do plan to proceed with the deal.
"So I think it should be a secure future for the Oxfordshire-based team heading into 2016."
With Red Bull's split from Renault as an engine supplier due to be finalised in the coming days, the French firm had considered pulling out of F1 altogether, previously stating that it wouldn't remain solely as a customer engine supplier.
The announcement is thus welcome news for F1, otherwise 10 of the 11 teams on the 2016 grid would have been powered by Mercedes or Ferrari - McLaren being the exception with their Honda engines.
It is also likely to mean that minnows Manor receive the class-leading Mercedes power unit in 2016. Currently they run a 2014 Ferrari engine, leaving them uncompetitive.
Pastor Maldonado had been announced as staying at the team in 2016 prior Renault's statement, but who will partner him remains unclear.
Team-mate Romain Grosjean is expected to join Haas for their debut in 2016, despite the Frenchman having a history with Renault who gave him his F1 debut in 2009. He also has a long-standing relationship with oil firm Total, who have been a regular partner of Lotus.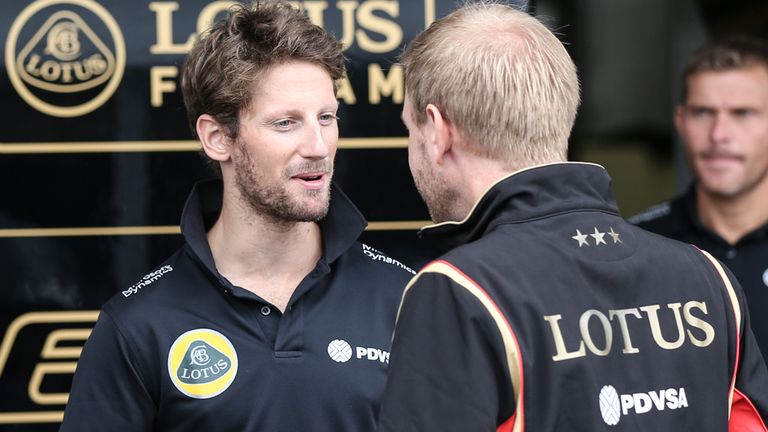 Renault statement in full
'Renault Group and Gravity Motorsports S.a.r.l., an affiliate of Genii Capital SA, are pleased to announce the signature of a Letter of Intent regarding the potential acquisition by Renault of a controlling stake in Lotus F1 Team Ltd.
'The signature of this Letter of Intent marks Renault's first step towards the project of a Renault Formula 1 team from the 2016 racing season thereby extending 38 years of commitment of the brand to world's premier motorsport championship series.
'Renault Group and Gravity will work together in the coming weeks to eventually turn this initial undertaking into a definitive transaction provided all terms and conditions are met between them and other interested parties.'
Don't miss this the F1 Midweek Report for analysis of the Japanese GP. Natalie Pinkham is joined by David Brabham and Ted Kravitz on Wednesday at 8:30pm on Sky Sports F1.