Pastor Maldonado will join Lotus in 2014 alongside Romain Grosjean
A "fantastic opportunity" for Venezuelan as Hulkenberg is overlooked
By Mike Wise
Last Updated: 02/12/13 11:41am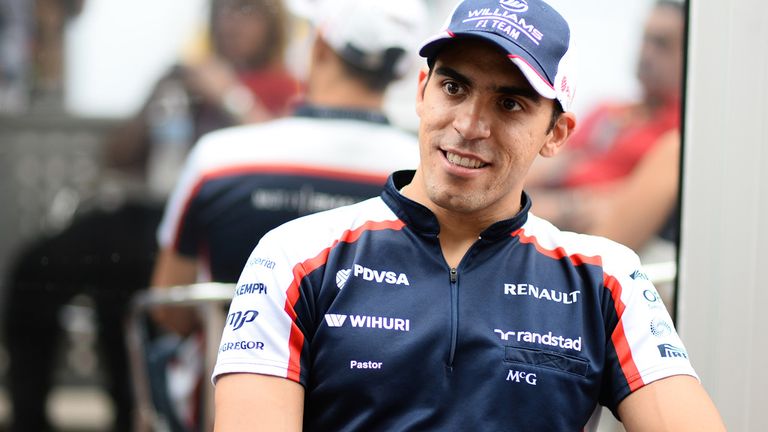 Maldonado had been tipped to join Lotus for some time, having revealed at the recent U.S. GP that he had agreed to switch to a new team but stopping short of naming a destination.
The 28-year-old had already announced that he was leaving Williams, with whom he won the 2012 Spanish GP, after enduring a difficult season.
Never the most consistent of drivers, Maldonado has shown blinding pace at times during his career. However, he was outperformed by rookie Valtteri Bottas in 2013 and even accused Williams of sabotaging his car in Austin after being comprehensively outqualified by the Finn.
"It is a fantastic opportunity for me to join Lotus F1 Team for 2014," Maldonado said. "It's no secret that I have wanted a change of scene to help push on with my Formula 1 career and Lotus F1 Team offered the very best opportunity for me to be competitive next season.
"The regulations and cars will change significantly so it is a very good time for a fresh start. I can't wait to be racing in black and gold."
Linked intrinsically to the move will be the multi-million dollar backing Maldonado enjoys courtesy of Venezuelan state oil company PDVSA. Lotus have struggled with cashflow problems during the 2013 season, with outgoing driver Kimi Raikkonen even complaining that the team had failed to pay his salary.
Lotus have been waiting on backing from Quantum Motorsports, who announced in June that they intended to acquire a 35 per cent stake in the team, but Maldonado's confirmation appears to suggest that the deal is now off.
It had seemed on the verge of completion at the Abu Dhabi GP, with Quantum boss Mansoor Ijaz even urging Lotus, who eventually finished fourth in the Constructors' Championship, to sign Hulkenberg.
The highly-rated German had been vying with Maldonado for the Lotus seat, but having now been passed over by several top teams in the past couple of seasons, he appears set to leave Sauber and rejoin Force India.
The announcement is seen as an important step in settling the so-called drivers' market, with speculation about who might go where in 2014 building to a climax in recent weeks.
There is, however, no surprise whatsoever in Lotus's decision to retain Grosjean, who has arguably been the most improved driver on the grid this season.
The 27-year-old Frenchman, who incurred a one-race ban during a spate of shunts last year - Mark Webber famously branded him a "first-lap nutcase" after their collision at the start of the 2012 Japanese GP - has tempered his hot-headedness whilst maintaining formidable speed.
Grosjean claimed six podium finishes in total during 2013 but has been particularly impressive in the latter half of the season, finishing second behind World Champion Sebastian Vettel in Austin.
"I am very happy to have official confirmation that I will be continuing to drive for Lotus F1 Team next season," Grosjean said. "This past year has been tremendously satisfying for me. We have worked well together, and I know everyone at Enstone is motivated to continue the fight for every last point available.
"I am very excited about next year's car and I cannot wait to get out on track for pre-season testing before heading to Australia for the first race of the season."
Of Lotus's new signing, Team Principal Eric Boullier said: "It is clear that Pastor has pace and potential - demonstrated by his 2010 GP2 Series title success and then through strong races throughout his career at Williams F1 Team - and we are convinced that we will be able to provide the correct environment to enable him to flourish regularly on track."
He added: "It is with great pleasure that we can formally confirm that Romain Grosjean will continue with Lotus F1 Team next season.
"He has really made the most of his tremendous talent over the latter part of the 2013 season and will be a fantastic asset to our 2014 challenge."
I'm very proud to reach @Lotus_F1Team and motivated for the next 2014 F1 season, lets push very hard!!!!

- Pastor Maldonado (@Pastormaldo) November 29, 2013
Who's where in 2014: The driver line-ups and engine deals for next season