Jean-Eric Vergne time penalty for Grosjean clash re-promotes Maldonado to ninth
Five-second sanction for Vergne cancels out Maldonado's
By James Galloway in Austin
Last Updated: 03/11/14 1:34am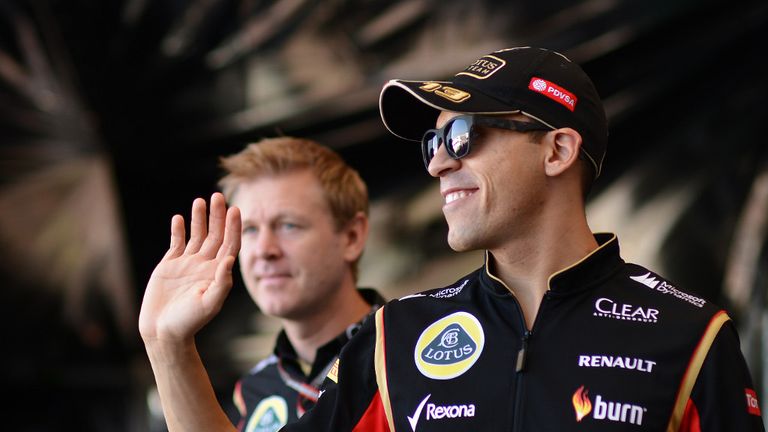 Pastor Maldonado has reclaimed ninth place in the U.S. GP after Toro Rosso's Jean-Eric Vergne slipped back behind the Venezuelan in the revised classification courtesy of a five-second time penalty for colliding with the other Lotus of Romain Grosjean.
In what came to represent an F1 version of musical chairs on Sunday night, Maldonado had initially claimed ninth place on the road ahead of Vergne after passing the Frenchman with a bold move on the final lap. However, once the chequered flag had fallen, the Lotus was immediately moved back to tenth owing to a five-second time penalty he had picked up earlier for speeding in the pitlane.
Yet, the final classification wasn't quite definitively set yet as Vergne was also facing a potential sanction of his own having damaged Grosjean's car with an earlier lunge on the other Lotus at Turn One. Indeed, several hours after the end of the race, the stewards judged that the incident warranted punishment and Vergne was handed a five-second time penalty of his own, along with one penalty point on his licence.
The punishment therefore effectively cancelled out Maldonado's and meant the finishing order on the road was reset: Maldonado ninth and Vergne tenth.
"The driver of car 25 [Vergne] is considered to be predominantly at fault for the contact with car 8 [Grosjean] in turn one and the consequent forcing of car 8 off the track," the stewards' ruling read.
Lotus's strong performance in the race proved one of the surprises of the weekend and Grosjean, who had qualified last, had looked on course to finish as the lead E22 before the clash with Vergne, which broke his car's front wing and rear floor.
The Frenchman, who found it difficult to keep the damaged car on the track in the closing laps, eventually finished 11th and Lotus tweeted Vergne with a picture of an unimpressed-looking Grosjean posing with a piece of the wing he had broken.
"Hey @JeanEricVergne, @RGrosjean's a little annoyed at what you did to his car! Thanks for returning it @ToroRossoSpy," Lotus tweeted.
Vergne, a countryman of Grosjean's, then replied: "Let's make a deal you give me back my 5 sec and I give you back that part of whatever this is ;) was good racing!"