Renault confirm they are considering buying Lotus
By Pete Gill at the Hungaroring
Last Updated: 27/07/15 2:14pm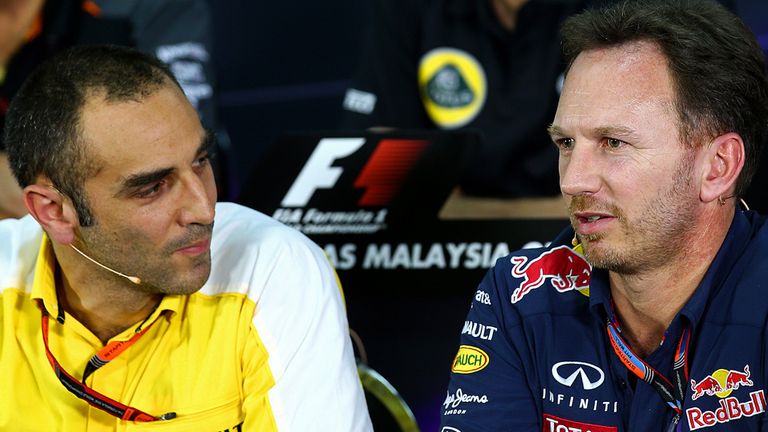 Renault have confirmed to Sky Sports News HQ that they could buy the Lotus team.
The company currently operates as power suppliers to Red Bull and Toro Rosso. But after a series of public spats with the former world champions, Renault are believed to be considering buying the cash-strapped Lotus outfit which they ran as an eponymous team between 2002 and 2009.
"We are looking at options. We have no agreements in place for 2016 with anyone. If Lotus are an option then why not? But it is not the only option," Renault chief Cyril Abiteboul told Sky Sports News HQ.
Lotus' financial plight became public knowledge once again this weekend when the team were forced to miss the start of Practice One after making a late payment to tyre suppliers Pirelli. However, Renault don't envisage becoming a 'works outfit' as early as 2016.
"Next year is a bit tough but nothing is impossible. The decision has not been made," said Abiteboul. "Right now we are focused on sorting our engine issues and trying to decide what we want to do in 2016 and beyond."
Were Renault to buy Lotus then it would almost certainly mark the end of their partnership with Red Bull after next season.
"We are contracted until next year so even if it is difficult we have to live together," Abiteboul admitted. "I really hope that, on the basis of what we've built over the years, we will be smarter than what we've been and handle the separation in a clever manner.
"But we will still need partner teams and in my opinion there is still a fantastic fit, including in terms of brand and values, between Red Bull and Renault."