Sebastian Vettel accepts blame for his early exit from the Mexican GP
Difficult afternoon for Ferrari driver, who crashes out after first-corner collision and spin - and loses second place in standings to Nico Rosberg
By Mike Wise in Mexico City
Last Updated: 05/11/15 11:44am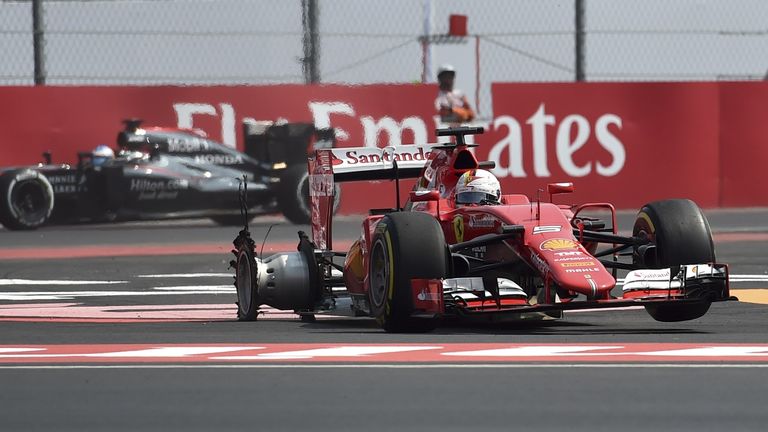 Sebastian Vettel said he was to blame for his early exit from the Mexican GP on what proved a difficult afternoon for the Ferrari driver.
Vettel hit the barrier at Turn Seven on lap 51 of Sunday's race, although by that stage he was already out of contention following a collision with Daniel Ricciardo at the first corner and a subsequent spin which relegated him to 12th place.
The four-time champion had even been lapped by race winner Nico Rosberg and second-placed Lewis Hamilton with the result allowing Rosberg to move back ahead of Vettel in the drivers' championship.
"It was my mistake. I didn't have any issues the whole weekend but twice in the race," he said.
"Once I spun and the second time I managed to crash. I can't be happy with how the day went; obviously with the puncture on the first lap the race was pretty much lost. Without any Safety Car we couldn't really come back.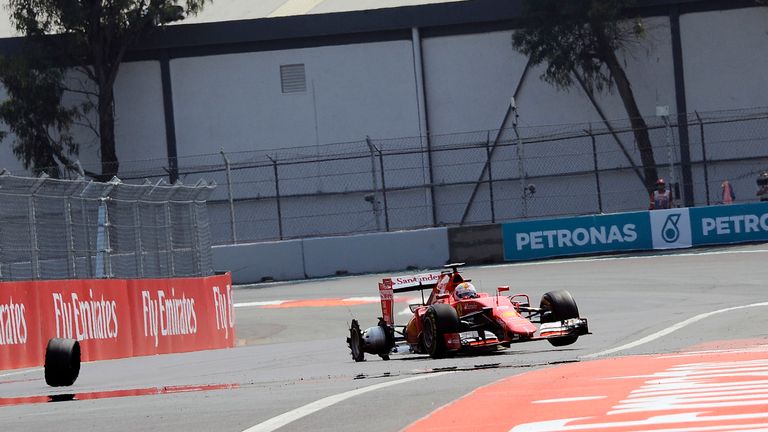 "I think the car was generally good. In general good to drive, the pace was very promising. Unfortunately, we were not in a spot to prove that. But I think we were closer than in the last races compared to Mercedes.
"In the end we didn't see the chequered flag, so not a good day."
Although Vettel held his hand up for both the spin and the race-ending accident, he pointed to the slippery conditions drivers experienced all weekend at Autodromo Hermanos Rodriguez.
"There was nothing wrong with the car. I went in at more or less the same speed and very suddenly lost the car. It was very similar the first time when I lost control," he said.
"We know it has been tricky all weekend, but that's not for blaming the conditions or the circuit. In the end it was my mistake - asking or wanting a little bit too much."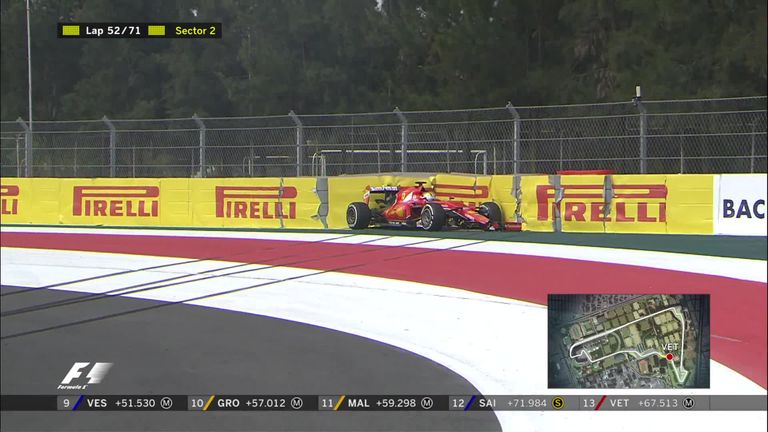 Regarding the coming together with Ricciardo, Vettel initially thought his former team-mate was to blame but said he'd reconsidered after watching footage of the incident.
"Initially I was pretty angry because I have a puncture. Looking at it now, I think it was correct not to take any action. I don't think Daniel had anywhere to go," he added.
"Equally, he was trying but there was no gap really. But it's a very difficult judgement to make.
"We touched, but giving someone a penalty like that, you cannot do it. I'm not blaming him, but it was a shame for us."