Sebastian Vettel insists Monaco GP is not yet 'must-win' for Ferrari
Vettel not panicking after three-race podium drought; German optimistic Ferrari can respond from Spanish GP woes; Hamilton says race victory "difficult but not impossible"
By Jonathan Green
Last Updated: 11/12/18 12:28pm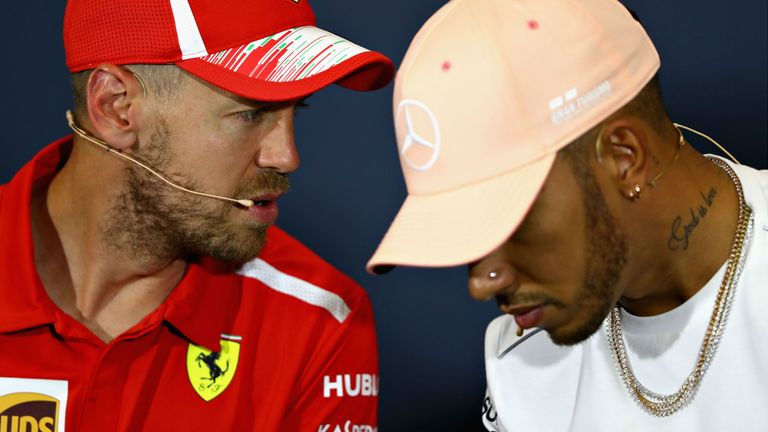 Sebastian Vettel insists the Monaco GP is not "must-win" for him and Ferrari as they look to get their championship challenge back on track.
The German won the opening two races of the season but has not been on the podium since and has seen a 17-point lead at the top of the world championship turn into a similar deficit to Lewis Hamilton.
"We are coming here because we want to win, not because we must win. That for me is a big difference," Vettel told Sky Sports F1.
"We want to win. I think it will be incredibly close. I think Red Bull should be stronger here, especially on Saturday so we will see.
"It's good if you come here and know that you are in the mix. We will try to make the difference."
However, Vettel conceded that the race may be regarded as vital in hindsight should they throw away a victory chance and he miss out on a fifth world title.
"If you look back and had the chance to win, clearly, and you didn't, then it's a must win," he added.
Ferrari suffered their most difficult weekend of F1 2018 so far at the Spanish GP as they failed to get a car on the front row and then suffered with excessive tyre wear, Vettel coming home fourth while Kimi Raikkonen retired with an engine issue.
But Ferrari were dominant around Monte Carlo's twists and turns in 2017, and Vettel is optimistic the issues they discovered in Barcelona will not apply to the unique street circuit.
"I think it was only the last race that wasn't that good. I think it's normal that every now and then that things don't go according to what you think or where you want them to go," he said.
"I think this track is completely different so it doesn't really matter for this weekend but there is a lot of stuff, a lot of work that we are currently undergoing to try and understand and try to find the reasons and sort them out for the future. For this weekend it doesn't change."
Hamilton expects "difficult but not impossible" weekend
Mercedes arrive in the Principality expecting one of their toughest weekends of the season with team boss Toto Wolff predicting in the build-up they will be playing catch-up to Ferrari and Red Bull.
Last year Hamilton was knocked out in Q2 and could only manage seventh in the race while Valtteri Bottas came home fourth behind the Ferraris and Daniel Ricciardo's Red Bull.
But championship leader Hamilton, seeking a third victory in Monaco and a hat-trick of wins in 2018, believes Mercedes have learnt from the problems that hit them last year and is hopeful they can take the fight to their rivals.
"We definitely learnt a lot from last year and we're confident with our preparation, it's definitely been better than ever before," the reigning world champion said.
"We came from the last race knowing this was going to be one of the tougher races for us. If you look at the last race and the testing in February, the Red Bulls were particularly quick in the last sector and so you can imagine that they're going to be incredibly quick this weekend.
"Ferrari were very strong here last year but, for whatever reason, Red Bull didn't get it together but maybe this weekend it will.
"I do anticipate it's going to be a difficult weekend but not one that's impossible. It's a lot closer and we may not have the pace of the others but we will find out tomorrow. I'm excited for that challenge and if you look at last year there were overcuts and undercuts so anything is still possible."
He added to Sky Sports F1: "I'm hoping we've learned a lot from the first five races and the car should be in a better place. I'm hoping, of the potential that we have, that we are able to extract it. Where that puts us? I have no idea."