James Allison says Kimi Raikkonen is simply driving slower than Fernando Alonso
However, Technical Director believes the gap is closing
By William Esler
Last Updated: 04/06/14 4:15pm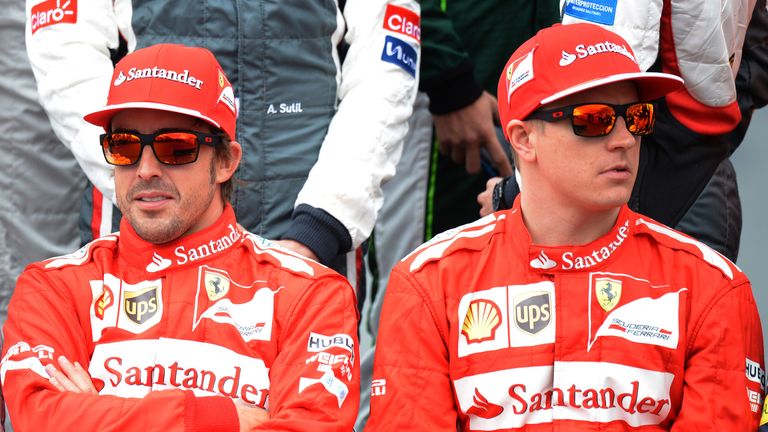 The two World Champions going head to head at the Scuderia was predicted to be F1's box office show in 2014, but instead it has been a one-sided affair.
Alonso has finished ahead of Raikkonen in all six grands prix thus far, amassing 61 points to the Finn's 17 and currently sits third in the Drivers' Championship.
"I'm not sure it's entirely fair to say he is struggling more than Fernando," said Allison ahead of the Canadian GP.
"They both have similar feedback with the car, and there are aspects of this year's rules that make the cars across the pitlane a far from easy aspect for the driver. There is a lot more torque from the engine, a lot less aerodynamic grip, and the tyres are deliberately less aggressive than last year.
"All that means they are quite a handful to drive, not too breezy for anyone, be that at the front or back of the grid. The problems Kimi has with the car under braking, downshifting, are the same as Fernando, and pretty much the same as being experienced by other drivers at other teams.
"He's just going a little slower than Fernando at the moment, but that gap is closing as the year progresses."
Whilst Allison feels the gap between the drivers may be closing, the gap to Mercedes appears to be a more difficult one to reduce.
"It's tough. Making a car quick that wasn't quick in the first race is a particularly challenging task," he added.
"It's very difficult to produce a rate of improvement substantially different to the people we are fighting with. However, we've had a race or two where the pieces we took to the track were useful, but not big steps forward.
"We hope in the coming races to have a more steady progression of things we hope will lift us up in our competitiveness. But we won't know for sure until we get there because it depends on what everyone else does.
"I don't think we can claim to have produced a chassis that is, at the moment, the equal of either the Mercedes or the Red Bull. We're not lagging hugely behind, but there is work for us to do before we can hold our hands up and say we are completely happy with the chassis performance."