It's Official: Fernando Alonso leaving Ferrari to be replaced by Sebastian Vettel in 2015
Ferrari confirm F1's open secret with Vettel arriving on three-year deal as Alonso leaves by "common consent"; Spaniard expected to join McLaren for 2015; Kimi Raikkonen stays on to partner Vettel
By James Galloway
Last Updated: 24/11/14 3:15pm
Ferrari have finally officially confirmed Formula 1's worst-kept secret – Fernando Alonso is leaving the team to be replaced by Sebastian Vettel for 2015.
The impending blockbuster driver change at F1's most famous team has been widely known for weeks, ever since October's Japanese GP when Red Bull revealed reigning World Champion Vettel was quitting for Ferrari at the season's end and it emerged Alonso had agreed to terminate his deal with the Scuderia two years early.
Ferrari had stayed silent on the matter since then but that finally changed on the opening day of the season-ending Abu Dhabi GP on Thursday as, in separate announcements made within half an hour of each other, they first confirmed Alonso's departure and then the arrival of new star signing Vettel.
Vettel, who has been on the books of Red Bull since his days as a junior driver, has signed a three-year deal, with the 27-year-old German to partner his good friend Kimi Raikkonen in Ferrari's 2015 line-up.
Alonso, meanwhile, is expected to join McLaren and Sky Sports News HQ understands that a deal has been concluded that will see the Spaniard return to the Woking outfit seven years after his first season there ended in bitter acrimony and a quick divorce. Although the team said earlier this week that they would not make an announcement on their 2015 line-up before December 1, the delay is thought to solely relate to ongoing deliberations over whether Jenson Button or Kevin Magnussen will stay on to partner Alonso.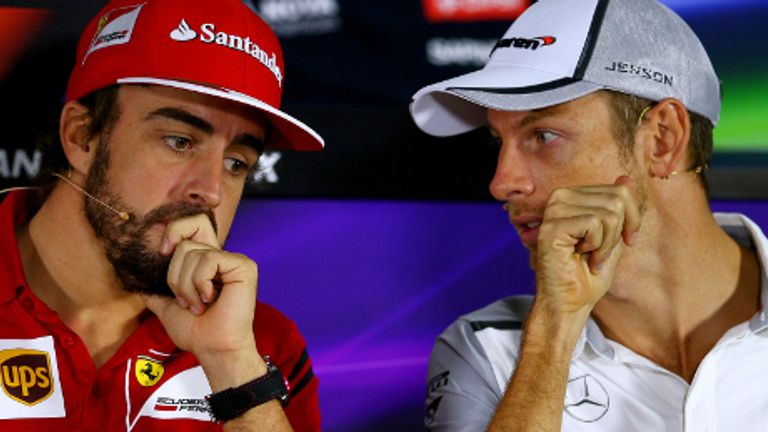 While Alonso has won 11 grands prix and finished runner-up in the standings on three separate occasions during his five seasons at Ferrari, he is set to leave at the end of his least successful campaign at the underperforming marque having not won a race since 2013.
Setting his sights on winning a coveted third drivers' title with the team on his arrival from Renault in 2010, Alonso finished third to Vettel on three occasions – narrowly losing out to the German at the final race in both 2010 and 2012.
"Today is not an easy one for me, because even if I always look to the future with great enthusiasm and determination, at the end of this season my journey as a Ferrari driver will come to an end," Alonso said in the statement announcing his exit by 'common consent'.
"It was a difficult decision to take, but a carefully considered one and from start to finish, my love for Ferrari was a prime consideration. I have always been lucky enough to make my own decisions about my future and I have that possibility now too. I must thank the team for that, as it understood my position.
"I leave Scuderia Ferrari after five years, during which I reached my very best level professionally, tackling major challenges that pushed me to find new limits. I also proved to be a true team-player, putting the interests of the Scuderia before my own. When I had to take important decisions about my future, I did so with Ferrari in my heart, driven by my love for the team."
While Ferrari team boss Marco Mattiacci paid tribute to the team's departing star by saying that "in the Ferrari roll of honour of great drivers, Fernando Alonso will always occupy a special place," the nature of the simultaneous announcements meant the Italian was soon lauding the talents of the Scuderia's new hope.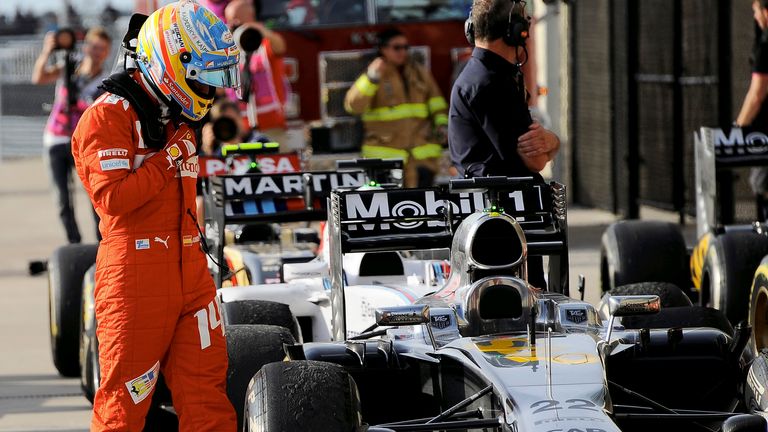 "Scuderia Ferrari has decided to put its faith in the youngest multiple champion in the history of Formula 1," Mattiacci said.
"In Formula 1 terms, Sebastian Vettel is a unique combination of youthfulness and experience and he brings with him that sense of team spirit which will prove invaluable when, together with Kimi [Raikkonen], they tackle the challenges awaiting us, as we aim to be front runners again as soon as possible.
"With Sebastian, we all share a thirst for victory as well as enthusiasm, a strong work ethic and tenacity; key elements for all the Scuderia members to write a new chapter in the history of Ferrari."
Vettel, meanwhile, spoke of fulfilling a dream in signing for Ferrari and the chance to follow in the footsteps of his childhood hero and compatriot Michael Schumacher, who rewrote the sport's record books in a glorious decade at Maranello.
"The next stage of my Formula 1 career will be spent with Scuderia Ferrari and for me that means the dream of a lifetime has come true," Vettel said.
"When I was a kid, Michael Schumacher in the red car was my greatest idol and now it's an incredible honour to finally get the chance to drive a Ferrari. I already got a small taste of what the Ferrari spirit means, when I took my first win at Monza in 2008, with an engine from the Prancing Horse built in Maranello.
"The Scuderia has a great tradition in this sport and I am extremely motivated to help the team get back to the top. I will put my heart and soul into making it happen."
How the 2015 grid is shaping up:

MERCEDES
Lewis Hamilton and Nico Rosberg
RED BULL
Daniel Ricciardo and Daniil Kvyat
FERRARI
Sebastian Vettel and Kimi Raikkonen
WILLIAMS
Valtteri Bottas and Felipe Massa
McLAREN
TBC
FORCE INDIA
Nico Hulkenberg and TBC
TORO ROSSO
Max Verstappen and TBC
LOTUS
Romain Grosjean and Pastor Maldonado
SAUBER
Marcus Ericsson and Felipe Nasr
MARUSSIA (ENTERED AS MANOR F1 TEAM)
TBC
CATERHAM
TBC