Pat Fry leaves Ferrari in dramatic reshuffle of the Scuderia's management set-up
New team boss Maurizio Arrivabene stamps his authority as head of engineering Fry and chief designer Nikolas Tombazis leave while technical director James Allison's remit extended
By Pete Gill
Last Updated: 17/12/14 4:02pm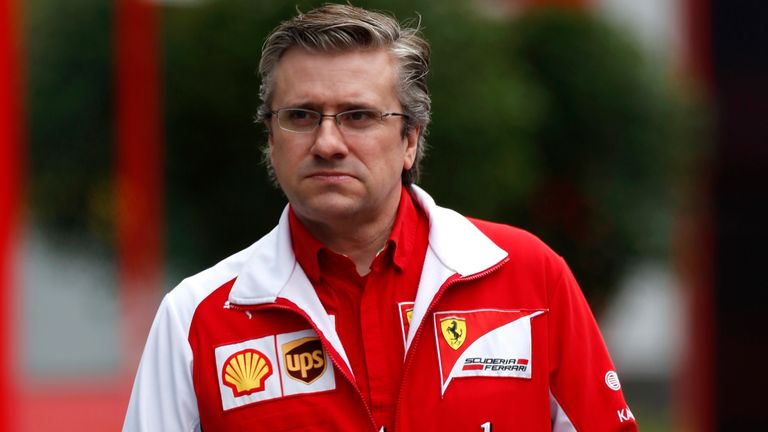 Pat Fry and Nikolas Tombazis have been ousted from Ferrari in a dramatic shake-up of the Scuderia's management by new team boss Maurizio Arrivabene.
As part of the dramatic restructuring, which will also see Ferrari's head of tyre performance analysis Hirohide Hamashima leave the team, Technical Director James Allison has been given the additional remit of directing 'track engineering activities' on an interim basis.
Along with Fry, the team's head of engineering since 2010, chief designer Tombazis has also lost his job following a dismal season in which F1's most famous outfit finished a distant fourth in the Constructors' Championship and registered just two podium finishes. Hamashima, meanwhile, departs Maranello after three seasons having previously headed up former supplier Bridgestone's tyre development programme.
The Scuderia's dismal start to F1's new turbo era has triggered unprecedented upheaval at Maranello this year. Not only is Arrivabene the team's third boss since April, following the sudden sacking of Stefano Domenicali and the short-lived reign of Marco Mattiacci, but President Luca di Montezemolo stood down in September after two decades in charge while star driver Fernando Alonso has joined McLaren.
Allison will be assisted by new chief designer Simone Resta and engine boss Mattia Binotto while, in further behind-the-scenes reshuffling, Renato Bisignani will stand down as the team's press officer to be replaced by Alberto Antonini.
Arrivabene himself was only appointed team boss three weeks ago, taking on the titles of Managing Director of Gestione Sportiva and Team Principal of Scuderia Ferrari.
Former world champions Sebastian Vettel and Kimi Raikkonen will drive for the team next season, with Esteban Gutierrez appointed the Scuderia's new reserve driver on Monday.
Full statement from Ferrari:
'Within a few days from his arrival Maurizio Arrivabene, Managing Director of Ferrari's Gestione Sportiva and Team Principal of Scuderia Ferrari, has restructured his team with a flatter structure and clear assignment of responsibilities.

'James Allison is the Technical Director with two Italian engineers and home grown Scuderia talent reporting to him: Chief Designer Simone Resta and Power Unit Director Mattia Binotto, the latter will be supported by Chief Designer Power Unit Lorenzo Sassi, among others. Furthermore James Allison will direct track engineering activities ad interim.

'Therefore he will be responsible for all technical aspects of delivering the Scuderia's drivers Kimi Raikkonen and Sebastian Vettel, as well as the newly appointed test driver and third driver Esteban Gutiérrez, with the most competitive Formula 1 car possible.

'Furthermore, the Scuderia's Formula 1 activities will be managed by Massimo Rivola, while GT and Corse Clienti racing will be managed by Antonio Coletta.

'The Ferrari Driver Academy will still be managed by Luca Baldisserri, reporting directly to Maurizio Arrivabene. In addition, Arrivabene will manage the newly founded Commercial Department of the Scuderia ad interim. Renato Bisignani, who until now was the head of Scuderia Ferrari's Press Office, will join the new department as Marketing Manager and Acquisition.

'The press office of the Scuderia will be run by Alberto Antonini, a seasoned Formula 1 journalist and contributor to newspapers and magazines as well as TV commentator for RAI and Sky Italia. Antonini will also oversee the newly created Scuderia Ferrari digital team.
'Nikolas Tombazis and Pat Fry will be leaving the Scuderia.'