Sebastian Vettel hopes Ferrari keep Kimi Raikkonen for 2016
Finn out of contract and his seat is subject to speculation after poor form
By William Esler at Silverstone
Last Updated: 08/07/15 11:42am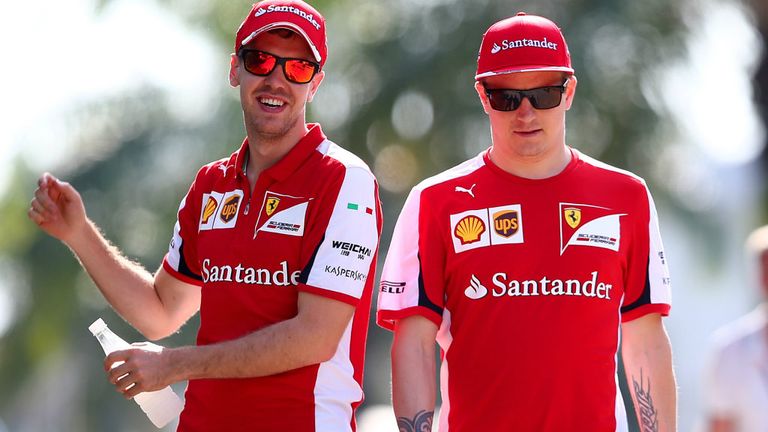 Sebastian Vettel hopes Ferrari keep under fire team-mate Kimi Raikkonen for 2016.
The Scuderia have an option to retain the Finn next season, but his position has come under scrutiny after a string of poor performances and boss Maurizio Arrivabene has told Raikkonen he must earn his new deal.
Williams' Valtteri Bottas, Force India's Nico Hulkenberg and Vettel's former Red Bull team-mate Daniel Ricciardo have all been linked with Raikkonen's seat next year, but Vettel would prefer to keep things as they are.
"I think I have said many times that I am very happy with Kimi, because since day one that I got to know him he hasn't changed, he is very straight, he hasn't changed, becoming a world champion that didn't change him, the years he wasn't in Formula 1 didn't change him," the four-time champion said.
"I think it is good for Formula 1 to have him back and it is straightforward – there is no bull***t with him and that is the quality I really enjoy.
"Having him as my team-mate, this is the first time I am able to compare what he is doing on track and if you look at the raw results it may look quite obvious, but it has been very close. There are qualys where I have the upper hand and qualys where he has the upper hand, so it is a good challenge, there is a lot I can learn from him as he has a different approach to things.
"I know we have this season left, and I don't know what the contract for next year entails, but it would be nice to have him on the team for next year."
Vettel was unhappy at Raikkonen being deemed to be in a 'negative period' and won't be giving him any driving advice as the Finn "knows what he is doing."
"We all have races where we have crashed before, so I don't think you need to call it a negative period," he added.
"The way Formula 1 is you have two or three races where you don't get the results and people call it a negative period. I had the same last year where things didn't come together for many different reasons and people called it a negative period. In the end Kimi is a champion, he knows what he is doing – and he said this before over team radio. I think he knows what he is doing.
"I don't need to give him any advice."