Niki Lauda says Red Bull never came back to confirm engine deal
Mercedes non-executive chairman says rivals could have had a power unit supply if Mateschitz had followed up their initial chat; Austrian confirms Manor to recieve Mercedes power
By William Esler
Last Updated: 09/10/15 11:13am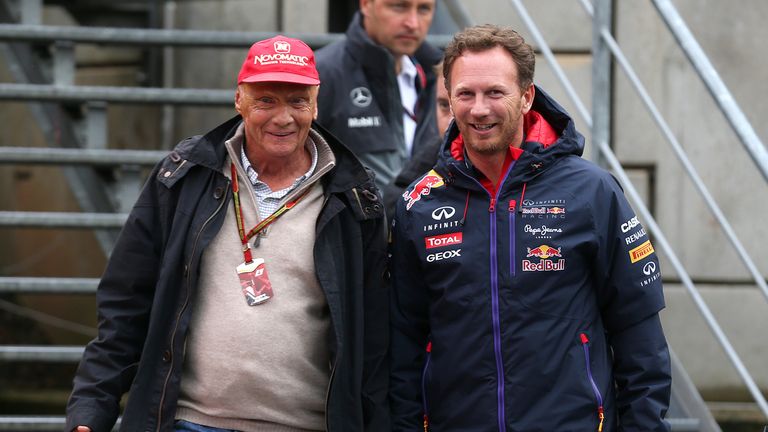 Mercedes non-executive chairman Niki Lauda says Red Bull only have themselves to blame for missing out on an engine supply from the Silver Arrows next year.
Red Bull team principal Christian Horner told Sky Sports that they had approached Mercedes about a power unit supply at the British GP due to their unhappiness with Renault's performance.
Mercedes boss Toto Wolff suggested last week that the German marque didn't agree to the proposal as they didn't want to give an engine to a team that could beat them to the title.
However, Lauda says he had agreed a deal to supply Red Bull, but that the drink firm's owner Dietrich Mateschitz failed to follow up on their initial talks.
"I have to be clear - Christian and Helmut [Marko] wrote us one letter to say they would like engines. I said 'yes, but first we have to discuss with Mr Mateschitz' because Mateschitz, for whatever reason, never liked Mercedes," Lauda told Sky Sports F1.
"There is something in the past which I do not know. So I went to see Mateschitz myself because I know him and asked 'are you really interested?' and he said 'yes, but, but, but…'.
"And then out of this 'but, but, but' we never continued any talks. So we had to take a decision as Mercedes: where did we go with the engines because are Lotus staying or are they not staying? So we then decided to give Manor the engines.
"We never came into to serious discussion [with Red Bull]. Now for Red Bull I think the only option is Ferrari and they are negotiating."
The class-leading Mercedes engines would be a significant boast for minnows Manor, who are currently running Ferrari's 2014 power unit. However, unlike Lauda, Wolff said a deal hasn't been done yet.
"We like Manor a lot," Wolff said ahead of Sunday's race. "Because there is a competitive edge to the whole story, that if Manor gets the right chassis and the right engine, it would be a pretty interesting narrative how the team develops.
"But for us at the moment we are a little bit on standby because we need to understand what happens with Lotus as one of our customers, and move from there. So this is where we are."
Paddock rumour suggested Manor would receive the engines at a discounted rate, provided they gave one of their 2016 seats to Mercedes reserve driver Pascal Wehrlein, but that doesn't appear to be the plan.
"It's a bit of a tricky situation. We haven't got a dedicated young driver programme, we have Pascal, who is with us, whose main focus is DTM, and I don't want to take him away from that focus," Wolff added.
"He has done a great job in testing for us and he is a very exciting young driver, but I'd rather like to see how DTM pans out."
As for Lotus, Wolff says they cannot wait indefinitely to see if they will remain a Mercedes customer team in 2016 as a protracted takeover by Renault rumbles on.
"We are very near to that moment and close to that decision," he said. "And if they don't take the decision, we will decide."
Lotus are due in the High Court in London on Monday with the prospect looming that the team could be placed into administration if they fail to pay a tax bill owed to HM Revenue and Customs. 
Don't miss this the F1 Midweek Report for analysis of the Japanese GP. Natalie Pinkham is joined by David Brabham and Ted Kravitz on Wednesday at 8:30pm on Sky Sports F1.